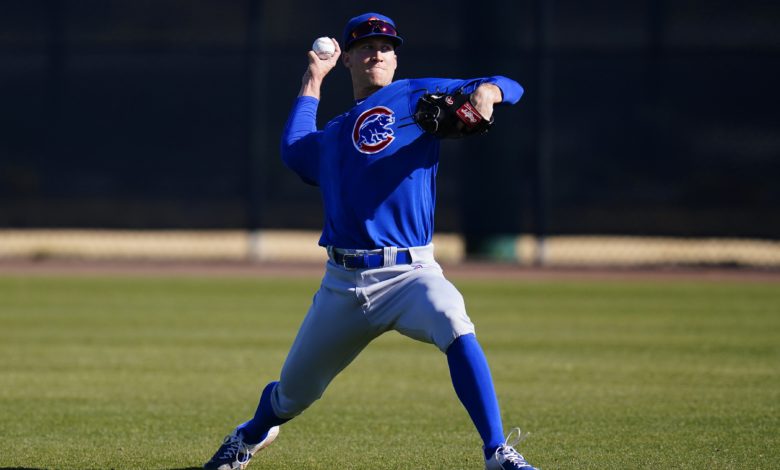 Okay, So Caleb Kilian Isn't Being Promoted After All
Even understanding how the Cubs love to kick the procedural can down the road by shuffling as many players around at the end of the 40-man as possible, it felt inevitable that Caleb Kilian would be given a spot next week. The 24-year-old righty acquired from the Giants last year as part of the Kris Bryant trade quickly established himself as the top pitching prospect in the organization and has dominated at Triple-A, plus the Cubs have doubleheaders on Monday and next Saturday.
Not only do those twin bills afford them a 27th spot on the active roster, but Killian started Wednesday for Iowa and would be on regular rest for both potential starts. Even if the Cubs weren't planning to keep him up until after the trade deadline clears more room, they've shown the desire to reward strong minor league performances in the past and have already called up relief prospects.
It just made too much sense for them to promote Kilian, which is apparently why they're not doing it.
The wait continues for Kilian. Ross says the dynamic Triple-A pitching prospect is not in the discussion for a debut in Monday's doubleheader. Not later in the week either, he said.

— Gordon Wittenmyer (@GDubMLB) May 26, 2022
David Ross didn't offer further explanation for the decision, likely because there isn't one. While I'm typically able to perform the requisite mental gymnastics to understand why one move or another is being made, I'm at my wit's end trying to find even the slimmest thread of rationale here. It's to the point that it actually pisses me off, and not just because I really wanted to see Kilian pitch in the majors.
This is the kind of move that, at least from my current perspective, does nothing to make the Cubs more competitive in the near term or in the future. Even if Kilian doesn't immediately make them better, getting him some reps now would either boost his confidence or show him some of the things he still needs to work on. It's a win-win situation.
Then there's the matter of the 40-man roster, which currently houses Mark Leiter Jr., Conner Menez, Robert Gsellman, and several position players who all have very limited shelf lives. There is no planet on which giving innings to one of those pitchers over Kilian is in the best interest of the Cubs organization and I'll brook no truck with anyone who tries to argue otherwise.
What's more, Kilian has to be added to the 40-man in the offseason in order to be protected from the Rule 5 Draft, so it's not as if the Cubs are saving much time by keeping him off for now. It's not a service time thing either, since pitchers are a lot riskier than hitters when it comes to trying to extend club control. Teams need to wring as much as they can as early as they can from arms. Besides, the season is already too old for Kilian to accrue a full year.
I'll be very interested to hear whether Ross or Jed Hoyer provides any details on this choice, but I have a feeling it'll have about as much validity as keeping Kris Bryant at Iowa to work on his defense.