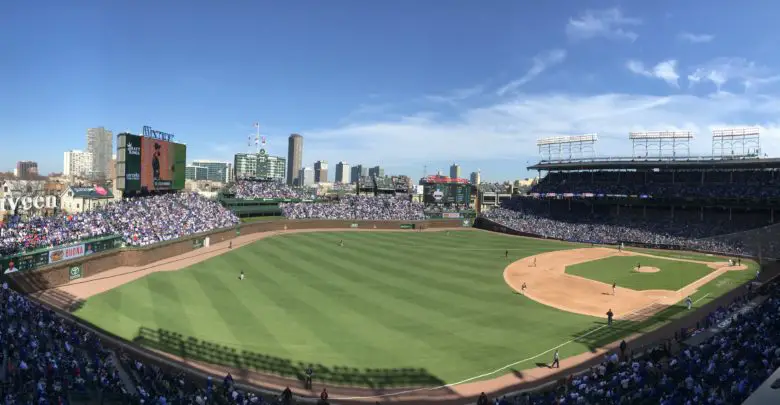 Cubs Partner with Black Chicago Entrepreneurs, Artists for Juneteenth Celebration at Wrigley
The Chicago Cubs organization continues its tradition of giving back and supporting the community with a celebration to commemorate Juneteenth. The Juneteenth Celebration at Wrigley Field – A Black Entrepreneurs Experience will be a celebration of Black entrepreneurship in the spirit of the Juneteenth holiday that Illinois Governor JB Pritzker signed into law as a state holiday June 16, 2021. President Joe Biden made it a national holiday June 17, 2021. The Cubs are collaborating with Chicago Black entrepreneur Christi Harber to bring more awareness to the holiday and celebrate Black culture.
The Juneteenth Celebration at Wrigley Field will involve a series of activations featuring Black businesses from around the city. A host of businesses will set up shop at Gallagher Way to sell their products and offer up their services as a part of the Juneteenth Celebration at Wrigley Field – A Black Entrepreneurs Experience. Three Black-owned businesses that have made impactful contributions to Chicago over the years will be honored with an on-field presentation recognizing these pioneering Black Chicago entrepreneurs.
The national anthem will be sung by Chicago native and Whitney Young alum Chris Rob. The Black national anthem will be sung by national recording artist Opal Staples. Artwork featuring Chicago's first Black Mayor Harold Washington will be curated by The Kulture Museum. A ceremonial first pitch will be thrown by JB Marshall, the CEO of Groove LLC. All fans are encouraged to come and enjoy this special event Sunday, June 19, at Wrigley Field.
The Juneteenth Celebration at Wrigley Field demonstrates how the Cubs are exploring ways to deepen its commitment to diversity, equity and inclusion. Under the Ricketts family ownership, the organization has made a significant impact through its charitable giving and support of diverse enterprises. From improving ballfields on the south and west sides of the city to ensuring M/WBE participation on Wrigley Field development projects, the Cubs have built a strong track record of engaging diverse communities. The opportunity to support Black businesses represents a strong commitment to promote social equity.
"More than Freedom Day, Juneteenth is about celebrating and supporting Black culture," said Cubs Senior Vice President of Communications Julian Green. "I can't think of a better way to recognize this important holiday than highlighting the tremendous contributions black-owned businesses have made on our country. We are excited about using our platform to amplify these amazing Black entrepreneurs who are creating successful businesses and impacting culture. If we can play a small part in helping to build their business, we can create opportunities now and in the future."
The Cubs worked with Chicago Black entrepreneur Harber to help curate the event. Harber has found great value in championing those who have traditionally not received the exposure afforded to others with regard to growing their respective brands. Harber has collaborated with numerous Black entrepreneurs over the years to amplify their brands.
"As a Black woman who was born and raised in Paducah, Kentucky, and who has lived in Chicago my entire adult life, I am extremely excited about this collaboration with the Chicago Cubs," said Harber. "I was fortunate to grow up with parents who instilled the importance of Black pride and the idea of respecting and loving everyone. This Juneteenth Celebration at Wrigley Field provides us an opportunity to commemorate our ancestors, celebrate Black business and come together as one to create a lasting legacy."
Black Entrepreneurs Experience
Hospitality
Whadda Jerk Food Truck
Shawn Michelle's Homemade Ice Cream
Sip and Savor Coffee House
Twisted Eggroll
Momentum Coffee
Harold's Chicken & Ribs
Services/Products 
For the Love of Tidy
TABS
Poised Beauty
The Talbert Memorial Fund
Kemit Academy
The Kulture Museum
Black Star Line Cigars
Black Legacy Business Honorees
George Daniels, George's Music Room and Entertainment Entrepreneur – Honored for Black arts and entertainment
Sharon Morgan, Director of Community Outreach for Catalyst Schools and Manager of the Kehrein Center for the Arts Theater – Honored for her leadership in the arts and education
Yvette Moyo, CEO of Real Men Charities and Real Men Cook – Honored for celebrating Black fathers in the Black community for close to four decades