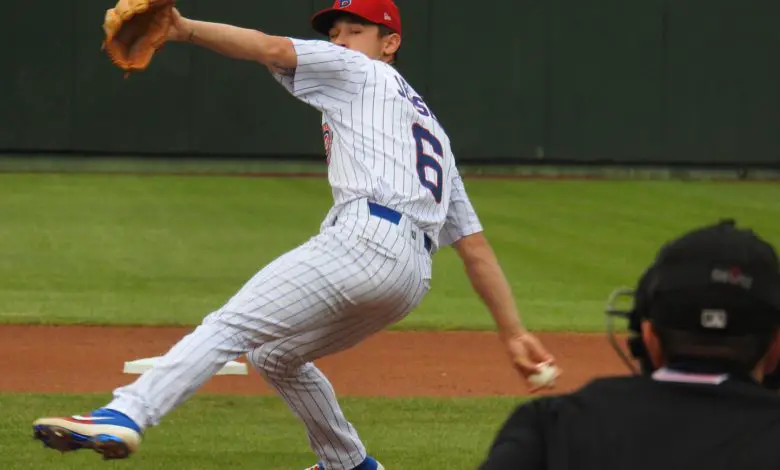 Chicago Cubs Weekly Farm Report (6/21/22): Saying Goodbye to Regular Column, Jensen Debuts New Mechanics
I've been writing these Weekly Farm Reports since the first games of the 2019 minor league campaign and plenty of things in the Cubs system have changed during that time. Looking back on my first ever edition of this series, Mark Zagunis was the only rookie on the big league squad, Keegan Thompson posted a five-inning, no-hit performance in his Double-A debut, and the *High-A* Myrtle Beach Pelicans featured a "big four" of Miguel Amaya, Aramis Ademan, Alex Lange, and Paul Richan.
Unfortunately, this 53rd iteration of the Weekly Farm Report will be the final one I'll write. As fans see their focus shift from winning at the big league level to the forever question of Who is the next prospect that is going to come up to rejuvenate the roster? my focus also shifts to a different way of talking about prospects here at CI. If you are looking for weekly storylines to follow, we will continue to have some similar formatting over on our Minor League IPA and I can't recommend enough the work done by all of the great Cubs prospect writers that post all sorts of great content on Twitter.
I'll still be here at CI plenty, covering prospects like I always have. You'll see the style of writing that I'm doing change quite a bit as I dig a little deeper into individual players and storylines that are driving the development of some of my favorites in this ever-improving system. Thanks for reading these Weekly Farm Reports and I hope you keep following the content I'm putting out there, whether that be the writing I'm doing here or the podcast I co-host alongside Jimmy Nelligan.
Affiliate Records
Triple-A Iowa: 4-2 this week, 30-35 overall

Double-A Tennessee: 1-5 this week, 33-30 overall

High-A South Bend: 2-4 this week, 32-31 overall

Single-A Myrtle Beach: 4-2 this week, 44-19 overall
Trends and Notes
The story of the week is pretty clear to me and it's the fact that Ryan Jensen came off the development list, pitched twice this week after not throwing in-game action since early May, threw five total shutout innings, and didn't walk a soul. The thing that makes these two outings even more notable is that he is using a brand new arm action out there on the bump. After featuring one of the longer arm motions I have seen, one that brought the ball nearly below his kneecap on the backswing, he shortened it up during his time in Arizona. He isn't quite at Lucas Giolito levels, but the change is significant.
You will notice below that there aren't any standout hitters on the Pelicans roster from this past week despite the team going 4-2. While one might chalk the success up to the team rocking their Pirate Pelicans, Mermen, and Palmetto State uniforms all in one week, the more logical explanation is to point to the starting rotation. Huge outings from Luis Devers, Richard Gallardo, and Tyler Schlaffer highlighted something we have seen all year from this Myrtle Beach rotation: dominance.
It appears as though one of the Cubs' top prospects, Reginald Preciado, might miss a significant amount of time with a leg injury.

He

posted a picture on Instagram last week in a leg brace. Preciado was off to a rough start in his first go at full-season ball and being out the rest of the year (if it is indeed that long) won't help his development any. He joins Brennen Davis and Ed Howard in a line of top hitting prospects that have been shelved for an extended period of time this year.
Standout Players
Season Leaders
Pitchers (min. 35 IP)
ERA
Luis Devers – 1.95

DJ Herz – 2.17
Javier Assad – 2.64
WHIP
Blake Whitney – 0.95
Walker Powell – 0.96

Manny Espinoza – 1.04
Strikeout Rate
Riley Martin – 37.8%
DJ Herz – 36.4%

Blake Whitney – 30.1%
Opp. OPS
DJ Herz – .475

Luis Devers – .548

Walker Powell – .556
Hitters (min. 130 PA)
OPS
Matt Mervis – .991
Jake Slaughter – .947
Pete Crow-Armstrong – .934
Home Runs
Nelson Velazquez – 15
Matt Mervis – 15
Alexander Canario – 15
Strikeout Rate
Levi Jordan – 10.7%
Dixon Machado – 10.8%
Darius Hill – 11.5%
Walk Rate
BJ Murray – 17.8%

Chase Strumpf – 15.2%
Bryce Ball – 13.7%
The Highlights
Cubs 2019 first-rounder Ryan Jensen has shortened his arm action and was repeating it much better in the last two outings I saw.

After walking multiple batters in his first five appearances, Jensen did not walk one in his last two outings.

Left is new, right is old video. pic.twitter.com/uGCVnxwHnq

— Aram Leighton (@AramLeighton8) June 20, 2022
Brand new ballgame. Kevin Made ties it up with one swing of the bat! pic.twitter.com/IkTlVroLGI

— Myrtle Beach Pelicans (@Pelicanbaseball) June 20, 2022
Jared Young can add "long home run off Zack Greinke" to his resume. pic.twitter.com/0MJpgT8dGD

— Brad (@ballskwok) June 19, 2022
Kevin Alcántara on his horse, makes the catch, tumbles, throws a strike to second base (ball came loose after the catch). pic.twitter.com/FlVaJT5j03

— Brad (@ballskwok) June 18, 2022
Here are all of Luis Devers' swings-and-misses tonight. The changeup, y'all. It's legit. pic.twitter.com/IB29Z0920h

— Greg Huss (@OutOfTheVines) June 18, 2022