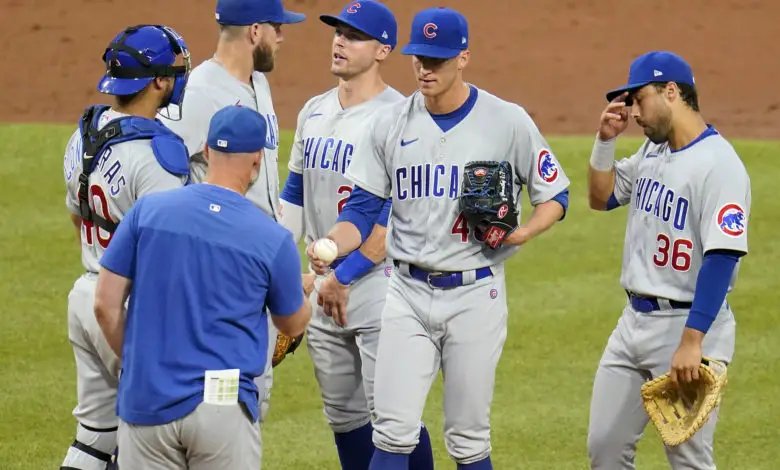 The Rundown: Growing Pains Part of Youth Movement, Epstein Leaving Chicago, AAA Experimenting With Robo-Umps, Lots of MLB Draft News
"I could have been a signpost, could have been a clock. As simple as a kettle, steady as a rock." – Nick Drake, One of These Things First
One of the problems with a youth movement is that sometimes things can be a little painful and unsightly. Caleb Kilian started last night and was thrashed by the Pirates, giving up seven runs (five earned) thanks to five walks. The rookie exhibited pinpoint control last year, but he's struggled with it at Iowa and now here in Chicago. Kilian has issued 12 free passes in 11.1 innings of major league work.
Development is a non-linear process and the young righty provided a perfect example of that truth Monday night. Even though growing pains will be a big part of Kilian's learning curve, he's going to have some standout games, too. He's a very talented pitcher and taking one's lumps is part of the adjustment to the bigs. Kilian handles adversity as well as any rookie I've seen.
"It's super frustrating, actually, because I feel like I'm digging myself in a hole with walking people and getting behind in counts," Kilian said after last night's game. "I feel like it's not far off. I feel like it's close. And once it clicks, it'll be a lot better."
It certainly can't get much worse. Kilian is the first Cubs pitcher to walk at least five hitters in consecutive outings since Yu Darvish in May 2019. David Ross said the team will work on "cleaning up the consistency of his mechanics" in between starts.
Ross understands the development process and mentioned something Jon Lester said about pitchers when the two were teammates. Lester indicated that most pitchers will have five exceptional starts and five clunkers every season, and that success or failure will be determined by the 20 remaining starts. Perhaps Kilian wants to burn through those throwaway games as quickly as possible.
The Cubs have now lost 13 of their last 16 games and Jed Hoyer is starting to make his presence known, just like he did before last year's selloff. The president of baseball operations has been more accessible the past 7-10 days, whether it's describing the team's current state of its (not a) rebuild, or giving Ross a vote of confidence. The mid-June posturing is probably Hoyer's way of trying to buffer the imminent wave of trades that everybody expects.
The next month should move pretty quickly and we should see a spike in trade rumors once the calendar turns to July. Most teams, including the Cubs, are busy preparing for next month's draft. This year's event will take place July 17-19, which means we should see a flurry of deals in the two weeks leading up to the August 2 deadline.
Cubs News & Notes
MLB Draft Notes
Odds & Sods
Ben Zobrist would have made a helluva lot more money.
Do you agree with Buck Showalter?

(h/t @MLBNetwork) pic.twitter.com/uYk8tI4ucz

— FOX Sports: MLB (@MLBONFOX) June 20, 2022
Climbing the Ladder
"And here I am… Standing in your sad arrest trying to do my very best." – Van Morrison, Astral Weeks
When you lose 12-1, the obvious culprit is terrible pitching. The Cubs have been atrocious this month posting an MLB-worst team of ERA is 6.79 since June 1. The Nationals are second-to-last with a 5.42 ERA. On the offensive side, Ian Happ and Nico Hoerner had two hits apiece and Happ had the lone RBI. Rafael Ortega also had two hits but his continued presence in the lineup is a clear indication that Chicago relies on too many depth pieces.
Games Played: 67
Total Plate Appearances: 2,544
Total Strikeouts: 585
Strikeout Rate: 23%
Team Batting Average: .242
Runs Scored: 276
Runs Allowed: 357
How About That!
Triple-A teams in the PCL have begun experimenting with baseball's automated balls and strikes technology, aka "robot umpires."
Speaking of technology, a new wave of pitching machines can dial it up like any MLB ace, sparking a hush-hush race to optimize batting practices.
Something new to place in the Rob Manfred files: The league issued 4th of July apparel to its 30 teams, including the Toronto Blue Jays, who will wear hats that prominently display the stars and stripes of the American flag.
Former Reds outfielder Shogo Akiyama is returning to Japan after finding no interest from any MLB teams.
The Red Sox have called up prized shortstop prospect Jeter Downs.
The Padres have recalled shortstop C.J. Abrams.
The Dodgers have acquired outfielder Trayce Thompson from the Tigers in exchange for cash considerations. Thompson will fill in for Mookie Betts, who is recovering from a fractured rib.
Monday's Three Stars
Corbin Burnes – The reigning Cy Young Award winner blanked the Cardinals over seven innings, allowing just two hits and two walks while punching out 10 St. Louis batters. The win gave the Brewers sole possession of first place in the NL Central.
Oneil Cruz – Heck of a first game for the Pirates rookie shortstop. He finished 2-for-5 with four RBI.
Bligh Madris – The Pirates outfielder was equally impressive in his MLB debut, notching three hits with two RBI and a stole a base. Madris is the first Palauan player to reach the majors.
Extra Innings
Brooks Lee is in my opinion the best college player in the draft, he's got the perfect combination of: Contact Quality, Swing Decisions, Bat to Ball skills, Barrel Accuracy, and Defensive Value. pic.twitter.com/ugwrSFmiqS

— 📊 (@mason_mcrae) April 24, 2022
Tuesday Morning Six-Pack
Except for linebacker Roquan Smith, the Bears' defensive front seven looks average or below, and the team has little in the way of depth, especially at defensive tackle.
Americans are "really, really down" about inflation and pandemic fatigue, but Joe Biden says they shouldn't be because the whole world is dealing with the same things.
Employees at an Apple store in Towson, Maryland voted Saturday to join the International Association of Machinists and Aerospace Workers. It is now the first unionized Apple store in the U.S.
Americans captured in Ukraine could face Russia's death penalty.
The Chicks (formerly known as Dixie Chicks for those unaware), cut their show short in Indianapolis Sunday night after performing just a few songs. They apologized to their fans and promised a future concert for ticketholders.
Chrissie Hynde said she will no longer play Pretenders songs in her live performances.
They Said It
"These guys come to work every day and do all the right things. Everybody does the right prep, goes out and gets their work in, and we're playing really hard. That's something that this organization, this coaching staff, has done a really good job with. So as long as we continue to do that, we'll get through this and get to the other side of it." – Happ
"Obviously, you're trying to take dual tracks with [the youth movement], but we're giving these guys the chance to play, whether it's in the rotation or whether it's playing centerfield or whatever. You want to make sure when you have talented young guys, you give them the runway to play." – Hoyer
Tuesday's Walk-Up Song
It's a shame we will never hear this in a live performance ever again.