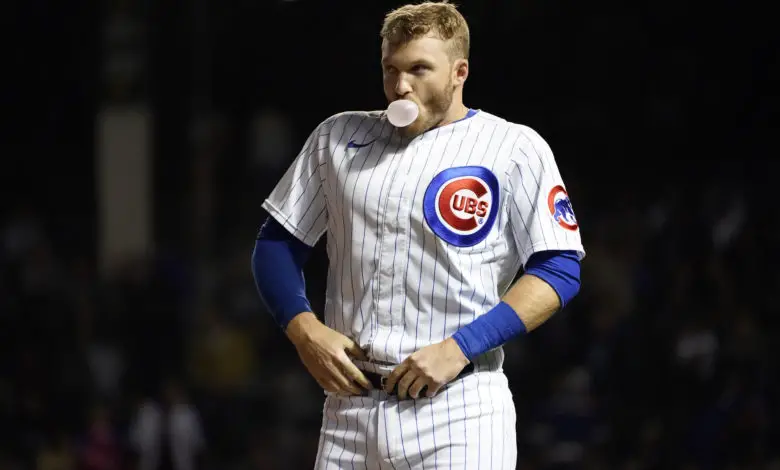 The Rundown: Talk of Firing Hoyer Seems Premature, Trading Happ Bears Consequences, Ross Cites Loyalty Regarding Heyward
"Now it's not like me to say the right thing." – Genesis, Misunderstanding.
One of our competitors published an editorial piece recently in which they made a case that the Cubs should fire Jed Hoyer. I won't provide a link but you should find it easily via your preferred search engine. I've been critical of the president of baseball operations, but I've yet to reach that point.
---
Ed. note: I went back and forth on whether to edit what Michael wrote before settling on including the link to Al Yellon's Bleed Cubbie Blue piece here.
---
The thing about Hoyer is that he talks a lot about his vision for the team, but doesn't reveal how he plans to achieve that. His refusal to put a timeline on Chicago's (it's not a) rebuild is frustrating for fans and bloggers alike. Someone who is that calculated and deliberate in his responses usually appears to be circumstantially deceptive. Hoyer has mastered the art of being vaguely transparent, which is a nice way of saying he's often obtuse and disingenuous.
"I have a vision to build," Hoyer said. "I know what we built last time. I have all the confidence in the world that we're going to get there. But I also am aware that sometimes things speed up and sometimes things slow down. I'm not smart enough to know which of those is going to happen. But I do know — and I have the ultimate confidence — that we're going to be successful. Just like I knew that same thing last time. It doesn't make the day-to-day any easier."
That word salad means almost nothing to the common fan. Hoyer intends to do something, he's not 100% sure when it will happen, but he's confident that once he figures it out the result will be Chicago's next great baseball team. Saying you're not sure when things will happen but expressing confidence in your plan seems contradictory, if not delusional.
Granted, it's a timing issue and not lack of a plan, though he's obviously revealing little about the latter. Hoyer got testy when questioned recently about timelines. Remember, he did say previously that fielding a winning team won't take as long as fans may expect.
"I didn't say that at all," Hoyer said per Gordon Wittenmyer of NBC Sports Chicago. "I said I don't have a sense — I have a sense of how to build the next great [Cubs] team and where we want to go. I didn't give you any sense of timing. In fact, I don't have a feel for that."
A sense? A feel? What does that mean exactly to Cubs fans?
With the trade deadline approaching, it seems obvious that the front office will finish the job of tearing the roster down to its studs. When Hoyer was hired, I said immediately that I believed his goal was to dismantle anything associated with Theo Epstein and the 2016 championship team. I still believe Hoyer wants any future success to have no attachment to anything his predecessor may have put in place and his moves since ascending to the top spot prove that. It's not an exercise in tanking and rebuilding, but something more akin to cleaning up after a decade-long backyard kegger.
Are those grounds for firing the embattled executive? I'm not there just yet. Hoyer has done well at stacking the farm system but his moves at the big league level leave a lot to be desired. Using phrases like "threading the needle" or "putting paint on the easel" mean little to fans who expect a major market team to play competitive baseball. Rostering a lot of one-year players while making questionable moves that might negatively impact the future isn't helping either.
The Cubs are a hodge-podge unit built to lose as many games as possible and if that's part of the plan, just admit it. Though none of us are executives, we're smart enough to know the difference between good and bad baseball and Hoyer should at least acknowledge that we're intelligent consumers. I think that would go a long way toward changing the current narrative.
Cubs News & Notes
Odds & Sods
The birds are flying again! Good for Brandon Hyde who has guided the Orioles to a 21-16 record since May 19.
At 14-10 with 2 games left in June, the Orioles have clinched their first winning calendar month (min 5 games) since they went 17-12 in August 2017

— Sarah Langs (@SlangsOnSports) June 28, 2022
How About That!
The Angels-Mariners melee over the weekend resulted in 12 player suspensions, led by Jesse Winker, who will miss seven games pending any appeal he may file.
Bryce Harper is dealing with a thumb injury that may require surgery.
The Royals have traded designated hitter Carlos Santana and cash to the Mariners in exchange for right-handers Wyatt Mills and William Fleming.
If the Athletics end up moving to Las Vegas, the league said that it will not charge the team a relocation fee. Saving Oakland ownership potentially hundreds of millions of dollars indicates that MLB wants a team in southern Nevada.
A number of prospects turned heads at the MLB Scouting Combine, including Temarr Johnson, who was called a "generational hitting talent."
Monday's Three Stars
Chad Kuhl – The Rockies starter tossed a three-hit complete-game shutout against the Dodgers at Coors Field. Read that again.
Juan Yepez – The Cardinals rookie DH blasted two home runs and plated five runners in a 9-0 win over the Marlins.
Paul Goldschmidt – The slugging St. Louis first baseman was 4-for-4 with a home run and two RBI in the same game.
Extra Innings
Oneil Cruz has all the makings of a star, but who might the Pirates trade him to once he hits his arb years? Looks like a future Yankees star to me.
109.8 MPH at 19°…an absolute ROCKET by Oneil Cruz! 🚀pic.twitter.com/xvWo3dXrbq

— Codify (@CodifyBaseball) June 28, 2022
Tuesday Morning Six-Pack
They Said It
"Publicly, it doesn't benefit any manager, coach, or even players to rant. There are things that happen in-house that you have to take care of, and you have to have a little bit of teeth every once in a while. The key to that is understanding why you have those conversations, what their intentions are, and the expectations that will never go away for a manager, a player, a coach, [or] an organization. When you keep those standards high — and don't waver from those — I think that's really important." – Ross
"Clearly, this year, we've taken a step back [in spending]. And as I said, all the resources that weren't used that would have pushed us up the ladder on the payroll chart this year will go into next year's budget. So I feel really lucky that Tom [Ricketts] has never said, 'No, I don't want to spend.' Yes, in this one single year, we're back into the middle of the table. But if you look at any sort of reasonable length of time, we're always in the top four or five." – Kenney
Tuesday Walk-Up Song
If we can't call it a "rebuild" how about "Betty" or "Al?"