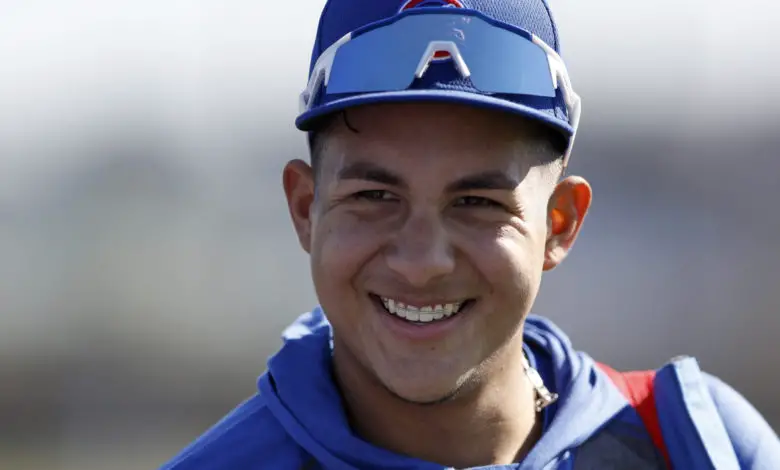 Miguel Amaya Will DH for Cubs' Arizona Complex League Team Friday Night
Catcher Miguel Amaya, who has not played in a game since June 3 of 2021 and underwent right elbow reconstruction that November, will return to action Friday night as the DH in an Arizona Complex League game. Amaya had been among the Cubs' top three prospects prior to the injury, but missing all that time while the organization added premium talent via multiple trades has pushed him down the list.
Some Cubs prospect news: Miguel Amaya, a catcher on the Cubs 40-man roster who is recovering from Tommy John surgery, will DH with the Arizona Complex League team tonight.

— Sahadev Sharma (@sahadevsharma) July 1, 2022
It wasn't just the elbow surgery that had evaluators placing higher numbers next to Amaya's name. His offense wasn't quite catching up to his prowess behind the plate and the lost COVID season followed one in which he logged just 341 at-bats for High-A Myrtle Beach. That said, his ability to call games, block pitches, and throw out runners will make him a solid contributor even if the bat continues to lag a little bit.
With about half a season left, it's entirely possible that Amaya will make his way back to affiliated ball before the year is out. He was with Double-A Tennessee last season so a little more time with the Smokies isn't out of the question even if the Cubs exercise caution. They've already got a test case of sorts there in Kodak.
Outfielder Cole Roederer underwent Tommy John surgery in July of 2021 and was DH'ing at extended spring training this year before joining Myrtle Beach on May 3 and being promoted to Tennessee a week later. That's about 10 months from procedure to affiliated ball, so it might be August or September before Amaya is ready. Then again, the fact that he's already back in action indicates he could be ahead of schedule.
Whatever the timeline, this is very good news for both Amaya and the Cubs.