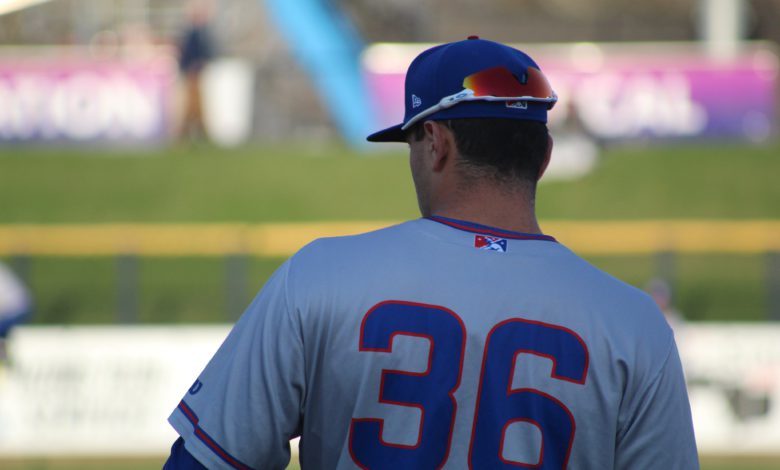 Trio of Unheralded Hitters Making Noise in Tennessee
It's often said that the Double-A level is where you can identify your best pure prospects, which is why it wasn't entirely surprising to see Christopher Morel experience success in Chicago after coming straight from Tennessee. Though it's unlikely the Cubs will do the same with any of the three players we're going to discuss here in a moment, it's starting to feel very much like all of them could be legit.
What's really encouraging about the performances in question is that they're all coming from beyond the top 30 of pretty much every prospect ranking you can find. Only one of them is even in the top 50, but his star lost a little shine when he underwent elbow reconstruction last summer. Age is a factor with the other two, as most evaluators aren't drooling over dudes in their mid-20s.
But when you review the top of the Cubs' system rankings and look at the players who make scouts embarrassed to stand up in sweat pants, you see a bunch of guys too young to impact the big club soon. Counting on just the top prospects would be a fool's errand in any case because you need some unheralded players to come up and exceed expectations.
MERVIS TIES THE GAME AT 2!!!! @mmervis12 pic.twitter.com/uIAroTjyL3

— Tennessee Smokies (@smokiesbaseball) June 22, 2022
Players like first baseman Matt Mervis, who went unchosen out of Duke in the truncated 2020 draft and is now earning the nickname Mash on a nightly basis. I wrote about him recently and would direct you back to that piece for a little more information, but suffice to say he's earned an additional mention. In 16 games since, the left-handed hitter is batting .270 with four homers and four doubles to push his OPS to .993 with the Smokies.
That performance led Baseball America to call him "one of the Cubs' best pure offensive prospects," which is pretty damn good considering all the other talented players in the organization.
Things are going even better across the diamond, where third baseman Jake Slaughter is making a mockery of Southern League pitching. The 25-year-old who was selected in the 18th round out of LSU in 2018 has taken off after three years spent finding his footing. What's really surprising about Slaughter's offensive explosion is that it came after some relatively modest production at South Bend.
This is Jake Slaughter. He doesn't have a Twitter. In 24 games with the Smokies, Jake is batting .351 with 10HR, and 23RBI. He's a stud. pic.twitter.com/G9MFf3l9nD

— Tennessee Smokies (@smokiesbaseball) July 2, 2022
The Louisiana native was batting .247 with a .770 OPS and three homers in 20 games at High-A when he got the call to Double-A. All he's done with Tennessee is rake, hitting .351 with a 1.144 OPS and 10 homers in 24 games while posting a 16.5% strikeout rate that sits about nine points below his career average. The combination of Slaughter, a right-handed batter, and Mervis in the two and three spots for the Smokies is terrorizing opposing pitchers.
Slaughter with his 10th home run of the season!!! Smokies lead 3-0 in the bottom of the 5th. pic.twitter.com/FqdC8FaRBA

— Tennessee Smokies (@smokiesbaseball) July 2, 2022
A little further down in the order is 22-year-old Cole Roederer, who was the Cubs' third overall selection in the 2018 draft when they took him in the compensatory portion of the second round. Their first two picks: Nico Hoerner and Brennen Davis. That's pretty good company, and Roederer held his own in the Arizona Rookie league with a .275 average and .819 OPS as an 18-year-old. His first two seasons of affiliated ball didn't go quite as well, however, and they sandwiched a lost year due to COVID.
Roederer batted .224 with a .684 OPS in 2019 at South Bend, which was at the Low-A level then. He really just couldn't seem to get over the hump to get a good hot streak going, though his nine homers showed promise for pop in the future. Then Minor League Baseball made a bad joke and got canceled, after which Roederer again struggled in South Bend — this time at High-A — before an elbow injury cut his season short with just 70 at-bats.
It's borderline trite to say the injury may have been the best thing for Roederer's development, particularly with all the urban legends about people getting elective Tommy John surgery to make their arms stronger, but it might be true in this case. The outfielder said during spring training that his left arm indeed felt stronger as a result of the exercises he performed during his rehab, which makes sense because he was attacking it with a singular focus.
The mistake people make when talking or hearing about an athlete coming back better from surgery is that they think the procedure is responsible for the improvement. While it's very true in some cases that surgery can alleviate pain or correct other issues, the resultant physical therapy is what increases strength. Just imagine the result of having surgery and then failing to properly execute the exercise regimen prescribed by the doctor.
There's also the mental aspect, which may be as big a part of Roederer's resurgence as anything. He was effectively robbed of two years of his career and that hunger drove him to be better once he was finally able to get back on the field. After spending some time at extended spring training to ensure the elbow was ready for full-time action, he was sent to Myrtle Beach and fast-tracked from there.
After just four games, during which he collected seven hits in 15 at-bats, he was promoted to South Bend and spent a whole three weeks there. Despite batting just .197 with 19 strikeouts and four walks, the Cubs were confident in Roederer's ability to turn it on at the next level of the system. That's exactly what he's done at Tennessee, batting .323 with an .814 OPS and 16 strikeouts to nine walks in 62 at-bats.
We'll take what we can get. Smokies take the lead 2-1 thanks to an RBI by Cole Roederer! pic.twitter.com/o7Xx6HCupK

— Tennessee Smokies (@smokiesbaseball) June 26, 2022
A lot of that comes from the Southern California kid catching the wave he kept missing during his time in South Bend. His average dipped below .200 after collecting just one hit across five games, but he's currently riding a nine-game hit streak in which he has 14 knocks over 32 ABs. Apply small-sample caveats as you see fit, but this feels like a microcosm of his career as a whole in which his talent has finally had a chance to catch hold.
This isn't just a matter of looking at three guys with hot bats and dreaming on them as future pieces for Jed Hoyer's "Next Great Cubs Team," though it's hard not to grasp at any possible life preserver rather than drowning in sorrow over the club's direction. Not only are most of the toolsy young players in the system two or three years out, but many of them play up the middle.
Between the DH, questions at one corner spot in particular, and a dearth of left-handed power, Mervis might end up being a great fit. Though Slaughter doesn't have quite as clear a path, he can play multiple infield positions and will force himself up if he keeps hitting like this. Roederer has all the makings of a pesky extra outfielder who rounds out a roster even if he never quite becomes a star. He just does the little things right to make his team better.
As the Cubs keep pushing their strategy forward and attempt to build a team that will compete in a big way once again, don't sleep on the prospects whose names aren't yet on everyone's lips.