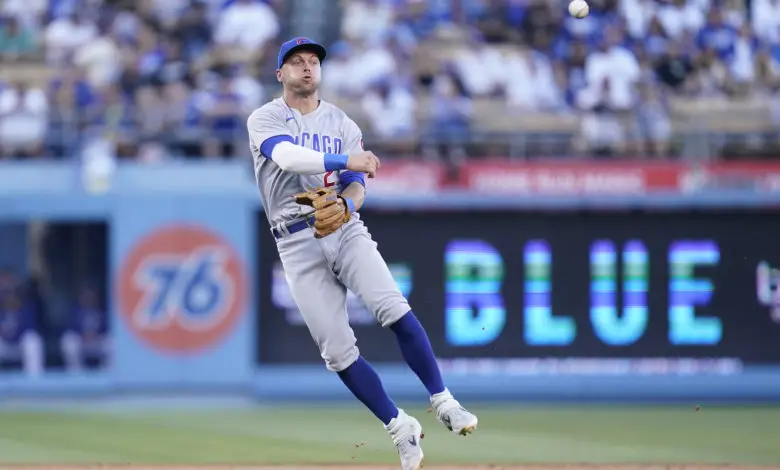 Forget That Free Agent Speculation, Cubs Already Have an Elite Shortstop
The Cubs were reportedly kicking the tires on Carlos Correa last winter and USA Today's Bob Nightengale keeps pushing the idea that they'll land Xander Bogaerts once he opts out of his deal in Boston, but what if they could get a top-level shortstop for a fraction of the price? Or, more accurately, what if they already have that player on the roster? Andrelton Simmons, come on down!
No, but seriously, Nico Hoerner has been a freaking revelation this season. He currently ranks seventh among all MLB shortstops with 2.5 fWAR and 113 wRC+, his .333 wOBA is fifth, his .306 average is second, and his 10.9% strikeout rate is third-lowest.
Hoerner's glove has been top-notch as well, generating 10 defensive runs saved to tie him for the lead at his position and put him in a tie for fourth among all MLB players. His FanGraphs' Def score of 9.0 is alone at the top for shortstops and has him sixth in all of baseball, which is not where anyone expected him to be when projecting his performance at the beginning of the season.
That's mainly because a combination of timing and injuries have kept Hoerner from playing anything close to a full season in the past. A wrist issue cut short his first professional campaign after he was drafted in 2018, then a fracture on a hit-by-pitch shut him down for much of the following season. Coincidentally enough, a rash of injuries to pretty much every other shortstop in the organization subsequently forced the Cubs to push Hoerner all the way to Chicago despite just 375 minor league plate appearances.
He only played 48 games during the shortened 2020 season and only managed to play in 44 last year due to a variety of issues, so he came into '22 with just 378 MLB plate appearances. That's a whopping 753 total PAs over four seasons, just 29 more than Marcus Semian tallied last year alone.
The point of repeating a lot of information you were probably already aware of is simply to drive home the notion that no one really knew what Hoerner could be as a baseball player. We knew he was incredibly athletic, had a high-contact plate approach, and was very easy on the eyes. We also knew he wasn't likely to hit for much power and most of us probably thought the glove played better at second base long term.
But what if Hoerner is the real deal at short? Even with arbitration netting him a big raise over his current $720K, he'll be pulling down about 16% of what Bogaerts, Correa, or Trea Turner may command as free agents. With full understanding that signing one of those players and pushing Hoerner to second is far from a terrible idea, I wonder whether the Cubs might be better off allocating an equivalent amount of money to pitchers and a big lefty bat.
With several young shortstops matriculating through the system and a good number of outfielders also coming through, there might still be another year or so on the egg timer Jed Hoyer set on spending. Once you consider the likelihood of trading Ian Happ and Willson Contreras, it's hard to see how adding a superstar puts what would be an otherwise moribund roster over the top.
Unless…yeah, that might work. Signing one of the top free agent shortstops doesn't immediately make Ed Howard, Cristian Hernandez, and Kevin Made expendable, but it could increase the Cubs' willingness to deal one or more of those youngsters in order to acquire big leaguers with less of a financial hit. I'm not going to start making proposals or anything, but I think you get the drift anyway.
The bigger point here is that Hoerner has been amazing this season and still has room to get better as both a shortstop and hitter with continued experience. So even though I'm fully on board with the Cubs increasing their payroll in a very big way next year and in every season thereafter, I'm warming up to the idea of Hoerner holding down his spot.