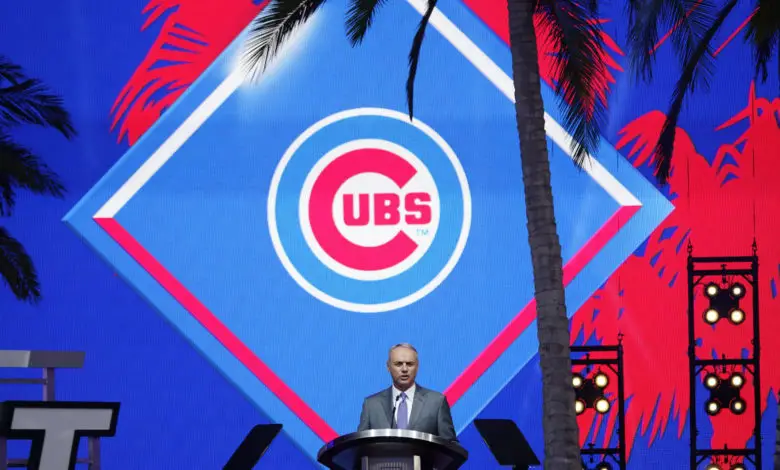 Minor League IPA: Cubs Draft Class Very Pitcher-Heavy, PCA Doubles in Futures Game, Herz and Wicks Promoted
The Cubs have completed all of their bonus slot picks, and by many accounts, they've had a great first half of the draft. Through the first two days and 10 rounds, here are the picks:
RHP Cade Horton
LHP Jackson Ferris
SS Christopher Paciolla
RHP Nazier Mule
RHP Brandon Birdsell
RHP Will Frisch
RHP Nick Hull
RHP Mason McGwire
RHP Connor Noland
RHP Brody McCullough
Though vice president of scouting Dan Kantrovitz runs the draft, the 9:1 pitcher-to-position-player ratio screams GM Carter Hawkins. It also tells you that the front office is extremely pleased with the development and projection of its minor league infielders and outfielders. That should make for an interesting trade deadline. I am of the belief that Jed Hoyer will probably seek players that are major league ready or close when he deals the likes of Willson Contreras, Ian Happ, and David Robertson, among others.
In case you're wondering if any of the draftees will make Chicago's top 20, I'd bet on the top two picks and possibly Paciolla. Evan Altman wrote nice pieces on Horton and Ferris, and Greg Huss provided a wonderful recap of all of the Day Two picks earlier on Monday. They're worth checking out if you haven't already.
The Cubs system is rounding out nicely, but I sure would like to see Hoyer acquire some 60-grade power with his tradeable assets. If I wasn't nearly 100% positive that Contreras will be moved, and possibly later this week, the addition of all the new pitchers sure makes a great case to retain and extend him. I like Yan Gomes, and P.J. Higgins is so underrated, but catcher seems to be the system's weakest link now, which is odd because a few years ago it was considered a strength.
That has much to do with the acquisition and development of all of their infielders and outfielders, but let's face it, there's not another Contreras in this system, and possibly nowhere else in baseball. We've all heard the whispers that the Cubs could sign the All-Star backstop in free agency, a possibility that can't be dismissed if they are treating him as well through this process as I believe they are.
The Cubs will make 10 more selections on Tuesday and once they navigate the trade deadline, the teardown will be complete. I imagine Chicago will enter the 2023 season with a top five farm system and that Pete Crow-Armstrong will be the team's consensus top prospect. Make no mistake, this system is pretty stacked and there are still more bodies coming. Once August 3 arrives, perhaps Hoyer will admit that the rebuild has commenced.
Affiliate News & Notes
Minority Report
Myrtle Beach – Five Pelicans pitchers combined to throw a no-hitter on Sunday, the team's second collaborative no-no of the season. Tyler Schlaffer, Luis Rodríguez, Gregori Montano, Angel Hernandez, and Alfredo Zarraga shut down Fayetteville.
South Bend – The Cubs beat the Peoria Chiefs 3-1 on Sunday. Pinango was 2-for-3 with a triple, and Luis Devers earned his first win for the High- affiliate.
Tennessee – Wicks made his Double-A debut and gave up two third-inning homers in a 7-1 homes loss to Brewers affiliate Biloxi. DH Matt Mervis had three walks and stole a base in the losing effort.
Iowa – Darius Hill blasted a walk-off homer to lead the Cubs to a 6-4 win over the Buffalo Bison. Levi Jordan, Jared Young, John Hicks, and Dixon Machado all had two hits.
Like MLB, the minor leagues are off this week with play resuming on Friday.
Jigger Statz
Crow-Armstrong had a double in Saturday's Futures Game, though those jerseys are tough on the eyes.
Pete Crow-Armstrong, the @Cubs' No. 3 prospect, goes opposite field for a double. pic.twitter.com/MrnTmhrwWa

— MLB Pipeline (@MLBPipeline) July 17, 2022
950 Miles to Chicago
Horton was almost completely off the grid heading into the NCAA playoffs. He flew up the draft boards in the last few weeks thanks to a 2.61 ERA and 49 strikeouts in 31 postseason innings. His performance in the College World Series finals was even more impressive. Horton struck out 24 batters over 13.1 innings, allowing just nine hits and a lone walk. Despite a below-average regular season, he has all the makings of a potential TOR starter. He did have Tommy John surgery in 2021, so I imagine Horton will not be assigned to one of Chicago's affiliates until next spring.
Horton's arsenal is mainly fastball-slider and both are power pitches. The number one sits in the 94-96 mph range and tops out at 98. It also plays well up in the strike zone thanks to a high spin rate and action. His slider is a mid-to-high-80s spinner with depth and a tight break. It induces plenty of swinging strikes and is his best pitch. He also has a low-80s curveball that's average but improving and he has a fringy changeup. Horton has a compact delivery and throws from a high three-quarters arm slot.
He should move quickly through Chicago's system if he stays healthy. Horton is actually a friend of a friend of mine, so I am going to try to see if he wants to appear on The Rant Live with Jon and Evan.
Cade Horton was throwing 63% fastballs in his first 9 outings. With a FF stuff+ of 138, and 152 on SL, that was too high.

Fast forward to his last four (including tonight), down to 43% fastball usage. Horton in those last four outings: 2.72 ERA. Throw your best pitches more. pic.twitter.com/rbfmt9UzVa

— 📊 (@mason_mcrae) June 20, 2022
Craft Beer of the Day
Down the Line Double IPA by Broken Bat Brewing Co: This is the second beer by Broken Bat that I am reviewing, and I have mixed thoughts. In fairness, I sampled it after a night of drinking Narragansett at a pre-concert tailgate, so I probably need to drink it as a standalone. This 8.3% APV DIPA is sticky, hoppy, earthy, dank, and has a great aroma. It's been recently retired so if you can get your hands on some, do so. Keep in mind it is more of an autumnal beverage, something to drink while cozying up to a fire in a thick sweater or hoodie. I just didn't want to wait until October to try it. I enjoyed it, just not as much as I thought I would.
Broken Bat is three bus stops down Kinnickinnic Avenue from my house, and I'm shocked I did not know that until today. The outside brick is whitewashed with red stitches and looks like a flat baseball. It's right across the street from the National Bobblehead Museum, so I have a nice weekend staycation planned to start Friday.
Children of the Corn
The biggest surprise of the draft may have been Kumar Rocker being selected No. 3 overall by the Rangers.
Jackson Holliday and Druw Jones made history after being Sunday's first two selections. They are the sons of former major leaguers Matt Holliday and Andruw Jones.
The Cubs selected Mark McGwire's son Mason in the 8th round on Monday. Coincidentally, the elder McGwire was an 8th-round pick out of high school by the Expos in 1981 but chose to attend USC instead. Mason is committed to the University of Oklahoma.
D-Backs outfield prospect Leandro Cedeno blasted a 527-foot home run on Saturday. It is officially the longest home run in the Statcast era.
MLB will pay $185 million in a lawsuit with minor league players over minimum wage and overtime allegations.
Bill Larsen, the former GM of the Kane County Cougars, wants to build an independent minor league complex on the Arlington Heights land that was recently purchased by the Bears. That sale has not been finalized, but the Bears have already hired an architect and other consultants.
Post-Game Presser
"Wrigley [Field] is beautiful. I got to have family there, some people I hadn't seen in a while. Little things like that are the kind of things I think about when I'm by myself or lying down in bed. Those things give me a taste of what [baseball] could look like on a bigger scale." – Crow-Armstrong
"If you would've asked me two months ago if Cade Horton was going to be [our] top target, I might've been a little skeptical. But then fast forward and just witness the trajectory." – Kantrovitz
"[Ferris] wasn't somebody that was just coming in and pitching with two pitches for two innings. He's throwing complete games and showing off four pitches, going multiple times through the order, and showing an ability to make in-game adjustments. [He] kind of went above and beyond." – Kantrovitz
Today's Fandango
At one point back in the 1980s, I believed Figures on a Beach would be one of the biggest bands to come out of the new romantic, post-punk era of pop music. I still think they're fantastic, and one of Seymour Stein's better signings for Sire Records.