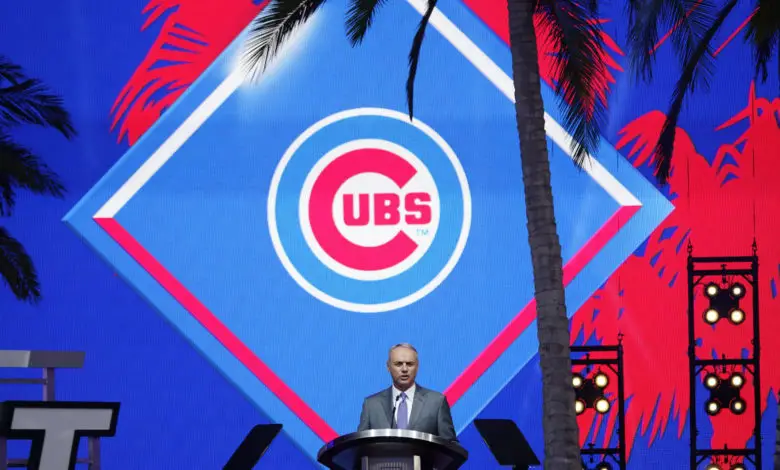 Cubs Making Significant Headway by Signing Several Recent Draft Picks
Cubs VP of scouting Dan Kantrovitz said at the conclusion of the 2022 MLB Draft that he'd be surprised if the Cubs signed all 20 of their selections, but that he'd be "really happy" to land 18-19 of those players. Based on the reports, Kantrovitz and Co. have already signed as many as seven members of the draft class already and may have at least one more by the weekend.
---
Here are breakdowns of all the Cubs' 2022 picks:
No. 1 pick Cade Horton
No. 2 pick Jackson Ferris
Day 2 picks 3-10
Day 3 picks 11-20
---
The highest of those is fourth-round pick Nazier Mulé, a two-way player out of Passaic Tech High School in New Jersey who Cubs fans are going to love. More on him after we get through some of the confirmed signings, because it sounds like there might be a little negotiation that could see the Cubs paying out more than the $538,400 slot value for the No. 113 overall pick.
As expected, most of the players the Cubs have already signed fall in the mid to late rounds and almost all of them are college players. For those of you who may not be as familiar with the whole process, the combination of lower slot values and little to no leverage for the players makes those picks much easier to sign at or below the standard bonus level.
If you're on Twitter, I would suggest following @Savermetrics for updates on these and other signings because they are putting out more detailed and comprehensive info than you'll find anywhere else. First up is righty Nick Hull, a fifth-year senior out of Grand Canyon University who was slotted at $237,300 and could be getting a little less than that.
https://twitter.com/Savermetrics/status/1549513636699262976?s=20&t=hXfetXC4p42ZHIdsI5XSYg
Righty Connor Noland spent four years at the University of Arkansas and could have come back for an extra year due to the COVID wrinkle, but he will forego that chance in order to turn pro. I'm not sure whether the Cubs had to sweeten the $164,500 pot, but this is again one of those where they might be able to save a wee bit.
https://twitter.com/Savermetrics/status/1549974147584774144?s=20&t=hXfetXC4p42ZHIdsI5XSYg
Brody McCullough out of Wingate is yet another righty and yet another four-year player who is going to be in Mesa for the remainder of the summer to play in the Arizona Complex League. Again, this is a spot where the Cubs might be able to get a discount on the $154,200 slot allocation to apply toward undrafted players or draftees who might be harder to sign.
https://twitter.com/Savermetrics/status/1549942272870912000?s=20&t=hXfetXC4p42ZHIdsI5XSYg
Slot values go away after the first 10 rounds, so some of the players in the back half of the draft could conceivably earn more than those drafted higher. Might that be the case for flame-throwing righty Mat Peters out of the incredibly unlikely source of Ivy Tech in Indiana? Peters grew several inches and added something like 15 mph to his fastball since graduating from high school, plus he's got leverage because he's still just a sophomore in terms of eligibility.
While there might be a little negotiation on the bonus, he has said he's "planning on going to the Cubs."
https://twitter.com/Savermetrics/status/1549878194181771264?s=20&t=hXfetXC4p42ZHIdsI5XSYg
Luis Rujano will probably command a decent bonus because he's a high schooler who was committed to South Florida. It sounds like signability won't be an issue, though, as he has already said he's planning to go pro.
https://twitter.com/Savermetrics/status/1549747522830184450?s=20&t=H6_ex4jIpUd8c-xS3nK3Kg
Shane Marshall is a four-year senior from Georgia who should be in camp soon.
https://twitter.com/Savermetrics/status/1549933254303633408?s=20&t=hXfetXC4p42ZHIdsI5XSYg
So far, the only draftee whose signing figure has been made official is 15th-rounder Haydn McGeary, a catcher from DII Colorado Mesa University who had a year of eligibility left. He agreed to a $125,000 bonus rather than spending his final college at Kentucky.
15th-rder Haydn McGeary signs w/@Cubs for $125k. @CMUMavsBaseball C led NCAA D-II in hitting (.481), OBP (.579), slugging (1.061), OPS (1.640), hits (103), homers (35), total bases (227), Two-time D-II player of the year, D-II career record 75 HR. Kentucky recruit. @MLBDraft

— Jim Callis (@jimcallisMLB) July 21, 2022
Now we get back to Mulé, who is heading to Arizona next week in order to do a physical and start contract negotiations. His initial comments were somewhat coy and indicated that he might be leaning toward college, but all indications are that he's sold on joining the Cubs. Already 6-foot-3 and 210 pounds, Mulé might have the highest upside in the class as a pure athlete with very loud tools.
https://twitter.com/Savermetrics/status/1549478945292107776?s=20&t=hXfetXC4p42ZHIdsI5XSYg
https://twitter.com/Savermetrics/status/1549913797346746368?s=20&t=hXfetXC4p42ZHIdsI5XSYg
He also has a really good head on his shoulders and just oozes confidence without coming across as cocky. This is exactly the kind of player the Cubs like to target and I really hope they let him continue to play both ways until performance dictates a change. Who knows, maybe he'll prove he can do it.
I became a fan of Nazier Mule at 2:30 am this morning. pic.twitter.com/GcjwQ697Lt

— Cody Delmendo (@Cody_CHGO) July 20, 2022
We'll probably have to wait a while to get more information about the top three selections, particularly with the suspicion that the Cubs might try to shift some money from top pick Cade Horton to second pick Jackson Ferris. The Cubs took high school shortstop Christopher Paciolla with their third pick, so he might also need to be enticed with a bit more.
Regardless of how the money all shakes out, the Cubs went into this draft with a strategy to target big athletes with major upside and we should start seeing the fruits of that plan soon.
---
Update: Mulé has announced that he will be signing with the Cubs, so that's a great bit of news to take you into the weekend.
Nazier Mulé (@MuleNazier) announced today that he will sign a professional contract with the @Cubs after being selected in the 4th round earlier this week.

The PCTI two-way star will forgo college and begin his pro baseball journey.

More on this story later today. pic.twitter.com/evhKUB2UQg

— Jersey Sports Zone (@JSZ_Sports) July 22, 2022