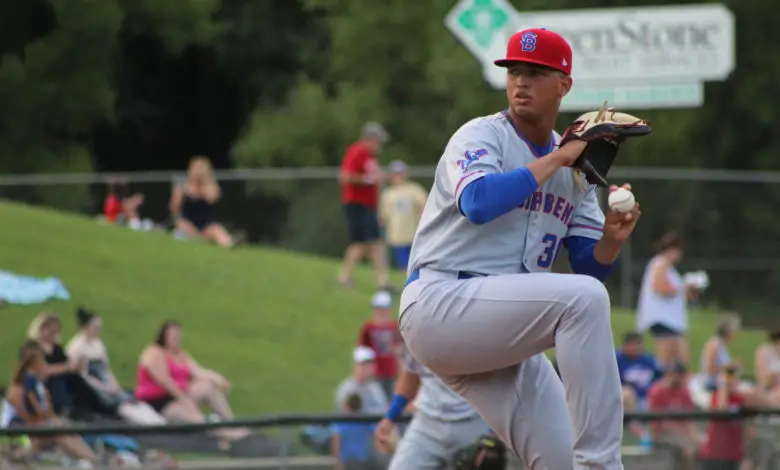 Cubs Pitching Prospect Brailyn Márquez Done for Season Following Shoulder Cleanup
Flamethrowing lefty Brailyn Márquez hasn't thrown a pitch in a live game since making his MLB debut on the last day of the 2020 season and the Cubs announced Monday that he will not throw one this season. Márquez has missed time due to COVID intake issues and also dealt with shoulder trouble that initial reports said was not due to structural damage.
That may not have been the case, however, or it could just be that something new cropped up because the southpaw underwent surgical debridement in his throwing shoulder back in June. While that's just a fancier way of saying he had some things cleaned up, which is perhaps less alarming than major rotator cuff repair, it's never good to see a pitcher go under the knife for anything related to the shoulder.
Per #Cubs, prospect Brailyn Marquez had surgical debridement of his left shoulder last month and will miss the rest of the season.

— Andy Martínez (@amartinez_11) July 25, 2022
Márquez still had enough potential to be ranked No. 10 on MLB.com's top Cubs prospect list and he won't turn 24 until January, but we're now talking about at least two lost seasons in a row. And that's coming on the heels of the COVID-shortened 2020 campaign that saw Márquez get off to a slow start at the alternate site due to intake and conditioning issues.
It's just been a rough series of circumstances for a pitcher who looked like everything the Cubs hadn't been able to develop. He was touching triple digits with the fastball and had nasty breaking stuff that made him unhittable at times. Coming from the left side as a starter made him a potential unicorn. That possibility still exists, but we've now reached the point where you can officially worry about his future without it being even a mild overreaction.