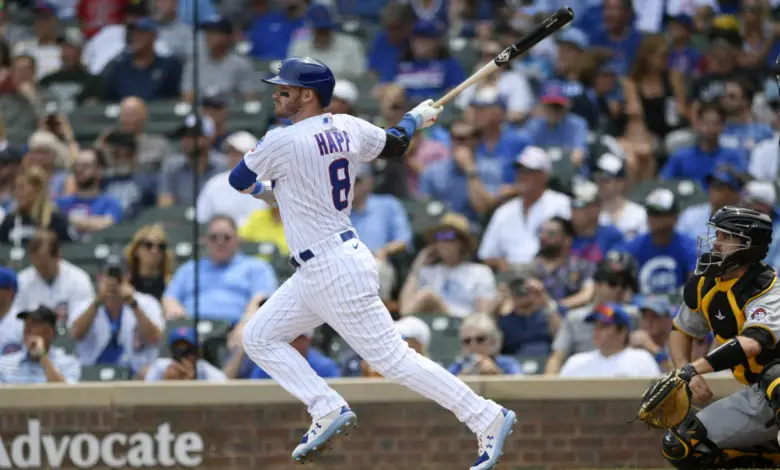 Ian Happ Could Be Braves Target, One Rumor Has Cubs Talking About Miguel Andújar
We're going to work backwards in terms of the headline because the rumor in question would have virtually no impact on the Cubs. Miguel Andújar is a 27-year-old third baseman and outfielder for the Yankees who has battled injuries and inconsistency over the last few years after a breakout season in 2018. Since batting .297 with a 129 wRC+ over 606 plate appearances as a 23-year-old, he has posted a 58 wRC+ with a .253 wOBA over just 328 MLB plate appearances in parts of four seasons.
The Dominic Smith rumor at least makes sense because the Cubs could get a lefty-batting lottery ticket with a chance for a change-of-scenery bump. Andújar is a right-handed batter who has shown virtually no power since '18 and he doesn't fill any sort of positional need. The Cubs are set at third even if they move Patrick Wisdom at the deadline and they certainly don't need any more outfielders at this point.
Miguel Andujar could be involved in a trade to the Chicago Cubs. https://t.co/acqbFeDT7d

— Héctor Gómez (@hgomez27) July 27, 2022
A previous rumor from this same account had someone in Andújar's camp saying he might be part of a three-team deal, which seems like something strange to be sharing. I mean, maybe the Yankees were keeping his agent in the loop and the gossip grapevine took off. A more plausible explanation is that the AL's best team is doing anything it can to create a little buzz around Andújar in hopes they can find a taker.
Circling back to what I think could hold a sliver of viability here, I suppose the Cubs would accept Andújar as part of a return for one of their relievers or, say, Wade Miley. The latter would be more of an insurance piece or a way to lengthen the Yankees' rotation and keep their primary starters fresh for what is expected to be a deep playoff run. The cost would have to be incredibly low considering Miley hasn't pitched since June 10 and is still owed the prorated portion of his $10 million.
That'd be a really low-risk move for both teams, particularly if the Cubs eat Miley's salary. Andújar would just provide organizational depth, especially since Jackson Frazier opted to stick around after being DFA'd earlier, once the trade deadline passes and the Cubs have at least one outfield spot open. That would come from moving Ian Happ, which seems like a given at this point.
Jeff Passan of ESPN reported recently that "almost everyone" wants Happ, and Dave O'Brien of The Athletic broke down why the Braves are one of those teams ($) and what they might do to land a new left fielder. Atlanta just lost Adam Duvall to season-ending wrist surgery and is motivated to replace him in left while also pursuing pitching.
The Cubs are able to meet both of those needs and have reportedly been looking to package either David Robertson or Mychal Givens with Happ or Willson Contreras in talks. O'Brien indicates that the Braves might be amenable to a deal centered around their top prospect, lefty Kyle Muller, and "one or two lesser prospects," but that doesn't strike me as something the Cubs would jump on.
That's not about Muller suffering a broken bone after being hit by a comebacker the other day, because it was in his non-pitching hand. It's more that I'm really wary of a contending team being willing to move a pitcher ranked No. 1 in their system by MLB.com as they prepare for another postseason run. Muller has been very good at Triple-A this season and he's got mid-90's velo with wipeout breaking stuff, so why would the Braves part with him now?
Either they feel they need an upgrade in left that badly or because they're not sold on Muller being a dude, or both.
This feels more like O'Brien is workshopping a scenario rather than tactfully presenting information from off-the-record talks, so take it for what it's worth. The Cubs obviously want pitching and we know how they love projecting the improvements they can make in their pitch lab, but I remain extremely cautious about this whole idea based on the situation.
We're sure to hear a lot more over the next few days, particularly as the Juan Soto rumors continue to hold up the market.