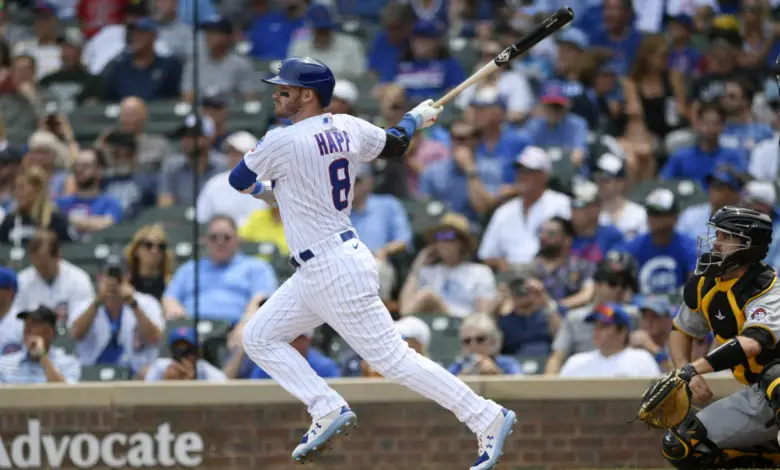 Dodgers Reportedly Viewing Ian Happ as 'Backup Plan' to Juan Soto Pursuit
According to Jon Heyman, the Dodgers have checked in on Ian Happ as a backup plan to their more pressing pursuit of Juan Soto. Along with the Padres and Cardinals, the Dodgers are one of three teams believed to be in serious contention for the 23-year-old Nationals superstar. Heyman reported that folks around the Nats believe Soto will be moved ahead of the deadline, but it's pretty clear there hasn't been a big enough offer yet.
Dodgers have looked at Ian Happ, though as with the Padres that seems like a backup plan to Soto

— Jon Heyman (@JonHeyman) August 2, 2022
If a Soto deal ends up falling apart altogether, or if he ends up somewhere other than LA, the Dodgers could pivot to Happ. While that would be a huge step down in terms of productivity, it would also cost a tremendous amount less. Elsewhere in SoCal, the Padres have been connected to Happ and Willson Contreras, perhaps with David Robertson thrown in as well.
That would seem to be much more of a Soto backup plan due to the sheer volume, though it would still be a much more temporary solution. Happ is the only one of the three Cubs under contract beyond this season and Soto has two more years of control even without an extension. And that's before we even talk about how the numbers Soto is capable of putting up in that time could very well dwarf Happ and Contreras combined.
Happ's market seems to be much broader than that for Contreras, especially after the Astros just picked up Christian Vazquez from the Red Sox. With the Cubs still holding several presumed trade chips less than 24 hours from the deadline, you have to figure they're working on package deals at this point. Some of those could even involve unexpected players, as we saw reliever Scott Effross traded to the Yankees in a Monday afternoon shocker.
Tuesday will be very interesting and probably more than a little frenetic.