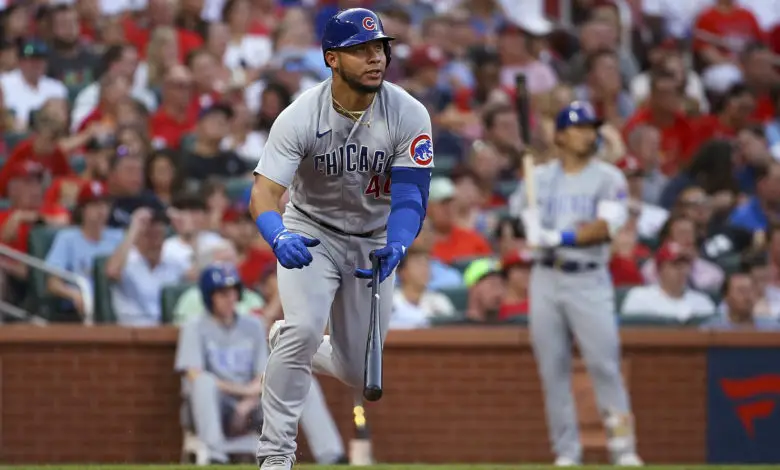 Willson Contreras Felt 'Weight Off My Shoulders,' Now Jed Hoyer Carries Even Heavier Load
Did Rob Manfred hire M. Night Shyamalan to direct this year's trade deadline? There was a lot of tense buildup, MacGuffins and red herrings galore, and the late twist didn't quite live up to the expectation set by the preceding events. All signs pointed toward both Willson Contreras and Ian Happ — not to mention at least one starting pitcher and another position player or two — being moved prior to 6pm ET, but the All-Stars were in the lineup to open the series in St. Louis.
Not everything about that is disappointing, provided you're capable of human emotions. These are people, after all, and they're fan favorites whose continued presence at Wrigley Field over at least the next two months will take some of the edge off of what may otherwise be a pretty painfully lackluster stretch run. If we're able to turn away from our own selfishness for a few moments to realize that players aren't just automatons whose sole purpose is to entertain us, it's easy to find some good in the end result.
"I feel like there was a lot of weight off my shoulders," Contreras told reporters after Tuesday's surprising non-developments. "Today was a long day. I was really anxious to see what was going to happen."
Contreras went on to admit that he assumed he was going to be traded, though he said the team never said anything to him directly about it. Happ was being shopped as of at least early July and it was believed only an injury would have stopped the Cubs from moving him, but he too remained in Chicago after the market for bats never really developed in the wake of the Juan Soto deal.
"It was nice," Happ said of being told by David Ross that he wasn't being traded. "Lots of hugs. I gave Rossy a hug, gave Willy a hug. Happy to be here. Everybody else was out at BP, so I had to make a couple phone calls and tell everybody to stand down from the panic."
As much as I'd love to continue operating in the warm fuzzies of the moment, that almost feels like falling into the Lovable Losers trope Cubs ownership is still trying to exploit. Instead, I want to turn the focus to Jed Hoyer and the front office that has now taken on an even heavier burden due to the moves they didn't make and at least one they did.
Let's start with the most surprising trade the Cubs made, sending righty reliever Scott Effross to the Yankees in exchange for starting pitching prospect Hayden Wesneski on Monday. On paper, there are all kinds of reasons to view this as a smart move by the Cubs. They've shown the ability to rebuild (sorry, Jed) a bullpen on the fly every year, they are clearly looking to improve their starting pitching depth, and Wesneski is a high-ceiling starter with plus stuff who is four years younger than Effross.
But this is also a matter of valuing potential over production and shifting more urgency onto their future blueprint than they have on whatever foundational pieces are in place. While a non-closing reliever isn't typically viewed as a key piece, Effross had established himself as a very reliable option and his approach is such that he should age very well. He's also exactly the kind of person you want to have on your team.
While the Cubs certainly won't be sunk if Wesneski doesn't develop into a capable starter by next year, they need him to work out. The same isn't true for their returns on the other three righty relievers they traded because none of those veterans were signed past the end of this season (Mychal Givens does have a mutual option). Neither is Contreras, which is where we now turn in an effort to understand what the hell happened.
That the Cubs somehow failed to move their All-Star catcher is borderline shocking to most, even if some had strongly predicted that he would stay. The series of events that led to that failure is manifold and we can't get into each with any degree of detail, but suffice to say the Soto trade had a lot to do with it. The Cubs had set an understandably high price for Contreras, one teams were clearly reluctant to approach. The Mets were particularly scared to engage in legitimate talks for a player who might have put them over the top.
A quiet deadline for the Mets, who I'm told were a little gun-shy after trading top prospect Pete Crow-Armstrong, a potential Gold Glover who has been raking in Class A, for two months of Javy Báez, plus Trevor Williams, last year. https://t.co/YzDja0u9GO

— Stephanie Apstein (@stephapstein) August 2, 2022
The Rays were also believed to be in the mix for the catcher and the Padres had been mentioned many times as potential suitors for both Contreras and Happ. But with the market as a whole balancing on one player, it felt as though Soto and Josh Bell being traded by Washington set everything askew. Think of upsetting a chess board and then trying to remember which pieces were supposed to go where.
It was almost as though the aftermath of that deal left would-be Cubs trade partners so disappointed that they pivoted to safer, less expensive deals. Hoyer, meanwhile, refused to budge from his position and would not yield even as circumstances dictated he should have. After all, he surely received offers that exceeded the value of qualifying offer compensation.
"Like last year, I think we were willing to listen if someone gave us a piece that could really help our future," Hoyer explained to the media via Zoom. "We never crossed that threshold. Willson is a really valuable player. He's been a great Cub for six years now and we never got to that place where we felt comfortable making a deal to end his tenure here."
There's merit to holding firm in negotiations, but holding onto Contreras and Happ in doing so means Hoyer has again narrowed the eye of the needle he must thread. Happ is not quite as integral at this point because he's still got one more year of team control and thus has a larger window when it comes to being extended or traded. With Contreras, however, the Cubs may have painted themselves into a corner.
If they fail to extend him over the next two months, which seems pretty likely given they've not had talks about that since 2017, they could risk losing him for nothing. The Cubs could give Contreras a qualifying offer, his refusal of which would net them a compensatory pick following Competitive Balance Round B in next year's draft. That's somewhere in the range of pick 80, if you're wondering.
Even though the latter scenario is better in theory than just letting Contreras walk, it's nothing short of unforgivable in terms of fan service and player treatment. The Cubs allowed their star player to twist in the wind for months, which is bad enough, and slapping him with a QO would suppress his value in free agency. And that's after they may have already manipulated that value through his DH usage.
Long story short, failing to extend Contreras could turn his non-trade from a whoopsie-doodle into a full-blown grievous error by the front office. Watching him leave for another team and getting nothing but a third-round pick in return is less than great from a procedural standpoint, but thanking him for his unparalleled time in Chicago by tanking his free agency would be a dick move.
The same can't be said for the Cubs' decision not to trade Drew Smyly, Patrick Wisdom, or Rafael Ortega, all of whom seemingly had value to at least one contender out there. Wisdom in particular made a lot of sense because his top-tier power could have provided an upgrade to almost anyone at what surely would have been a low cost. These non-moves can probably be explained by the Cubs simply not getting offers worth displacing anyone from their 180-man affiliated roster limit.
Still, there's going to be an inflection point not too far down the road that will require the Cubs to replace several current players with either prospects or free agents. They drafted 16 pitchers because they're so confident in their wealth of position players, then you're looking at Wesneski and Caleb Kilian perhaps getting time through the end of the season.
I remain willing to see how this whole thing plays out because the offseason could yield a tremendous organizational shift if Hoyer is willing and able to spend in a big way. But as things currently stand, I've not yet been able to discern a clear direction and the team has offered little to foster any faith in their own knowledge of exactly what they're doing.
Yes, they've loaded up on big pitchers with big arms and toolsy position players who seem to be exceeding expectations in the minors, and that's all well and good. I can go buy a bunch of lumber and say I'd like to build a porch, but that doesn't mean a damn thing if I can't put everything together properly.
This isn't to say the Cubs won't get this figured out, only, as I've now repeated a few times, that they appear to have created for themselves a narrower path to their destination. I just hope they're able to follow it. Even if they aren't, I'm at least glad the deadline is over and we can all get back to watching these last several weeks of the season without quite as much emotional toll.