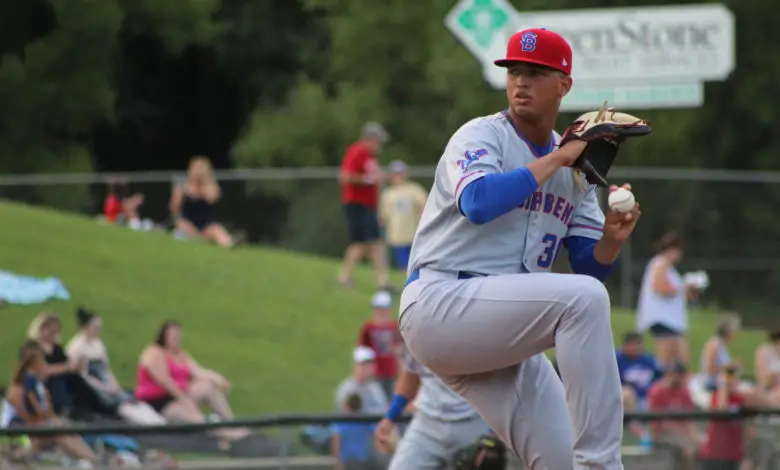 Let's Look at Changes in Cubs' Top 30 Prospects, Particularly Big Drops
MLB Pipeline recently updated its top 30 Cubs prospects, moving Pete Crow-Armstrong ahead of Brennen Davis at the top spot. There was a lot more movement elsewhere on the list, much of which was directly impacted by the draft and trade deadline, but other players moved on or off due to their performance or lack thereof this season.
Injuries and the resultant lack of playing time factored heavily, with one player in particular seeing his hype balloon deflated almost entirely. Brailyn Márquez hasn't pitched since the end of 2020 and has gone from a top-3 prospect to falling off the list and edging close to bust territory. With that in mind, I wanted to take a look at where the Cubs' top 30 list stood prior to Tuesday night to track some of the changes.
More specifically, I want to focus on the drops and will highlight some of those prospects to make it easier for us to identify them.
We'll circle back on this after the list, but I first want to make clear that this isn't about knocking certain players. A lot of factors go into these rankings, the most important of which is potential. Seeing someone falling a few spots doesn't mean they're doomed by any stretch, just that other players have a bit more helium.
Remember, this is where the list stood prior to the update and the numbers reflect what happened following the update.
1) Brennen Davis (-1)
2) Cristian Hernandez (-4)
3) Pete Crow-Armstrong (+2)
4) Kevin Alcantara (+1)
5) James Triantos (-6)
6) Caleb Kilian (-8)
7) Jordan Wicks (+2)
8) Hayden Wesneski (-4)
9) Owen Caissie (-1)
10) DJ Herz (-3)
11) Ben Brown (+3)
12) Brailyn Márquez (off)
13) Reginald Preciado (off)
14) Kohl Franklin (-15)
15) Miguel Amaya (-1)
16) Ed Howard (-5)
17) Kevin Made (same)
18) Ryan Jensen (-10)
19) Alexander Canario (+10)
20) Christian Franklin (off)
21) Yohendrick Pinango (+3)
22) Pablo Aliendo (off)
23) Drew Gray (-7)
24) Jordan Nwogu (off)
25) Chase Strumpf (same)
26) Daniel Palencia (+7)
27) Ben Leeper (off)
28) Moises Ballesteros (+13)
29) Kervin Castro (off)
30) Riley Thompson (off)
Márquez presents something of a cautionary tale to those who would place a little too much emphasis on simply citing a prospect's ranking as a measure of his future impact. There's a point at which the steam runs out and the hype isn't enough to buoy the reality of what a player is or isn't doing on the field. That's clearly the case with the big southpaw, who many have already written off.
You might be able to see that as a good thing if you squint really hard. I mean, the Cubs still have a ton of pitching prospects even without Márquez in the mix and anything they get from him in the future will be gravy. If you'd said two years ago that he might never pitch again, it would have seemed like a huge blow to the organization.
Looking at some of the other pitchers who took big drops, it might be alarming to some that Kilian and Wesneski fell out of the top 10. That's really more a function of them being at Triple-A and not having much more to prove. Then you've got Kilian's struggles at the MLB level and Wesneski getting off to a rough start in Iowa, so a little shine has come off.
Jensen and Kohl Franklin experienced double-digit drops, largely due to injury and/or the need to rework their mechanics. I think both have tons of potential remaining, particularly after seeing what they've done lately, but this is more about six new entries to the list between draft picks and breakout performers.
Among the position players, Hernandez and Triantos fell several spots after not dominating at their respective levels. Funny how it's better in the eyes of some evaluators for a player to have not had any professional experience at all than to have moved up a level and worked to adjust.
Injuries provide the main theme among others who fell in the rankings, with Preciado, Howard, Gray, Amaya, and 2021 draft pick Christian Franklin missing some or all of the season due to various ailments. Like those closer to the top of the list, Aliendo and Nwogu simply haven't dominated this season.
As I wrote in the earlier post about PCA taking over the top spot, most of these lists are really more about who's hot than anything. That's why I think it's best to continue to monitor them while maintaining proper context for the reason(s) behind and changes.