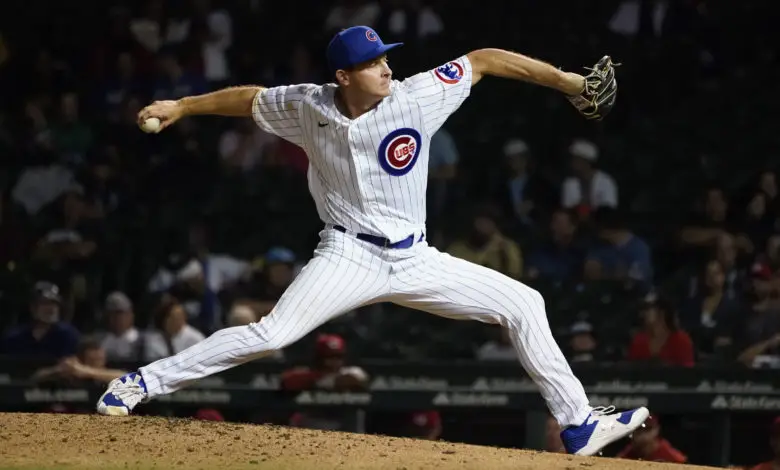 Hayden Wesneski? More Like Hayden Was Nasty in MLB Debut
I did not like the trade for Hayden Wesneski when I first heard about it, though my knee-jerk reaction to the deal had nothing to do with the former Yankees prospect about whom I knew absolutely nothing. No, my distaste for the deal was based solely on the Cubs parting with reliever Scott Effross, someone I believed could anchor their bullpen for years to come.
"The Cubs had better get a return for Effross that makes Yankees fans scream because I am at a loss here," I tweeted in the wake of the trade news breaking.
Well, I think some Yankees fans might be screaming after watching what Wesneski — who I'm just going to call Was Nasty until I get the attention of Obvious Shirts — did to the Reds Tuesday night. I mean, yeah, it's the Reds, but it was still a very promising performance.
Brought on to piggyback starter Wade Miley, the rookie righty saved the bullpen by authoring five scoreless innings and striking out eight of the 18 batters he faced. In doing so, he became the first Cubs pitcher since at least 1901 to throw that many shutout frames with seven or more strikeouts. If you feel like that's cherry-picking, you can lodge a complaint with Jordan Bastian since he's the one who tweeted it.
Wesneski didn't just follow Miley in the pitching order, he appeared to have adopted the seasoned southpaw's no-BS approach. If you blinked, you may have missed it as the new guy struck out the first two batters he faced on a total of seven pitches. The first of those K victims was former Cubs great Austin Romine, who had no chance at this slider.
Hayden Wesneski first MLB strikeout with the slider

18" horizontal movement… only 3 pitchers in MLB average 18" pic.twitter.com/XibLgmNvjN

— Brendan Miller (@brendan_cubs) September 7, 2022
Statcast is calling that pitch a curveball for the time being, but it's definitely a slidepiece, and a nasty one at that. As CHGO's Brendan Miller noted in that tweet, the 18 inches of break on Was Nasty's slider to Romine puts him among the best in the league. For those who are skeptical about comparing the results of one pitch, Baseball Savant had the average of all 26 sliders he threw at 17.8 inches.
Again, that's coming via Statcast's measurement of Was Nasty's "curveball" so we might need to wait a while for everything to come out in the wash. No matter what you call it, the pitch is very effective due to the combination of movement, velocity, and location. Marquee's Lance Brozdowski tweeted that no other MLB starter — let's not split hairs — averages as much break while also throwing their slider harder than 80 mph.
Hayden Wesneski averages > 18" of horizontal mvmt on his slider at 81-82 mph.

No other starter in baseball averages > 18" above 80 mph on their slider.

Biggest thing is that it's in zone ~50% of the time. MLB average is around 44% for SLs (not controlling for SL type). #Cubs

— Lance Brozdowski (@LanceBroz) September 6, 2022
The really interesting wrinkle to me, and one Reds manager David Bell learned about firsthand, is that Was Nasty's slider finds the zone nearly 50% of the time. When he's locating it like he did on a called second strike to Jose Barrero, it's almost unfair. The pitch barely clipped the corner of the zone as it tailed away, eliciting the call and eventually resulting in Bell's ejection. Barrero fouled off a similar offering once things had calmed down, then eventually whiffed on a slider that broke farther outside.
Even those who experience cognitive dissonance when presented with any pitching stats beyond ERA will agree that the kid passed the eye test in his debut. You don't need to know how much the pitches moved or what their spin rates were to see that tunneling a sinker with a slider like this will generate good results.
Hayden Wesneski, 92mph Two Seamer and 82mph Breaking Ball, Overlay. pic.twitter.com/SfHgzAYpae

— Rob Friedman (@PitchingNinja) September 7, 2022
Wesneski, who deserves to have his government name used once in a while, had the fastball sitting 94 and touching 96 with the sinker just about a tick lower. The pitch currently being called a slider is a cutter that sits about 89 with much tighter horizontal break. Then there's the changeup he threw just three times, all of which came between two separate strikeouts of Jake Fraley.
Fraley entered as a pinch-hitter for Stuart Fairchild so the Reds could have a left-handed batter in an all-righty lineup facing Miley, but the results didn't work in Cincy's favor. Wesneski got a called strike and a foul against his change before eventually striking Fraley out on a slider in the 7th inning. When the two faced off again in the 9th, Wesneski used the offspeed to get another swinging K.
The classification of the pitch is actually more up to the pitcher himself, because just looking at it will tell you it would normally be called a splitter. Again, the name is less important than the results and I'm interested to see it more frequently as Wesneski faces lineups with more lefty bats.
Yeah! It's a split grip. As to whether it's marked as a split or changeup … 🤷‍♂️ He calls it a CH, similar to McClanahan who throws split grip but it's marked as CH and he calls it CH. pic.twitter.com/jwh2fd1B5C

— Lance Brozdowski (@LanceBroz) September 7, 2022
Though I know there are still some Eeyores among you who will fail to find enjoyment in this, it's becoming more evident all the time that the Cubs have something working here. I'm not telling you to suddenly be happy about the path they've taken to get here or anything, only that there are some dudes coming up through the system who are going to be very fun to watch.