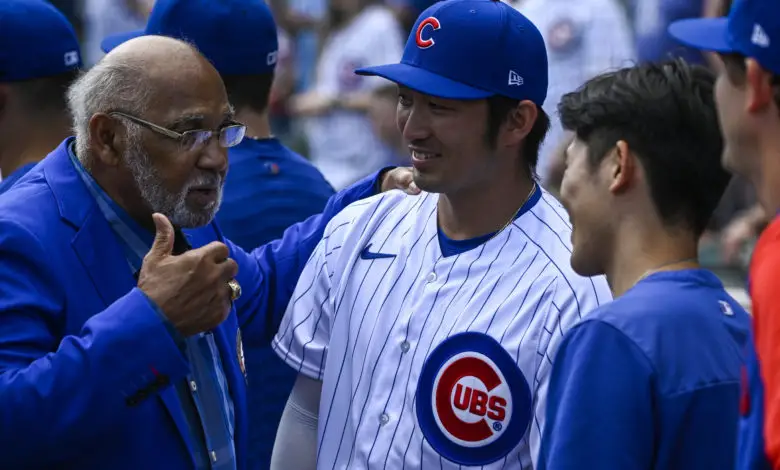 Sweet Swingin' Seiya Suzuki 'Feels Like Everything's Coming Together' in September
No one's going to confuse Seiya Suzuki for Billy Williams, but the photo of the two of them combined with the latter's hot hitting made the headline seem appropriate. With three homers in his last six games, including a big blast to center in Sunday's loss, Suzuki looks like the player who came out of the gate on fire before pitchers adjusted to him.
The inconsistent results are part and parcel of coming over to a new league in a new country and dealing with all manner of issues. If you've ever spent an extended period of time in a foreign country, you probably have some understanding of how even otherwise mundane aspects of life can become stumbling blocks. But now that he's about six months into his new life in Chicago, Suzuki is settling into a groove.
"I feel like I'm getting used to the atmosphere," Suzuki told reporters via his interpreter. "I also feel really good in the box. I just feel like everything's coming together. There were ups and downs obviously at the start of the season, but I definitely feel better right now."
That homer in Sunday's game offered further evidence that Suzuki is indeed more comfortable at the plate.
"It looked like he leaned back on that one more than he normally does," David Ross said. "Really nice swing. I've thought he's played really good baseball for us, good at-bats. The consistency that he's produced for us for a month-plus now, I think, has been really solid."
Suzuki has been able to sit on offspeed stuff to a much greater degree over the last few weeks and he's punishing mistakes, though it sure would be nice if he could get a fair strike zone. In case the chart below is difficult to make out, those lines show Suzuki's wOBA by month against fastballs (red), breaking balls (blue), and offspeed (green).
https://twitter.com/MLBastian/status/1569160889605001216?s=20&t=noEaTcIKsJ3e3Z_s0fOZrQ
There's still a lot of time left in the month, but September is shaping up to be better in many ways than that scorching April. Suzuki already has three homers, just one behind his high for a month, and his .286 average would tie his best month of the season. His .382 wOBA and 147 wRC+ still trail April's marks of .395 and 155, but his .286 ISO shows he's hitting for more raw power.
His .175 ISO on the season ranks just 19th among right fielders with at least 250 plate appearances, but he's at .198 and a ranking of 14th over his last 101 plate appearances. Suzuki ranks ninth through the first week-plus of September, though we're only talking about 37 plate appearances.
The real concern is his 0.22 K-to-BB ratio, which is lower than ever as a result of a 5.4% walk rate so far this month. Before waving that off as a small-sample aberration, we need to note that he walked at just a 4.5% clip in July and has struck out in more than 20% of his plate appearances in every month other than July. Having better umps would help Suzuki quite a bit in that area, but he's got to do a little more work on his zone recognition.
This is the part where I was going to cite some of Shohei Ohtani's numbers as a way to provide hope for what Suzuki can do in the next few seasons, though that would be as disingenuous as it is incongruous. Not only are they very different players, but Ohtani began his MLB career at just 23 years old and is a little over a month older than Suzuki
Ohtani does have similar strikeout numbers and his power went begging during that shortened 2020 season, but he was also coming off of elbow reconstruction that cut short his 2019 campaign. So aside from their shared home country, there's not a whole lot we can really glean from Ohtani's career that can be applied to Suzuki. Well, other than both of them being in their prime athletically and having plenty of room left to improve on their respective games.
"I think what you've seen from him this year is just scratching the surface," Nico Hoerner said of Suzuki. "And just away from the game of baseball, just life-wise, I think it's just got to be just incredibly challenging…
"So, if this is his baseline of ability, we've got a really, really solid player and a guy who is going to continue to improve."