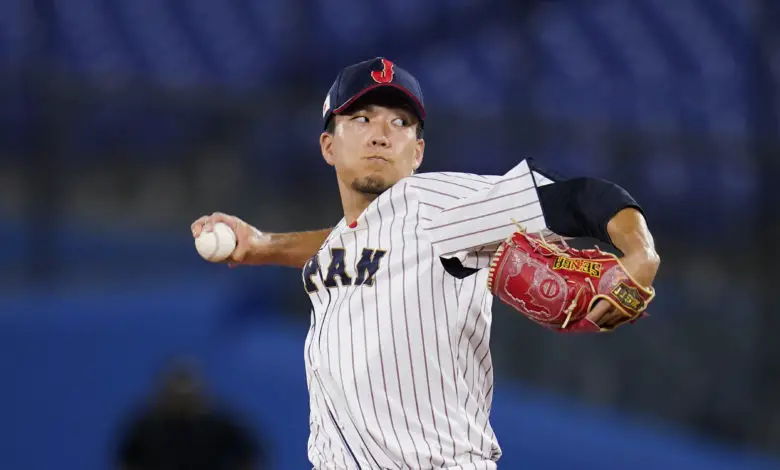 Cubs' Pitching Pursuit Expected to Include Big Names, Japan's Koudai Senga 'Will Be Pursued as Well'
The Cubs have been getting really good results from their makeshift rotation this season, particularly in the second half. Cubs starters have a collective 3.08 ERA, third-best in MLB in that time, though injuries have limited them to just 260 innings over 51 starts (5.1 innings/start). That per-start average doesn't seem too bad in light of the way the game has changed, but only seven rotations have thrown fewer innings since the break.
Adrian Sampson has been a revelation since being inserted into a full-time role, and Drew Smyly has pitched so well that the Cubs should absolutely pick up his $10 million option for next season. Justin Steele looks like a potential No. 2 starter, Keegan Thompson could at least be a swingman, and Marcus Stroman figures to be a very solid starter next season as well. Then the Cubs have a number of top prospects ready to break through and establish themselves as legit options.
But they've also got Kyle Hendricks showing a little rust following two disappointing seasons as he enters the final year of his deal. Stroman's contract is limited as well, plus Smyly would only be around for one more year. Even without the extenuating circumstances, it's pretty clear that a bona fide ace would go a long way toward making the Cubs a competitive team.
Some of the little breadcrumbs point that way as well, whether it's Hayden Wesneski coming up as a long reliever or all of their Arizona Fall League pitching assignments going to relievers. With a huge gap between projected payroll and the luxury tax threshold and a publicly acknowledged need to provide fans with a better product, it seems like a certainty that the Cubs will pursue at least one big-time pitcher.
I keep mentioning the idea of giving Jacob deGrom a short-term deal with massive AAV, something Sahadev Sharma of The Athletic brought up as well. Another name being mentioned frequently in connection to the Cubs going back at least late 2020 is Carlos Rodón, who would appear to be a much more viable target than deGrom but for the qualifying offer attached to him. However, that might be a non-issue if the Cubs QO Willson Contreras and then lose him in free agency or if they manage to get a very high draft pick.
Sharma went on to note that Japanese right Koudai Senga "will be pursued as well," which is interesting in and of itself before you even consider that it sounds like he's indicating the Cubs will try to add two big pitchers. Or it could simply mean the Cubs will be weighing several ace-type options to figure out who is the best fit. Senga isn't nearly as familiar to most fans as the other two mentioned here, but rest assured he is legit.
"His stuff is unimpeachable: a fastball that hit 101.9 mph earlier this year and a split-fingered fastball that moves as if possessed," Jeff Passan wrote in his look at this winter's top free agents. "At 6-1, 200 pounds, Senga isn't necessarily imposing, but his numbers this season — 124 innings, 89 hits, 40 walks, 137 strikeouts, seven home runs allowed, 2.03 ERA — certainly qualify."
Passan put Senga in his second tier of free agents, a group that also featured Rodón, Justin Verlander, Carlos Correa, and Xander Bogaerts. Sounds like that's the aisle Jed Hoyer plans to be perusing during his offseason shopping spree. On that note, Sharma wrote that the Cubs' pursuit of a top shortstop is "all but assured" as they look to get more competitive in a hurry.
It might not have been easy to envision even a few weeks ago, but adding one or two pitchers and a big bat would move the needle in a big way. I say "big bat" because Nico Hoerner could easily remain at short with another player — I'd love Trea Turner — sliding to either the left or right. Throw in Matt Mervis at first base, a number of the pitching prospects mentioned here and some who weren't, and another outfield prospect or two…hoo boy, that could be fun.
For what it's worth, I think Hoyer will want to get out early on the market in order to put more of his roster down in ink ahead of the big 40-man decisions he's going to have to make. It wouldn't surprise me in the least if the Cubs get splashy once free agency starts. Then once they get Senga secured, they can make a huge statement by trading for Shohei Ohtani.
Okay, that's perhaps a bit too much to ask. Or is it?