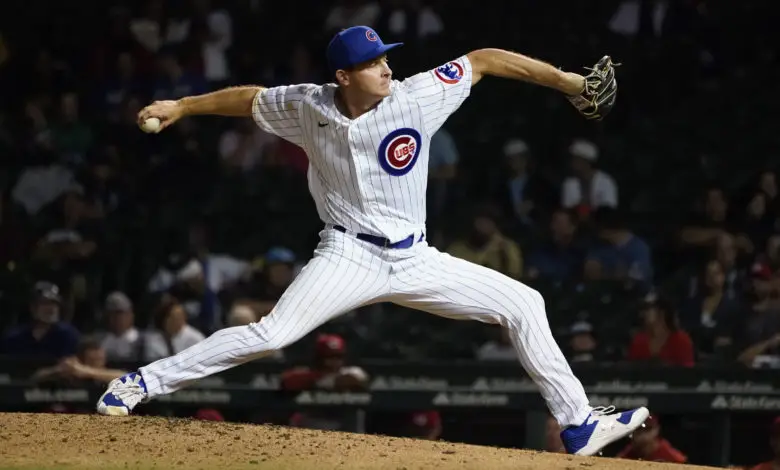 Pitching Nerd Hayden Wesneski Offers Simple Explanations for Leveraging Advanced Concepts
Hayden Wesneski is a nerd. He's also a very good pitcher. One could argue that he's a very good pitcher because he's a nerd, though we shouldn't fully dismiss his talent as an integral part of the equation. The 24-year-old made his fourth MLB start Monday night in Cincinnati and was saddled with the loss despite allowing just one earned run over six innings.
He struck out six and walked one in another quality start, his third of the season. The only start that didn't meet the threshold saw him surrender just one run over five innings, but he was able to get the win as the Cubs outlasted the Phillies. The key to Wesneski's success has been his nasty slider, a pitch he throws more than any other in his arsenal.
The slide-piece may have been working better than ever Monday night as it generated 13 swings and misses out of 28 total pitches. Even accounting for a Reds lineup that's a little less than frightening, a 46.7% whiff rate is incredible. And he's doing it while working in the zone for the most part, as evidenced by the low walk totals.
That's all by design, as Wesneski shared with Marquee's Lance Brozdowski on Sunday back in Chicago. Brozdowski, whose baseball nerd-dom rivals that of The Athletic's Eno Sarris, chatted up the rookie on the topic of seam-shifted wake and how it affects those slider results.
Nerded out with #Cubs starter Hayden Wesneski today.

Pitchers who are comfortable chatting seam effects & intent-based command training are the best. @WatchMarquee

Will thread some of his comments below. First on seam effects & how they help his slider… pic.twitter.com/9EB8gto25f

— Lance Brozdowski (@LanceBroz) October 2, 2022
"When I throw my slider, there's a seam on the bottom there that when the wind hits it, it doesn't necessarily push up, but it just doesn't go down," Wesneski explained. "So that's where the seam-shifted wake comes in, not necessarily that it lifts, but it looks funny because the seam itself actually kicks it up and keeps it from going down and necessarily having depth."
It's all a matter of fooling hitters' brains by throwing a pitch that doesn't do what they think it's going to based on their previous experience. Rather than being more slurvy and getting more drop, Wesneski creates a sweeping motion with around 18 inches of horizontal movement that prevents hitters from barreling the slider. If they can get the bat on it at all, that is.
What we're seeing now on the big stage is a product of tinkering with the pitch over time, starting back in college. Wesneski showed his grip, which differs from the two-seam style favored by many pitchers, describing how a change in arm slot helped him to hone his breaking ball into something far more effective than the gyro slider he had been throwing.
One potential drawback to getting away from a two-seam grip is that it can be harder to command, something Wesneski counters very simply.
"A lot of it is just how my brain works when it comes to throwing pitches and where to throw them," Wesneski said. "I would say I'm different than a majority of the way guys throw it because wherever the mitt's at, I try to hit the spot. I know that sounds really simple, like you would think, 'Oh, no duh.'
"But most guys — especially with sliders — they wanna throw it at a certain spot and say, 'Hey, listen, the ball's gonna move where it moves,' right? But I'm just one of those guys that just kind of like, 'I'm gonna try to hit that mitt right there in that spot.'"
When that doesn't work, he'll make a little extra effort to dial things in by ensuring he doesn't keep making the same mistakes.
"If I keep missing arm-side, I'm gonna go, 'I'm not missing arm-side.' Like, that's not happening this pitch. I'd rather bounce it in the other box than throw it arm-side this time."
Jonathan India can probably attest to this after being hit twice with sliders in Monday's game, though neither came after previous misses to the outside. I was really hoping to have found a pattern in Wesneski's pitches that indicated he was plunking the Reds shortstop as a way to get right, but none of his previous sliders in either the 3rd or 5th innings were out of whack.
What's more, India was hit by the first pitch in one plate appearance and the second pitch — following a fastball — in the next. Besides, Wesneski didn't really mean he would rather throw a wild pitch or hit a batter in a game to help reset his location. That is reserved more for his catch play, which he told Brozdowski is the key to commanding the slider and other pitches.
"I would say ultimately, in catch play you need to have focus," Wesneski said. "And that's where I think a big part of command is, is focus and where I need to be throwing the ball. I mean, that just sounds really stupid, but you can't quantify focus. And so I think that's where they're having a hard time is like a majority of guys are just like, 'Oh, I'm just gonna throw this here,' and it doesn't necessarily work out.
"So I think a little bit of focus helps and then the whole confidence, like, 'Hey, I'm gonna get the ball there.' And if it doesn't, who cares, throw it away, next pitch, let's roll. We're gonna go and try to hit the spot again and it's gonna get there. I think a little bit of focus and confidence are the reason why command is better in some guys versus others."
That doesn't actually sound stupid at all, unless we want to say it sounds so easy that it would be stupid not to take that tack. However, having the right combination of focus and intent isn't necessarily as simple as it sounds when coming from an elite practitioner. While I'm not going to pretend as though working with youth athletes is nearly the same as dealing with professionals, I deal with this stuff all the time when trying to teach breaking balls and offspeed pitches.
The two biggest problems I see in young pitchers come from either dialing back their intent or trying to make the ball move the way they think it's supposed to. They lack confidence in their grip to do the work, so they aim the pitch and/or slow down their mechanics. When you really get down to it, those issues don't entirely go away even as pitchers get older.
The real separation takes place in focus, or perhaps we can put an even finer point on it by calling it awareness. A lack of awareness means not understanding what went wrong with a given pitch and, consequently, not knowing how to correct it moving forward. And we're talking about a very broad sliding scale of focus that, as Wesneski noted, can't be quantified.
Nor would it be static even if we could apply a number to it, as myriad outside forces will be affecting focus at all times. Those pitchers who are best able to mitigate those forces will likewise maintain their focus and awareness at a higher level, enabling them to more readily repeat their success from game to game and in high-pressure environments.
Does Wesneski possess the ability to do that when the Cubs are playing in games that matter rather than playing out the string on a prebuild season? Let's hope we find out next year.