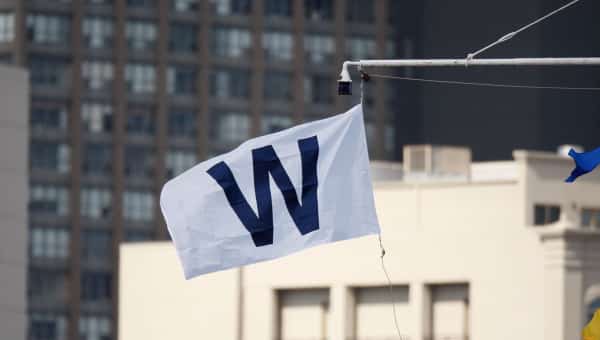 Chicago Cubs Score and Recap (10/5/22): Cubs 15, Reds 2 – Cubs Bomb Reds in Season Finale
The Cubs wrapped up the 2022 season in Cincinnati on Wednesday afternoon. Chicago went out in style pounding the Reds en route to a blowout victory.
David Bote put the Cubs ahead in the 2nd inning when he blasted a three-run home run to the opposite field in right. The Reds put up a couple runs against Adrian Sampson who was then pulled from the game in the 3rd after suffering an apparent leg injury.
Graham Ashcraft fell apart in the 6th inning and the Cubs exploded to put the game away. P.J. Higgins walked to force in a run with the bases loaded and Ashcraft was replaced by Derek Law. Bote drove home two more runs and Zach McKinstry crushed a massive three-run bomb to right to make it 9-2.
A Higgins double and singles from Franmil Reyes and Christopher Morel increased Chicago's lead to 13-2 in the 7th. Reyes blasted his own home run, a two-run shot to right in the 8th inning to bring the Cubs tally to 15 runs. (Box score)
Why the Cubs Won
The offense exploded for double-digit runs on Wednesday, which always gives you a pretty good chance to win.
Eye on the Future
McKinstry had a single in addition to his home run. He really showed some flashes down the stretch.
Nico Hoerner had a couple of walks and a hit on Wednesday finishing a very good season.
Reyes had three hits, including the home run, for a pretty nice final game.
Taking Note
Tough break to end the season for Adrian Sampson but he should have some kind of role for the Cubs next year.
David Bote had five RBIs to go out with a bang.
Chicago went 39-31 in the second half of the season.
Bottom Line
The Cubs ended the year with a 74-88 record that turned out to be very close to preseason projections. The improved play late in the season and the reports of possible increased off-season spending should make fans feel hopeful for 2023.
I want to thank everyone who read these recaps and previews throughout the season. The games often were not very good for the Cubs but I hope you found them entertaining and insightful.
On Deck
Chicago returns for spring training in February in Mesa, Arizona. There isn't much more to say other than this: