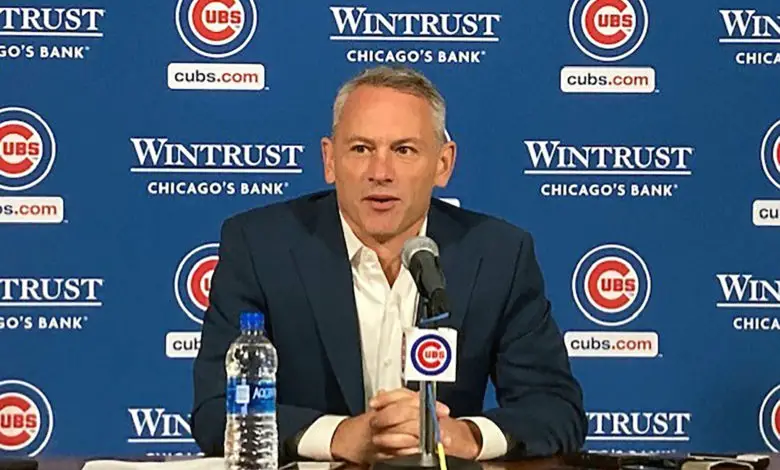 Jed Hoyer's End-of-Season Presser: QO for Contreras, Plans to Compete for Postseason, Steps Toward Some Extensions,
Jed Hoyer addressed the media Monday morning to break down the 2022 season and look ahead to '23, though he was predictably coy when it came to specifics on any particular topics. That's always been the case with Hoyer, who tends to offer little other than the occasional nod toward his actual plans. With the playoffs just reaching the divisional round and a slew of other decisions yet to be made by players and teams alike, hardly anything could be laid out with full transparency even if that's what the Cubs' baseball boss wanted to do.
Where I think we can take him at face value, however, is that the front office will be aggressive this winter in an attempt to put the team back in position to win meaningful games in October. The Cubs proved this season that their pitching infrastructure is legit and they are starting to get some impact position players close to Chicago, plus they should have a ton of payroll flexibility to anchor the roster with big-money free agents.
Rather than try to dig into everything from the presser, I want to take a look at a few highlights that don't require as much interpretation.
Willson Contreras will get a QO
Following reports that the Cubs don't have any real interest in bringing Contreras back, Hoyer confirmed that they will extend a qualifying offer to the catcher. There have not been any meaningful conversations on an extension and probably won't be, though Hoyer said they'd "continue that dialogue." I said I wasn't going to make this about sussing out meaning, so I'll just say that I think Contreras is definitely gone.
Jed Hoyer confirmed the Cubs will extend a qualifying offer to catcher Willson Contreras.

"We'll continue that dialogue. We've talked to Willson, we've talked to his representative, so I don't want to make any assumptions there."

— Meghan Montemurro (@M_Montemurro) October 10, 2022
There will be extension talks with some players
The Cubs haven't made much of an effort to extend their star players over the last few years, a strategy that stands in stark contrast to the Braves. With Monday's announcement that they have agreed to a six-year deal with possible NL Rookie of the Year Spencer Strider, Atlanta has done an incredible job of securing the next several years of its core. Of course, that's easier to do when you take care of it very early in a player's career.
Hoyer said Monday that they "have taken the first steps" toward extension conversations with some players, though he would not elaborate further. Nico Hoerner is one of the most likely candidates for a new deal because he has emerged as a team leader and still has three years of arbitration eligibility remaining. Ian Happ might also be an option, but he's got just one year of control left and was being shopped at the deadline.
https://twitter.com/MLBastian/status/1579517095167262721?s=20&t=OLU8jCiVuvRxnO7YTe-srw
It's also possible the Cubs would look to secure the futures of even younger players like Christopher Morel or even Brennen Davis, who obviously hasn't even debuted in MLB. Then you've got pitchers Justin Steele and Keegan Thompson, both of whom broke out this past season.
Cubs "absolutely" want to "compete for playoffs"
Hoyer was very clear that the goal isn't just to be incrementally better, but that the Cubs want to be more competitive in terms of trying to make the playoffs next year. Exactly how that's going to happen, well, that remains to be seen.
"I want to build on the momentum that we created at the end of the year, but I know we have some holes to fill and we'll be aggressive to try to fill those holes in the best way possible," Hoyer said.
Search for "quality innings"
It's believed the Cubs will be in the market for a top-line starter, whether that's Jacob deGrom, Carlos Rodon, or Koudai Senga. Hoyer can't name names at this point and wouldn't even if he could, so this will remain an area in which we're going to get very little information. He would only say that the Cubs are in search of "quality innings" for both the rotation and bullpen.
Hoyer also said they would have interest in reunions with Drew Smyly and Wade Miley under the right circumstances. The Cubs have a $10 million club option on the former and the latter will surely come much cheaper than his own $10 million from this past season, though neither may be guaranteed a starting role depending on other moves.
Matt Mervis praise
Mervis has gotten a ton of publicity over the last few weeks as his production continued to improve with each new level of the minors. He put up the best offensive season by a Cubs prospect since Kris Bryant and his lefty bat at first base would fill two areas of need for the MLB team. But because he isn't Rule 5-eligible, there was no rush to add him to the 40-man roster.
All signs point toward Mervis having the inside track to the first base job next year, and I'm not just talking about recent developments. The Cubs were on him in a big way in 2020, when he was coming off of a shortened senior season at Duke as a two-way player whose hitting wasn't fully developed.
Interesting note from Jed just there, saying that Matt Mervis was their #1 priority in UDFA in 2020, saying that they called him "4 seconds into free agency"

— FullCountTommy (@FullCountTommy) October 10, 2022
Mervis figured some things out following a rough professional debut, learning how to get out of his head and just trust his mechanics rather than trying to tweak or fuss over something each time he didn't get a perfect result.
Again, some of this stuff could just be so much lip service as Hoyer goes through the requisite motions at the end of the season. We probably won't start getting a clear picture of what he really intends to do until free agency opens, at which point I expect the Cubs to be relatively aggressive. There is, however, a chance that we'll get a small clue about their direction by the end of the week.
That's when Hoyer said they hope to announce any changes to the coaching staff following exit interviews this week. In the meantime, we can all enjoy a divisional round that features neither the Cardinals nor the Mets.