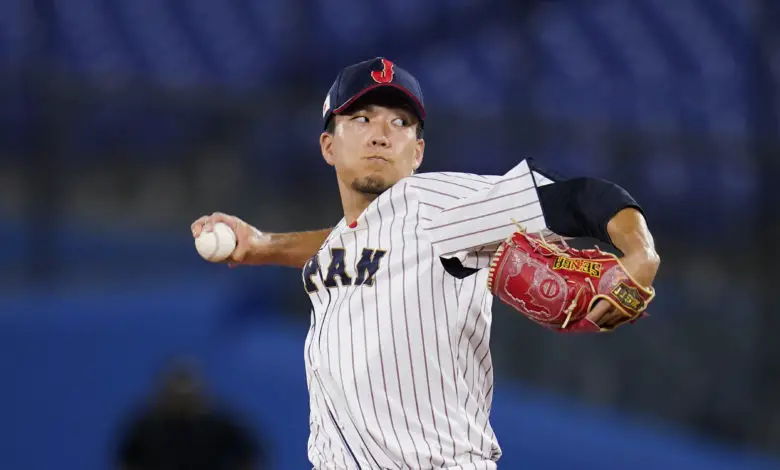 Cubs Again Connected to Kodai Senga, Who Could Be Part of Expanded Rotation
Japanese pitcher Koudai Senga has previously been connected to the Cubs and now there's a report out of Japan confirming as much. Even allowing for a little leeway with the translation, saying the Cubs are "already interested" in signing Senga feels pretty significant when paired with word from The Athletic that the righty "will be pursued" this winter.
Ed. note: We've used "Koudai" as well because that's how Baseball Reference has him listed, so this feels sort of like when there was a question about whether it was Otani or Ohtani. Most outlets are omitting the "u" in this case, so we'll run with that for now.
The 29-year-old has opted out of his contract Fukuoka Softbank Hawks after another dominant season and will surely be courted by more than just the Cubs as soon an MLB free agency opens. The Red Sox were named specifically in that Sanspo piece as well, but you can go ahead and include all the other usual suspects when it comes to interest. Based on the projected cost, which does not include a posting fee due to the timing, there might even be some surprise teams in the mix.
MLB Trade Rumors estimated a Senga deal at five years and $75 million, which would be a steal if he's as good as it looks like he could be. With a fastball that has reached 101.9 mph and a "ghost fork" that baffles hitters, Senga should be able to fill a mid-rotation role for a team looking to compete in 2023. While no one is expecting him to maintain his career 2.59 ERA with 1,252 strikeouts and 414 walks in 1,089 NPB innings, he'll be a capable pitcher right out of the gate.
Senga would be a really good get for the Cubs, but I don't believe he's their only significant pitching target. He'd probably be the only one who will require a deal longer than two years, however, because I think they'll try to lure Justin Verlander one way or the other. Then there's the report about trying to work out a deal to keep Drew Smyly around, perhaps with a two-year extension rather than picking up his $10 option for next season.
That series of moves would give the Cubs a ton of rotation depth in the short term without clogging their development pipeline too much. Smyly can't really be counted on to provide more than 125 innings anyway, so they could look to use him more as the front half of a piggyback with Hayden Wesneski or another young pitcher. Justin Steele set a new career high with 119 innings this past season after having never thrown more than 98.2 in any of his eight previous professional campaigns.
Senga is likewise used to throwing less than 150 innings as part of a six-man rotation, so his acquisition could signal a desire to shift their philosophy. At the very least, it makes sense that the Cubs would use a spot starter every now and again to lengthen the rotation.
A primary rotation of Verlander, Steele, Marcus Stroman, Senga, Smyly, and Kyle Hendricks would allow David Ross to provide adequate rest as needed while still providing plenty of development opportunities for those starters who will take over in the future. So even if you don't buy into the likelihood of the Cubs making it happen in exactly that fashion, we'll probably see a little more creativity in how they divvy up innings in '23.