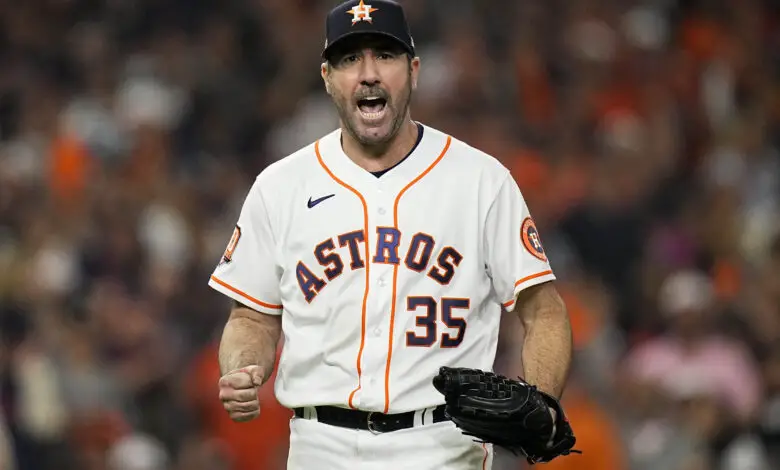 Definitive Ranking of 5 Ace Pitchers Cubs Should Target Based on Fit, Impact
The Cubs need to bolster their pitching staff this winter, ideally with a bona fide ace to go along with additional rotation depth and some proven bullpen arms. Simple, right? Landing a true top-of-the-rotation starter would instantly elevate their rotation to the top of the National League and put them in position to reach the postseason. The lineup still needs a lot more potency as well, but anchoring the staff would be huge.
With that in mind, I want to rank the top five possibilities for that role based on fit and impact. This list is definitive and ironclad, so only agreement and praise will be allowed in the comments section. I suppose we'll also tolerate angry debate from those who took the last line seriously.
5) Carlos Rodón
The lefty is entering his age-30 season coming off of a career-best season in which he threw 178 innings over 31 starts. Rodón was actually better on a relative basis in 2021, but he only managed 132.2 innings over 24 starts and his velocity saw another alarming dip before rebounding late. The biggest issue here is health, as the former No. 3 overall pick managed just over 42 innings between 2019 and '20 combined while battling velo and command issues.
The other nagging item is that the Giants are likely to slap Rodón with a qualifying offer, which he's going to turn down in pursuit of a long-term deal. Even if that hurts his value a bit, his new team will have to part with a draft pick and international pool money in addition to what figures to be a pretty hefty contract.
His fastball was up to a career-best 95.6 mph average with the Giants and he was throwing it more than ever to set up that nasty slider. Those two pitches make up over 92% of Rodón's repertoire, which goes to show exactly how good he is. Even when hitters know what's coming, they can't do much with it.
He's familiar with Chicago after several years on the South Side and he makes his offseason home near the famous Beef House in Covington, IN, so a return to the Midwest could be in the cards. That doesn't mean he'll be willing to take a big "hometown" discount, but maybe there's a little preferential consideration if the Cubs are right there with other suitors.
I love what Rodón brings to the table — especially if he brings those amazing Beef House rolls — and I think he has several good years left, but he's also a bigger risk than the others on this list.
4) Shane Bieber
The definition of "intelligent spending" is nebulous and subjective, so we shouldn't limit it to free agency. Jed Hoyer has talked about using both financial means and prospect capital, the latter of which is something the Cubs have built up quite nicely over the last few years. With several pitchers having already pushed their way to the majors and several more on the come, Hoyer and Carter Hawkins might look to flip some of them for a more established player.
Bieber is very familiar to Hawkins, who came from the Cleveland organization, and the 27-year-old righty still has two years of club control remaining. With a projected arbitration salary of $10.7 million for 2023 and probably $15-20 million in '24, Bieber will have a much lower impact on payroll than the other pitchers on this list. He's also more of an innings-eater than anyone the Cubs have at this point, though that's not saying much.
Blessed with nasty breaking stuff, Beiber does a good job of keeping the ball on the ground and in the yard even if his strikeout numbers and velocity were down this season. The trouble, if you want to call it that, with this fit is that his profile is pretty similar to what the Cubs already have in-house and he's not necessarily that dominant force you can count on to win every fifth day.
Though I do believe the Cubs are interested in making trades as buyers, I think they'll prioritize free agent pitchers due to what should be a significant offseason budget increase.
He'll turn 40 in February and may command $25 million AAV for a year or two, but this dude is still flipping Father Time the bird. His 95.1 mph average fastball this past season was higher than his career average of 94.4 and he was able to limit both walks and homers over 28 starts. Verlander missed most of 2020 and all of '21 due to elbow reconstruction, which might actually have been a good thing in the end.
Age really shouldn't be a concern in light of his performance, plus we're talking about a contract with very limited duration. That could also work against the Cubs, though, as Verlander might prefer to stick with a team he knows for certain will have a title shot in the near future. On the other hand, the Cubs were his preferred destination at the trade deadline in 2017 and Hoyer has publicly admitted regret that they couldn't pull off that deal.
Is that mutual unrequited desire enough to pull these parties together or is it water under the bridge? I have a feeling that $50 million over two years would rekindle the old flame.
2) Jacob deGrom
He's the best pitcher on the planet when he's healthy, it's just that he hasn't been very healthy over the last two seasons. After putting up at least 31 starts and 201 innings from 2017-19, deGrom has managed just 156.1 frames in 26 starts over the past two years. Over that more recent sample, he has a 1.90 ERA with a 1.61 FIP and 248 strikeouts (14.28 K/9) with just 19 walks (1.09 BB/9). His average fastball is over 99 mph and his slider is at 92.1 mph.
The average MLB fastball was 93.6 mph this past season, so deGrom basically throws his breaking stuff as hard as most pitchers throw their four-seam. Because he broke through so late, debuting in 2014 at the age of 26, it's hard to believe he'll turn 35 in June. While that age might be a red flag under normal circumstances, deGrom is more than five years younger than Verlander and he's three years younger than Mets teammate Max Scherzer was when he signed a record three-year, $130 million deal.
David Kaplan told KXNO in Des Moines that the Cubs would have interest in a three-year deal with deGrom, which is something we've mentioned a few times in the past. Hoyer has said they'd prefer to inflate the AAV on deals over a shorter period of time than what the market might otherwise dictate, and I don't think it's outside the realm of possibility to go three years at $135-150 million for deGrom.
Verlander is probably the more likely option, though.
The Cubs need to add power to the lineup, preferably from the left side, so how about being able to do that while also getting one of the best pitchers on the planet? Ohtani is the most talented baseball player of his generation, quite possibly of all time, and he is the most perfect fit the Cubs could ask for. He's a perfect fit for pretty much any team, really.
Hoyer was obviously involved in Ohtani's courtship when he was originally posted coming out of Japan, and the Cubs were among the finalists before losing out based on geography. Ohtani has been far better than even the most optimistic among us could have dreamed, but it has mattered little to Anaheim's ability to field a winner. Even combining him with Mike Trout hasn't been enough, which makes for a damning indictment of the Angels' baseball ops team.
That would be the challenge for the Cubs, who would have to give up a significant prospect haul in addition to an MLB-ready player or two in order to pry Ohtani loose. And since he's only got one more year of control remaining, an immediate extension would have to be worked out to make the deal worthwhile. It's possible they could take on Anthony Rendon's contract as a way to offset some of the trade cost, but the extension is the real key.
Ohtani would also sell tickets like no one else on this list, an important factor when discussing a team that has seen attendance drop dramatically over the last few seasons. Again, the fit doesn't get more perfect.
If I had to rank these in terms of likelihood, I'd go Verlander; Bieber; Rodón; deGrom/Ohtani, with the last in a virtual tie. This is going to be a really fun offseason, or at least that's what I'm hoping to speak into existence.