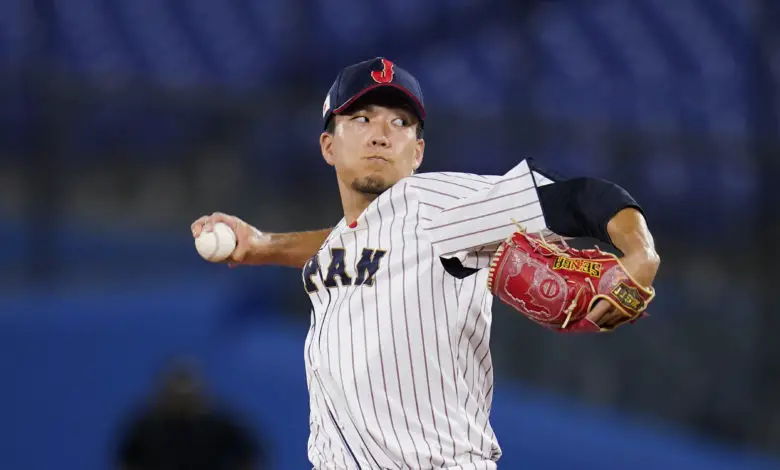 Cubs 'Definitely in Play' for Kodai Senga, Interested in Trea Turner, Likely Unwilling Go Long Enough for Aaron Judge, Jacob deGrom
Get your salt shaker ready because we're entering the point in the year where you have to liberally apply seasoning to all the rumors and reports flying around. Context matters a lot too, as the initial breakdown I saw from David Kaplan's Wednesday appearance on Miller and Condon with KXnO in Des Moines made it seem like he was sharing inside information. Upon listening to the audio for myself, however, most of Kap's comments came off as little more than personal opinion.
Now, he is obviously very plugged in and some of the opinions he's sharing may be very much informed by conversations with Cubs officials. That does seem to be the case on a few of the points, while at least two others fall short of consideration as actual reports when I listened to them. The audio is embedded below if you'd like to listen for yourself, but any salient points are transcribed below.
After quite a bit of Bears talk, the conversation turned to the hot stove and what both Chicago teams are planning. Since Kaplan believes the White Sox are looking to the trade market for most of their offseason activity, the Cubs dominated here. Asked who was in play for either team, Kaplan quickly replied with one name we've discussed here before and another who might be something of a surprise.
"Yeah, Cubs, José Abreu if the White Sox don't bring him back, absolutely in play" Kap said. "I think they're looking for a short-term first baseman until they get something out of the system, whether that's Matt Mervis or whoever. Maybe you get him on a two-year deal.
"Cubs, Trea Turner."
I found it a little strange that he just tossed Turner's name out there without so much as an explanation, and it's even weirder to me that the hosts didn't follow up on it. As much as I love Turner as a fit in Chicago due to his unique combination of power and speed, he'll have a qualifying offer attached and is almost 15 months older than the non-QO-eligible Carlos Correa.
So is this a matter of Kaplan simply being enamored of Turner or are the Cubs really targeting him? Maybe it's both because Kap's been talking about this fit for a while, but I still think they'd prioritize Correa considering age and overall cost.
When it comes to those two factors, Aaron Judge almost certainly played himself out of the Cubs' range with an 11.4 fWAR season that some believe could earn him close to half a billion dollars. Even if the Yankees feel the Cubs could still be in the market for the superstar outfielder, he doesn't seem to fit their strategy as we know it. To that end, this next bit sounds like walking through a hypothetical situation rather than sharing much direct knowledge.
"Now, if you said to me Aaron Judge said, 'I just wanna be a Cub or a White Sock and I'll take five years at — pick the number — $45 million,' I think both teams would be in play," Kap said. "Certainly the Cubs would be in play. But I'm hearing Aaron Judge wants, like, nine years at $50 million.
"So, is that gonna happen? I can't believe someone is gonna give him $50 million and give him that many years at age 30, almost 31."
The important distinction here is that Kap's not saying the Cubs are interested in trying to land Judge at five years and $200-225 million, only that they would be if the market dropped to that level. But so would several other teams, namely the Giants, Yankees, and Mets. I think the Rangers would be all over such a deal too, and they could very well be willing to stretch the contract length out several more years.
What I gather from this is that the Cubs aren't actually interested in Judge at all, at least not based on his current market. It may behoove them to at least feign involvement for a while and it most definitely serves Judge and his camp to keep the Cubs in the conversation, so I imagine we'll continue to hear them linked until late in the process.
The final topic was a mix of a very clear report and what appears to be speculation, all of which matches up with what we've either seen elsewhere or have made educated guesses at here. Before the host could even finish asking about the Japanese pitcher who was entering free agency without a posting fee, the guest jumped all over an answer.
"Kodai Senga, Kodai Senga," Kaplan repeated emphatically. "They're definitely in play there, they're definitely in play. They want a really good arm and he's not gonna cost you what Jacob deGrom would cost. Now, would I sign Jacob deGrom for five years? No, I would not. He's 35, I think, 34, he's had a ton of injuries. If he said, 'I'll take a three-year deal at $35 million a year' — I'm just pulling numbers out of the air — yeah, I would roll the dice because he's that good.
"But I don't think he's gonna do that, I think he's looking for five years and stupid money. So that's probably out."
This is at least the second time we've heard the Cubs connected to Senga with definitive language, so it's fair to say that part is legit. The deGrom stuff sounds almost exactly like what Kap said about Judge in that it's more about what he would do if he were calling the shots as a GM. While I believe the Cubs feel pretty much the same way in terms of the willingness to go big on a three-year deal, I don't take this as being directly informed by conversations with members of the front office.
After all that, here are my big takeaways: The Cubs have Abreu and Senga in their sights, like Turner as an option at short or wherever he's willing to move, and would only engage with Judge or deGrom if they were willing to take shorter deals. Wait, isn't that exactly what we all believed anyway?
Redundant though this may be, I still find value in hearing it from yet another angle because it helps to add that much more depth to the picture we're trying to develop. Even if a lot of this is speculation, I do believe the Cubs are approaching free agency with the desire to be nimble so they can pivot if the situation calls for it. So deGrom might not be viewed as a priority, but that could change if his market ends up being three years.
As I noted in an earlier piece about ace pitchers, there's probably a higher likelihood that the Cubs pursue Justin Verlander more aggressively with a shorter deal. It fits their needs on a number of levels and I think they'll try to get something done quickly in order to keep their options open should subsequent developments produce additional opportunities for intelligent spending.