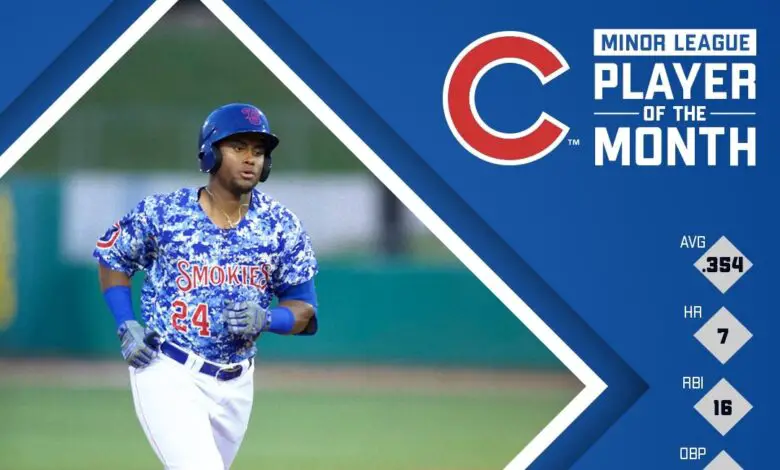 Alexander Canario Expected to Miss Significant Time After Fracturing Ankle, Dislocating Shoulder in DWL Game
It didn't look good on video and the initial report matches up with the eye test. Cubs outfield prospect Alexander Canario fractured his left ankle Thursday evening in a Dominican Winter League game while trying to beat out an infield hit, and the subsequent tumble (not shown) resulted in a dislocated left shoulder. I had hoped it would just be a sprain, but it was really troubling to see how Canario's left foot rolled out rather than the more common mechanism of ankle injuries.
Canario rolls his ankle severely. pic.twitter.com/nuOemNmuKz

— Itsacon (@thats_so_cub) October 28, 2022
As initially reported by Arturo Bisono and translated by Infield Fly Girl, the specific diagnosis is a bimalleolar fracture of the ankle. And yes, it's as bad as you think when trying to decipher that word. As indicated by the prefix, this type of break involves both the lateral malleolus (fibula) and the medial malleolus (tibia). Surgical treatment is likely, with a plate and screws being implemented to fixate the fractures and aid in healing.
Cubs prospect Alexander Canario has suffered a bimalleolar fracture of the ankle and a shoulder dislocation.

cc: @BleacherNation @realcubsinsider https://t.co/m3jB2tS8EX

— Infield Fly Girl (@infieldflygrl) October 28, 2022
Non-operative treatment involves a below-knee cast for six weeks, but this is typically an option for patients who are unable to undergo surgery. The prognosis for this type of injury is not good, with an optimistic timeline of 12-16 weeks before full weight-bearing is possible. In many cases, it can take as long as six months to bear weight and more than a year to regain full functionality in the ankle.
Canario may well be able to recover much more quickly than the average patient, however, as bimalleolar fractures are most commonly seen in people over 60 years of age and patients with existing comorbidities. So while it's certainly not unheard of for young men to suffer these injuries, you have to figure a 22-year-old athlete with access to excellent medical care should be able to heal and rehab with fewer complications than usual.
Even if everything goes relatively smoothly, Canario is looking at a lengthy road to recovery that includes getting that dislocated shoulder back to full strength as well. What's really difficult is that he's going to have to avoid almost all physical activity for a while due to the nature of his injuries, though at least his throwing shoulder is still fine. That said, the left shoulder gets taxed during the follow-through of his swing.
He likely won't be able to resume any baseball activities until some point in February at the earliest, but it could be six months or more before he can get back into competitive games. As bleak as that sounds, it would still put him in line to play most of next season. A promotion to MLB in 2023 becomes a lot less likely, however, as Canario is going to have to build back a lot of strength and mobility upon returning.
Getting bumped up to Chicago had been a real possibility for him because he's already on the 40-man roster and had risen through the ranks from South Bend to Iowa last season. Canario introduced himself to the Cubs with a tremendous power display shortly after being acquired from the Giants in the Kris Bryant trade, and that power continued this year with 37 bombs. He can also pick it in the outfield and could have held his own defensively while working out the holes in his swing.
Then there's the likelihood that Canario would be included in trade talks with teams looking for upside in return for a proven veteran with limited club control. The Cubs have a wealth of outfield prospects and figure to be in the market to buy this winter, though this injury changes the calculus a bit on that front.
I just hope the initial diagnosis is incorrect or that Canario is able to fly through his recovery and get back on the field much earlier than my extensive online research indicates he should be able to.