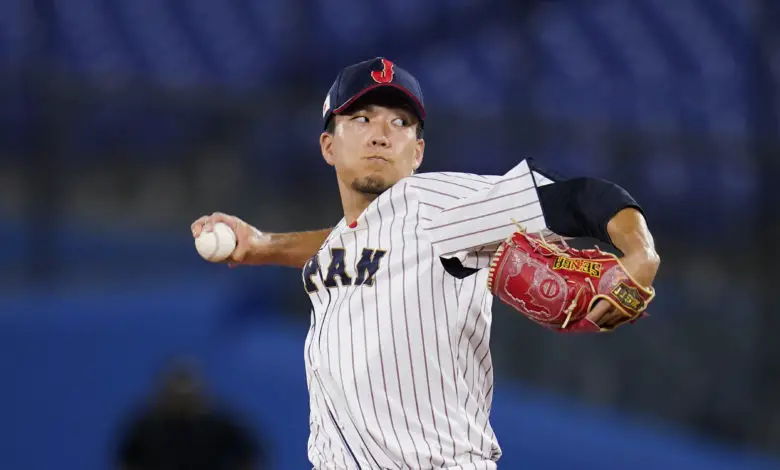 Cubs Have Already Been in Contact with Koudai Senga's Reps, Have Another Meeting Planned
We've been talking a lot about Japanese righty Koudai Senga over the last few weeks because it appears the Cubs have prioritized him as one of their top free-agent targets. The thought that they'll try to move quickly to secure his services and establish a baseline of sorts for their offseason plans gained a lot of credence Monday night when Gordon Wittenmyer reported that the Cubs have already spoken with Senga's reps and have another meeting planned for later in the week.
---
Ed. note: We're going with "Koudai" here because that's what Wittenmyer used and it's how Baseball Reference lists it. Much like Otani vs. Ohtani, we'll wait and see how the pitcher prefers things and stick with that moving forward.
---
"They've been in contact," agent Joel Wolfe, who also represents Yu Darvish and another Japanese star with whom Cubs fans are familiar, said. "Seiya (Suzuki) said very nice things about his experience in Chicago.
"He really loved his experience with the Cubs and living in Chicago. He's really happy that he chose the Cubs. And I know he's really looking forward to spring training already."
As you may recall, Darvish was pivotal in helping to sell Suzuki on the Cubs despite playing for the Padres at the time. The Cubs also did much better in the Shohei Ohtani sweepstakes than any expected, wowing him with an elaborate recruiting pitch that apparently included a hologram. Suzuki opted to join the Cubs even after visiting Wrigley in the winter straight from being in San Diego, which is pretty amazing all things considered.
The point here is that the Cubs know what they're doing when trying to woo these guys, and Wolfe is intimately familiar with that process.
"[The recruiting presentation] matters a lot more than it does with the American players because the American players have lived here, have been to the cities," Wolfe explained. "They know the players; they know the coaches. They have a lot more connective tissue to the team through their own relationships and channels.
"But the Japanese players — most of them — are really seeing it for the first time, so they're a lot more impressionable."
The agent acknowledged how the Cubs have been a destination for Japanese players, saying that Senga wanted to play in a big market for a team that is ready to win now. A lot of people reading this may take issue with the latter portion of that as it pertains to the Cubs, but every indication is that the organization absolutely wants and needs to get better in a hurry.
Being aggressive and signing Senga — who is a full free agent with no posting fee — right out of the gate would be a clear indication to the rest of the league that they are truly intent on competing in 2023. It's more or less a bat signal to other big targets, some of whom had previously expressed reservations about signing with the Cubs due to the competitive timeline.
Blessed with a 100 mph fastball, a disappearing splitter, and a pair of solid breaking balls, Senga would improve and deepen a Cubs rotation that may still have to lean pretty heavily on its bullpen. The front office could even be looking to evolve a little in terms of how that rotation is used, whether it's by going with six men, using piggybacks, or skipping starts more frequently.
What I'm most interested at this point is how the contract ends up shaking out, whether it's with the Cubs or elsewhere. The initial prediction was five years and $75 million, then Jon Heyman's rankings had that same length at just $65 million. Jim Bowden went with three years and $72 million, which I think is what the Cubs would prefer.
Even though the AAV is much higher than in either of the longer options, lopping two years from a deal for a 30-year-old pitcher coming over from NPB is well worth it. That's what their MO appears to be anyway, and Senga seems like a good fit for such an offer. I fully believe the Cubs are going to push to get something done here quickly in order to kickstart their offseason and set the tone for the next several weeks.