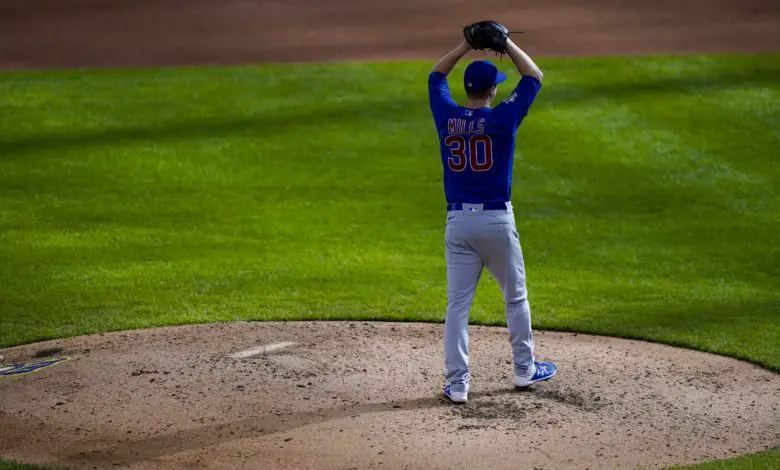 Alec Mills, Franmil Reyes Among Several Cubs to Elect Free Agency Following Thursday's Roster Purge
The Cubs made a host of personnel moves Thursday to clean up the 40-man roster as players came off the 60-day IL. That meant having to outright a number of players from the roster to Triple-A, which doesn't necessarily mean they're out of the organization. Take David Bote, for instance. While this could well be a harbinger of his eventual departure, he's still under contract with the Cubs.
For many others, however, clearing waivers and being assigned to the minors means being able to choose free agency. Some of them may very well end up re-signing minor league deals to remain with the club, others will see if they can make a living elsewhere.
One of the more notable players to elected free agency was Alec Mills, who tossed a no-hitter against the Brewers late in the 2020 season. That's the second no-no by a Cubs pitcher in Milwaukee, which gives them two more than all Brewers pitchers combined in that time. Mills had a rough go of it this year, missing most of the season due to leg and back issues before eventually undergoing a discectomy.
Franmil Reyes got off to a hot start and was an awesome clubhouse presence after being acquired from Cleveland, but his performance dropped off quickly. He was on the list of those players we thought would be non-tendered, so now he can get a head start on free agency rather than waiting another week or more. The same is true for lefty Steven Brault, who had a difficult time staying healthy.
LHP Wyatt Short
LHP Bryan Hudson
C John Hicks
C Erick Castillo
C Tyler Payne
C Harrison Wenson
INF Carlos Sepulveda
INF Trent Giambrone
INF Delvin Zinn
OF Donnie Dewees
OF Jonathan Sierra
OF Narciso Crook
OF Franmil Reyes

— MiLB-Transactions (@tombaseball29) November 11, 2022
There are a number of career minor-leaguers on this list as well, some of whom were at least able to get cups of coffee with the Cubs. Dakota Mekkes really stands out among those players because it seemed like he was knocking at the door for years and was just snakebit by injuries or timing. Jose Albertos was likewise beset by injuries after looking like a dude early on.
Wyatt Short, Trent Giambrone, Delvin Zinn, Donnie Dewees, and Jonathan Sierra were all darlings of the prospect pervert crowd at one point or another as organizational depth guys who flashed at times but never quite put it all together. Narciso Crook had a brief run with the Cubs and is someone who any organization would love to have around because he's such a great person.
I mentioned Mekkes and Albertos struggling through injuries, but no one has had a tougher time of it than Brad Wieck. After coming back from testicular cancer as a member of the Padres system, he battled through two separate cardiac issues with the Cubs and then underwent elbow reconstruction. If only there was a way to distill his resilience and hand it out to other players.
The Cubs' pursuit of free agents is what most people are interested in, rightfully so, but it's players like those listed above that make up a vast majority of professional baseball's ranks. So while folks marvel and/or complain about the monster salaries being earned by those at the elite level, think about how many others will never even get the chance to earn a major league minimum paycheck.
Best of luck to all of these players in whatever the next phase of their journey will be.