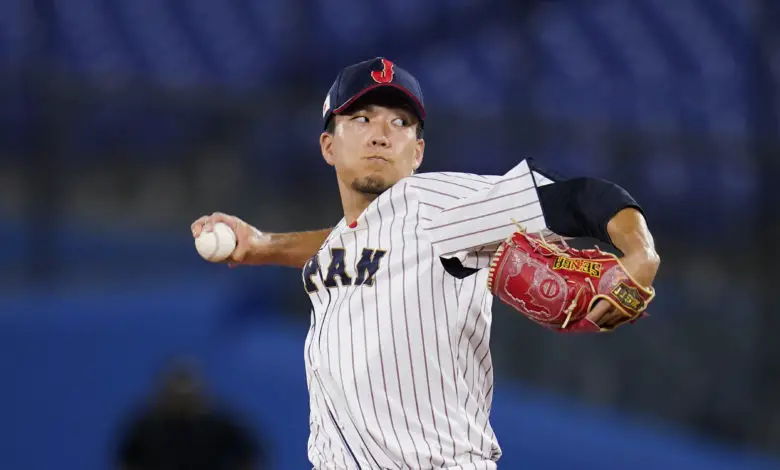 The Rundown: A Cubs Christmas Wishlist, Hoyer Prioritizing Senga Among Starting Options, White Sox Chasing Clevinger
Before I get started, I hope you all had a wonderful Thanksgiving. If you haven't read Evan Altman's letter of thanks to our readers, I highly recommend you do before continuing here.
With the latest holiday in our rearview mirrors, it's time to draw up our holiday shopping list. We've talked about all the big names, under-the-radar guys like Jameson Taillon and Andrew Heaney, and the promising 40-man castoffs. Jed Hoyer keeps things close to the vest and all we know for sure is that the president of baseball operations is as opaque as Theo Epstein was transparent. Hoyer also prioritizes surplus value and long-term flexibility over big names and splashy pressers.
That means Hoyer is akin to that "less attitude, more gratitude" parent during the shopping season. Nobody wants to hand Santa an impossible wishlist when conferring with the big guy, so we have to be mindful of the golden rule of holiday giving. That is, gifts should be scaled in economic value to the emotional value of the relationship. I, therefore, offer my apologies to all those holding out hope for Aaron Judge and Jacob deGrom.
With that in mind and strictly relating to the needs of the team, I present my wishlist.
Cubs News & Notes
Odds & Sods
Kyle Schwarber will make a fine manager once his playing days are over.
2022 PitchingNinja Award for the Best Reaction to Ángel Hernández's Strike Zone. 🏆

Winner: Kyle Schwarber pic.twitter.com/mKQypeIc4e

— Rob Friedman (@PitchingNinja) November 26, 2022
Thanksgiving Stove
The White Sox are showing "strong interest" in free agent right-hander Mike Clevinger, per Ken Rosenthal of The Athletic.
According to Dan Hayes, also of The Athletic, the Twins have a "definite interest" in Rodón ($), though Hayes adds that the left-hander's price may ascend into a region that the club "might not feel comfortable paying."
The Pirates and free agent first baseman Carlos Santana agreed to terms on a one-year deal worth 6.75 million. Santana will split time with Ji-Man Choi in Pittsburgh.
The Rays have reportedly checked in on Nimmo, per a report from SNY's Danny Abriano and Alex Smith.
Anthony Castrovince of MLB.com proposed a deal that would free the Brewers of outfielder Christian Yelich and his weighty contract. His deal, which would send Yelich to the Dodgers, would also have to include starter Corbin Burnes and infielder Willy Adames to get it done.
Cardinals top prospect Jordan Walker is already being compared to Mariners outfielder Julio Rodríguez. St. Louis team president John Mozeliak on many occasions said Walker is the club's best prospect since Albert Pujols and Oscar Taveras.
The Astros handed out the biggest postseason bonus in MLB history.
The Angels are more likely to move two-way star Shohei Ohtani at the trade deadline than this winter.
Extra Innings
Wrigley Field is now a winter wonderland, and in that spirit, I offer to you this year's holiday playlist.
Wrigley Field's a winter wonderland!#WinterlandatGallagherWay ❄️ pic.twitter.com/ZCv2axGz0s

— Chicago Cubs (@Cubs) November 23, 2022
Saturday Six-Pack
Walk-Off Grand Slam
Congratulations to CI media personality Danny Rockett on his impending marriage!
#Cubs wedding day weather report. pic.twitter.com/xuu5yBMxxL

— Danny Rockett (@SonRanto) November 26, 2022
They Said It
"[Catcher] is a two-way position. "Obviously, you want guys who can hit, but it's a run-prevention position. So much of it is game-calling, preparation, feeling strongly about everything that pitchers do is a 'we' thing. It's about teamwork and that collaboration." – Hoyer
"We expected going into the season that there would be assimilation challenges [for Suzuki]. New league, new pitching, new ballparks, the language, food, et cetera. I thought he dealt with those things exceptionally well. I thought we saw glimpses of what he could become at different times during the year. And then we also saw struggles, at times, during the year when he made those adjustments. But we have exceptionally high hopes." – Hoyer
Saturday Morning Walk-Up Song
A shoutout to other bloggers who have mimicked what I do here at Cubs Insider. Imitation is the finest form of flattery.