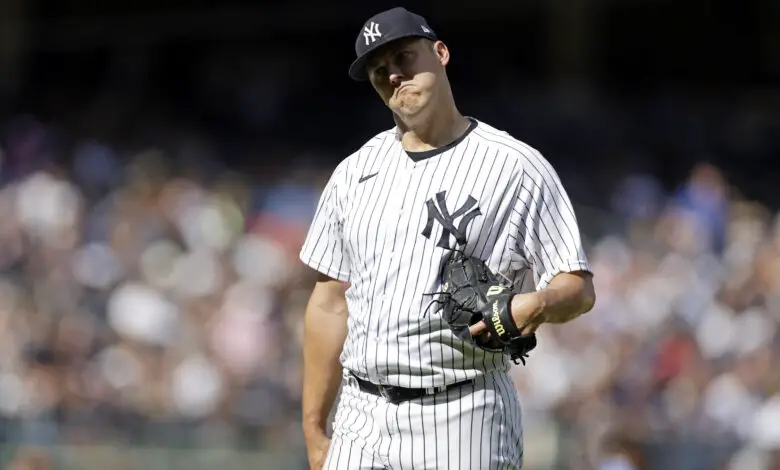 Jameson Taillon Wants Bigger Deal Than Expected, Cubs May Have Hard Time Finding Pitching Value
The Cubs continue to be linked to the shortstop market, which they should because they can't be competitive without serious offensive upgrades, but they'd like to add at least one starting pitcher as well. They may have a difficult time finding value in that market, however, as the trio of front-line guys at the top may end up increasing the price for those below them.
Reigning AL Cy Young winner Justin Verlander is part of that rising tide as he seeks a deal comparable to the three-year, $130 million whopper Max Scherzer got from the Mets last year. Jacob deGrom may be looking to top that with a $45 million AAV over the same period. Carlos Rodón won't command that much on an annual basis, but his relative youth means he'll get more years.
Verlander and the Astros are "far apart" in their talks on a new deal because, as Jon Heyman reports, the team is unwilling to guarantee a third year for a man who will turn 40 in February. While that hesitation could trim Verlander's list of suitors, it isn't likely to hurt his market all that much because the Dodgers, Mets, and Yankees might all have their checkbooks ready. Those same teams could be in on deGrom as well, then Rodón should land a deal for $25-30 million AAV.
That could lead to the next tier of starters being able to command a little more than initially believed, which seems to be the case for Jameson Taillon. The 31-year-old former Pirate and Yankee was expected to land something similar to the four-year, $56 million deal Jon Gray secured with the free-spending Rangers last year, but MLB.com's Mark Feinsand tweeted that expectations are now higher.
Word is that Jameson Taillon has impressed teams during his free-agent Zoom meetings. Taillon's market is gaining steam, per sources, and he is expected to command a deal worth more than the four-year, $56 million contract Jon Gray signed with Texas last winter.

— Mark Feinsand (@Feinsand) December 1, 2022
That makes sense when you figure the initial estimate of $14 million AAV is about half of what Rodón figures to get. Taillon's reps could still promote him as an excellent value even with another $1-3 million annually tacked onto predictions, and the same may be true for Chris Bassitt, Taijuan Walker, and Nathan Eovaldi. The Cubs have been linked to at least the first three members of that group as they're believed to be fishing shy of deeper waters.
Koudai Senga is also considered to be a member of that second tier of starters, though his value is not quite viewed the same way. In addition to coming from an entirely different league, his raw stuff is better than the others in that group — save for perhaps Eovaldi — and the risk/reward equation has added factors. As such, Senga probably has the broadest range of interested teams of any pitcher on the market.
Despite myriad differences between the five pitchers we just discussed, they all have one thing in common: None has ever logged 200 innings in a big league season. In fact, they have combined for only five seasons (out of 46 total) with more than 180 innings, only two of which have come in the last two years. Part of that is simply the evolution of the game away from workhorse starters, but the simple fact is that reliability is not a hallmark of this group.
Even in a profession as fraught with risk as pitching, the range in which the Cubs appear to be searching may have considerably less upside than if they were willing to push their chips in and make a play for Verlander, deGrom, or Rodón. That's why I'm still aboard the Andrew Heaney train. If the Cubs aren't going to spend big, they'd probably be getting a great deal more return on their investment in Heaney than on those mid-tier arms.
Don't get me wrong, I think Taillon and Bassitt are fine pitchers who would help to solidify the middle of a rotation. But for a Cubs team lacking an ace, they just feel like more of the same. Maybe Justin Steele or Hayden Wesneski end up ascending to that level where you can virtually guarantee a win every day. Perhaps Marcus Stroman stops sharing and liking antisemitic posts on Twitter and pitches like a No. 2 while Kyle Hendricks adds a few ticks to his fastball following a new offseason program.
All of those things could happen individually, it's just asking a helluva lot for them all to happen at once. What it all comes back around to is that non of it matters if Jed Hoyer doesn't make massive upgrades to an offense that was pedestrian at best in 2022. Again, that's why I'd just as soon see the Cubs seek riskier upside potential in the rotation and put all their available budget into making sure they can score enough runs to support the pitching staff.
I've got a feeling we'll see serious movement across the board once the Winter Meetings get underway this weekend, with relief pitchers and other players outside of the top 5-10 free agents starting to ink deals. For the Cubs, that could mean landing a catcher or maybe even signing one of these starters. If I had to bet, though, I'd say Hoyer is quiet for a little while longer yet as the next wave of agreements helps to set the market further.