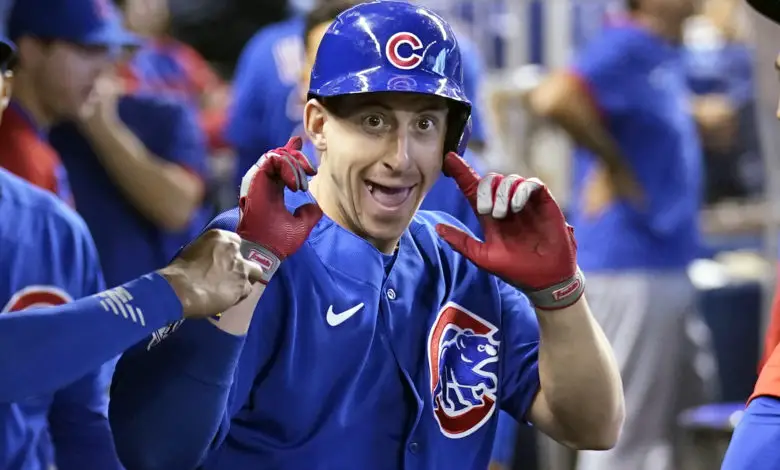 Frank Schwindel Joins NPB's Orix Buffaloes
Buffalo Buffalo Buffalo Buffalo Buffalo Buffalo Orix Buffaloes. Frank Schwindel probably wasn't thinking about the fact that using "buffalo" eight times constitutes a grammatically correct sentence, though he may have wondered why Japan's NPB team in Orix pluralizes its name the way it does. Is there a team called the Deers?
Grammar inconsistencies be damned, the former Cubs first baseman has left the Águilas Cibaeñas in the Dominican Winter League to join his new team in Japan.
"We want to inform you that Schwindel has been signed for Japanese baseball and will not continue with the team due to Orix's disposition," Cibaeñas general manager Ángel Ovalles said Saturday.
While in the Dominican, Schwindel had the opportunity to play with and against other former Cubs greats like Starlin Castro, Emilio Bonifacio, and Junior Lake. Sounds awesome if you like rattling off the names of bygone players, but Schwindel's performance wasn't indicative of playing at a lower level of competition. The expressive New Jersey native batted just .135 with a .449 OPS, no homers, and two doubles over 42 plate appearances in the DWL and may have seen the NPB offer as his last best shot.
During his breakout performance over the second half of 2021 that saw him get everyday action in the wake of franchise-altering trades, Schwindel slashed .342/.389/.613 with 13 homers in 239 plate appearances. He had a contact-heavy plate approach and quickly endeared himself to fans as a fun-loving underdog with an eye for the camera.
Personality can only take you so far, though, and Schwindel's was not enough to make up for disappointing production this past season. Despite a brief rebound following a demotion to Triple-A that lasted less than a day, he hit just .229/.277/.358 with eight home runs over 292 plate appearances before the Cubs designated him for assignment and released him in September.
Heading to Japan allows Schwindel to continue his baseball career with a guaranteed contract rather than trying to get another shot with a minor-league deal. I sincerely hope he's able to rake over there and that he gets to author another surprise success story.