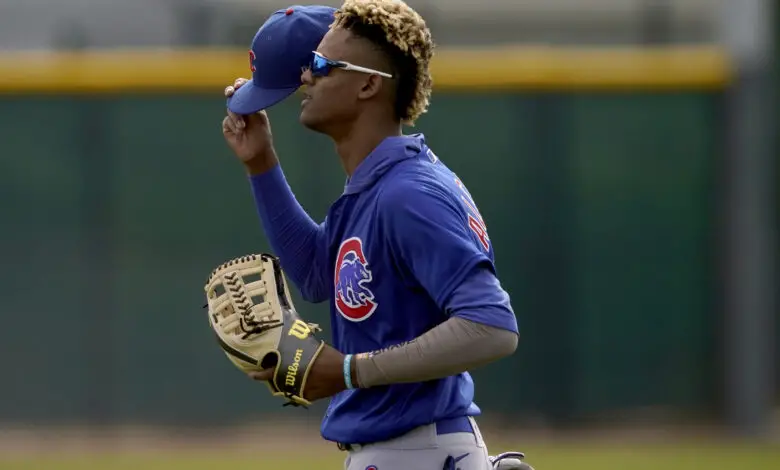 Cubs Among Most-Improved Farm Systems, Ranked No. 10 Overall
The Cubs have put a ton of effort into rebuilding their farm system over the last few seasons, which was kind of a necessity when the big club started falling apart. But while it's easy to chalk it up to them stocking up on loads of young prospects as veterans were traded away, big strides in player evaluation and development have keyed improvements in both performance and perception.
All of that work resulted in MLB Pipeline ranking the Cubs as the No. 10 overall system in MLB, up eight spots from the start of the 2022 season. That jump was the fourth-highest after the Rockies (up 15 spots to No. 9), Reds (11 spots to No. 4), and Guardians (nine to No. 3). Chicago's ascension is highlighted by Pete Crow-Armstrong rising to the No. 30 overall prospect in baseball, but he's not the only member of the top 100.
Both Brennen Davis (48) and the potentially still underrated Kevin Alcántara (86) made the Century Club as well, then there's Never Nervous Matt Mervis just minding his own business as the club's presumptive starting first baseman. Mervis is all the way down at No. 21 in Pipeline's system rankings, mainly because of his position and the fact that he's older than everyone above him other than Caleb Kilian and Hayden Wesneski.
Before closing with notes on a pitcher further down on the list, I want to get back to Alcántara for a moment. I say he may still be underrated because he's got the highest physical ceiling of anyone in the system, if not in all of minor league baseball. Listed at 6-foot-6 and around 190 pounds, he possesses similar speed and athleticism to Crow-Armstrong with a much bigger frame. Already boasting 60-grade game power and 70-grade raw power, Alcántara could add another 20-30 pounds without sacrificing too much of his speed. Heck, he might be able to get even faster.
PCA is a safer bet because his elite defense will play at the highest level no matter what happens with his bat, but Alcántara could be everything Eloy Jiménez was supposed to be and then some.
Moving down to a less-heralded breakout prospect, we find Porter Hodge just below Mervis at No. 22. Pipeline singled the 21-year-old out among others in the system after improvements in health and conditioning led to a 2.63 ERA across 109.1 innings between Myrtle Beach and South Bend. Hodge has posted double-digit K/9 figures at each stop beyond rookie ball in 2019 and his ERA has decreased with each new level or season.
Without taking anything away from the work Hodge has put in since being drafted out of high school in the 13th round a little over three years ago, his development is a great indication of the Cubs' improved infrastructure. It's clearly not a matter of just watching top draft picks or trade acquisitions excel, though the Cubs have their share of those guys too. Between Dan Kantrovitz, Carter Hawkins, Craig Breslow, and so many others, there's a sense that the farm has become one of the best at growing young pitchers.
Now the Cubs just need to keep everyone healthy and pitching well at the highest level so they can avoid some of the same mistakes that hampered their previous competitive run.