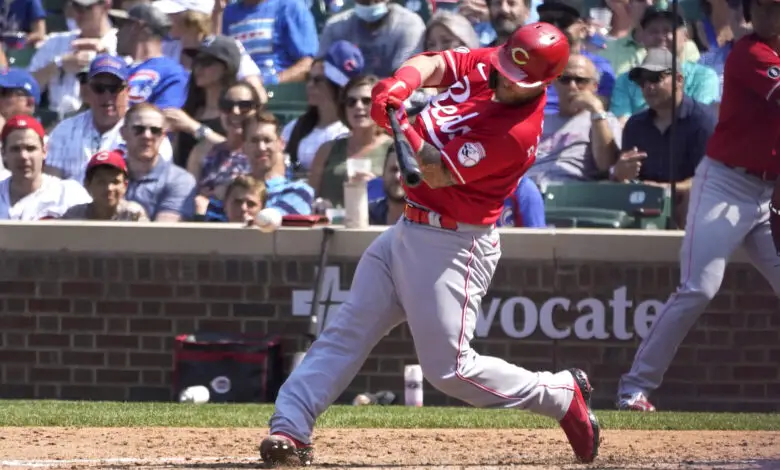 Looks Like Tucker Barnhart's Deal Nearly Official
The Cubs agreed to a two-year, $6.5 million deal with former Reds and Tigers catcher Tucker Barnhart last week, but it couldn't be made official until he completed a physical. That hurdle should be cleared soon if it hasn't been already, as Barnhart shared on Twitter Tuesday afternoon that he was in Chicago.
https://twitter.com/Tucker_Barnhart/status/1607894902913859584?s=20&t=rN2PuT9VOfah5T78n5UR5w
The Cubs had identified the 31-year-old as a target early in free agency and pivoted to him as a priority once Christian Vázquez signed with the Twins. David Ross worked to recruit Barnhart, a Brownsburg, IN native who liked the idea of staying close to his home in Central Indiana. In addition to having played eight seasons in the NL Central, several members of the coaching staff provide Barnhart with a little built-in familiarity.
Johnny Washington was his hitting coach in the Arizona Fall League back in 2013 and Willie Harris was with the Reds in 2012 when Barnhart was a minor leaguer. Catching and strategy coach Craig Driver was also attractive to a defensive specialist who has two Gold Gloves and may want to sharpen up some of the tools that aren't evaluated very kindly by advanced metrics.
The Cubs clearly aren't looking for much offense from their catchers and Barnhart doesn't figure to offer much more than his career wRC+ of 80, but he should be better than he was last year with the Tigers. As I've probably belabored by this point, Detroit's hitting philosophy screwed up many of their hitters last year. Upon realizing he wasn't being traded, Barnhart changed up his approach and finished with a 99 wRC+ over the last two months of the season.
A switch-hitter who has had better success from the left side, he offers a nice platoon option with Yan Gomes and should get along well with a pitching staff that features a nice mix of vets and young guys. It's a great situation for Barnhart, who was able to get a player option for the second year that will ensure he reaches the coveted milestone of 10 years of service time.
That and $3 million of potential incentives sealed the deal after the Cubs, who are trying to squeeze all the value they can from what remains of free agency, came in low to open negotiations. While I have maintained throughout that I've been partial to this deal for personal reasons, I still think it's a solid move given the options at the time. Barnhart's a good dude who fits with this roster and could even bounce back a bit to surprise a few folks.
Because the Cubs are at the 40-man roster limit, a corresponding move will need to be made to clear space. And seeing as how there are currently 23 pitchers rostered following the pickup of lefty Anthony Kay, it's likely that number will be reduced to 22 via DFA. The Cubs could try to sneak Kay through waivers, but he's the only lefty other than Brandon Hughes right now so it's more likely we see Michael Rucker or Mark Leiter Jr. designated.