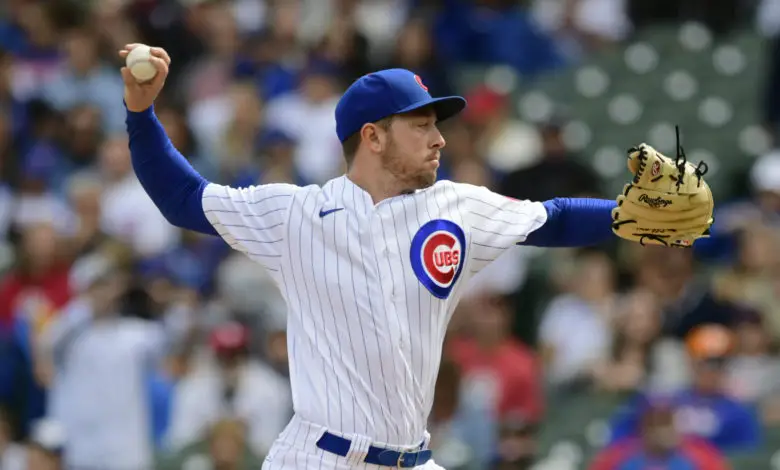 Cubs Could Pursue Additional Offense Via Trade Using Rotation Surplus
The Cubs need to add offense and the leading candidates to aid them in that pursuit — Trey Mancini and Eric Hosmer — don't project as big run-producers. It's possible one or the other could help round things out if several other members of the lineup perform at the 95th percentile or higher than their most optimistic projections, but things don't look great on paper. Nor are there many available options to change that outlook.
Luke Voit is a highly-imperfect masher who could be a fit at first base/DH because he's right-handed, won't command much money, and is familiar with a timeshare having only exceeded 500 plate appearances twice in six seasons. However, he's exceeded 30% strikeouts in each of the last two seasons and isn't known for his glovework. Given the uncertainty with Matt Mervis, the Cubs are probably looking for a lower floor with any complementary addition there.
I'll reluctantly offer a tip of the cap to my mortal enemy Tommy Meyers, who laid out some additional possibilities in a Tuesday morning tweet. Along with Voit and Mancini, free agents Nelson Cruz and David Peralta are still out there.
Top priority to start the new year, even if Hosmer is a Cub, has to be adding the best bat they can at 1B/DH.

Some options?

FA: Trey Mancini, Luke Voit, Nelson Cruz, David Peralta
Trade: Seth Brown, Garrett Cooper, Austin Meadows, Anthony Santander

— FullCountTommy (@FullCountTommy) January 3, 2023
Peralta has been connected to the Cubs for a while now, making him a low-key Brian Roberts or Whit Merrifield, but I'm not a big fan of the diminished power. Cruz turns 43 in July and is coming off his worst performance since 2008, but a lot of that is attributable to an issue with his left eye that he underwent surgery in October to correct. Having good vision is important for any hitter, and a right-handed batter would be particularly hampered by poor eyesight on the left side.
Assuming he's able to see clearly, the aging slugger could still have enough pop to boost a roster that has precious little of it right now.
But as the headline indicates, we're more interested in the trade market for the time being because the Cubs may have too many starters even if their strategy is to stretch the rotation a little bit. Justin Steele, Marcus Stroman, and Jameson Taillon are locks, Drew Smyly isn't being paid $8 million to be a reliever, and Kyle Hendricks plans to be healthy. Hayden Wesneski proved he deserves a shot to start, then you've got Ben Brown, Caleb Kilian, and other prospects waiting in the wings.
That could leave Adrian Sampson on the outside despite being one of the team's best pitchers last season. The 30-year-old righty went 104.1 innings over 21 appearances, 19 of which were starts, and worked his way to a surprising 3.11 ERA with a drastically reduced home run rate. I always felt like the other shoe was going to drop, but changes to his pitch grips and mix made Sampson a consistent performer every fifth day. He's also making just $1.9 million in 2023 and is under club control for three more years.
Weighing heavily against all he has going for him is the fact that Sampson doesn't throw hard, miss bats, or get a ton of ground balls. Even if he doesn't regress to his previous propensity for allowing home runs, he doesn't really offer the Cubs anything they don't already have in a rotation that, contrary to what Jed Hoyer has been talking about doing for years now, doesn't showcase big arms. Perhaps something could be worked out with a team that has an expendable bat and needs a pitcher to provide a change of pace from a few flamethrowers.
Among the names listed above, I really like Austin Meadows as a bounceback candidate following a disastrous season with the Tigers that came as the result of several different health issues. Detroit also screwed up a lot of hitters with its organizational hitting philosophy, so a bump isn't far-fetched at all. Provided he's fully recovered from his physical ailments and is in a good place with his mental health, Meadows is a 30-plus homer lefty with plenty of DH experience.
Seth Brown offers lefty power as well, but even the stingy A's probably aren't looking to move him just yet since he's still a pre-arb guy. Maybe getting equivalent control from a pitcher they can eventually flip would be worthwhile. Garrett Cooper is more of a high-floor, low-ceiling hitter who'd offer a right-handed bat to platoon with Mervis. Even though his 6-foot-5, 235-pound frame hasn't generated much power, he's a career .274 hitter with a .348 OBP.
Anthony Santander appears to me to be the best possibility of the bunch as a switch-hitter with 30-homer power and a relatively low K-rate (20.2% career). He crushes lefties and produces above league average against righties, so he could be the primary DH while easily rotating at the corner outfield spots as needed.
Understand that I'm not necessarily saying Sampson would net each of these players in a straight-up trade, though his value might be enough to headline a deal. While I'm sure the Cubs could use him this coming season, he feels kind of like he's in no man's land between the established vets and a crop of young starters coming up from the system. Then you look at Keegan Thompson and Adbert Alzolay as long relievers and it's tough to see Sampson having a defined role in the bullpen.
It just feels like the Cubs still need to make at least two more moves to add bats yet this offseason, so it makes a whole lot of sense that at least one of those would keep them from having to DFA someone. Now watch them sign Hosmer and pack it in to prep for spring training.