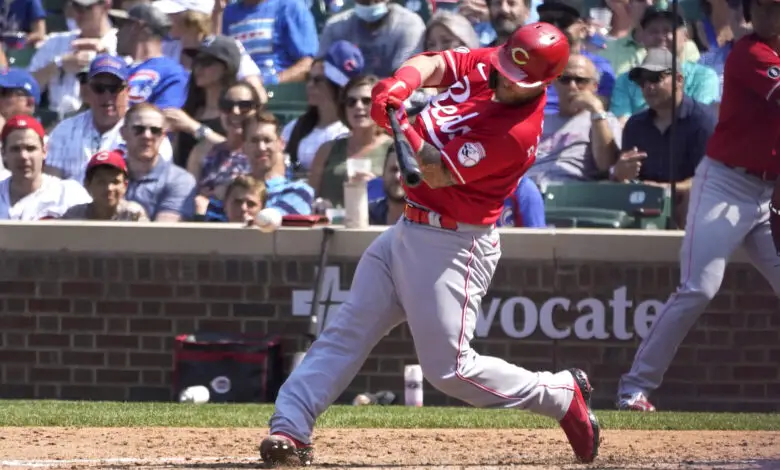 The Rundown: Cubs Closing Gap on Cards, Miley Led Barnhart to Cubs, Dodgers DFA Bauer, Phillies Strengthen Bullpen
The Cubs won 74 games in a 2022 season that felt like it would never end. It's not often Chicagoans turn their sights in May to the Bears but that is exactly what happened last year. By my calculations, the Cubs have added about 8-10 wins this winter, which means you should get to celebrate a winning season in '23.
Because we turned our hearts and minds to other pursuits last summer, some of us may have missed how well the Cubs played in the second half. After coming off of a nine-game losing streak that had them covered in bumps and bruises, they beat the Mets 3-2 behind Adrian Sampson on July 17 to move to 35-57. That win was the start of a modest five-game winning streak that kickstarted their climb from the bottom of the well.
The North Siders finished the season on a 39-31 run, so it's fair to ask if Jed Hoyer added potential double-digit wins to a team that closed the season playing .557 baseball. If that's the case, we're looking at a 90-win team that still wants to add a power bat, a lefty reliever, and a legitimate closer. The Cardinals won the NL Central last season with 93 wins, so that gap doesn't look so intimidating all of a sudden. In fact, if we're talking about analytic projection and nothing more, the addition of Willson Contreras could be the only thing separating Chicago and St. Louis.
I suppose we have to ask ourselves if the Cubs are that good or if they are really just that .457 team with a new set of Goodyear tires, a pine tree air freshener, and a $99.95 Earl Scheib paint job. It's tough to wrap our heads around it, but 70 games represent a pretty big sample size. The starters were lights-out during that run and the rotation is better with Jameson Taillon.
The offense is better, too, and it's a good thing. Chicago lost 16 games after July 17 by one or two runs, and they were 26-27 across the entire season in one-run games. If my math is right, Hoyer has added about 75 runs to his lineup. The bulk of that comes from Dansby Swanson replacing Nick Madrigal and Cody Bellinger replacing a rotation of Rafael Ortega, Christopher Morel, Jason Heyward, and Michael Hermosillo. That does not include Matt Mervis and Eric Hosmer replacing Frank Schwindel, Alfonso Rivas, and P.J. Higgins.
It does, however, include keeping Ian Happ all season or waiting until the trade deadline to move him if the Cubs underperform. Happ and the Cubs will exchange arbitration numbers on Friday, which is also the opening of this year's Cubs Convention. It's an interesting coincidence.
As hard as this may be to believe, the dropoff in runs from Contreras to Yan Gomes and Tucker Barnhart is not as pronounced as you might think. It's darn near equal once you bake in run prevention. We tend to forget that there's more than one way to skin a cat, and run prevention can be interchangeable with offensive production.
What do they say in the movie Moneyball? "Your goal shouldn't be to buy players. Your goal should be to buy wins, and you buy wins by adding runs." You also buy wins by subtracting runs scored by your opponents.
That's not enough though. Hoyer needs a No. 1 starter and has to fortify his bullpen, too. Alex Reyes, Michael Fulmer, and Archie Bradley are three lefty relievers who can help the Cubs in 2023, and all are available as free agents. If Hoyer is feeling extra saucy, he could take a run at Liam Hendriks or add a starter like Pablo López via the trade market. The Cubs have plenty of redundancy in their farm system, specifically middle infielders and outfielders. By this time next year that overabundance of riches should include quality minor league starters.
If you rely strictly on projection systems, Chicago still has a lot of ground to make up to catch the Cardinals. If you also dissect 2022 into two halves and add the team's struggles in close games, that gap narrows a little more. The truth is the Cubs are better prepared to open their competitive window in 2024. That said, Hoyer has built a roster that is much more than watchable. If he can add a starter and a closer, things will really heat up.
Cubs News & Notes
Odds & Sods
Randy Johnson, Roger Clemens, and Justin Verlander, baseball's Sons of Anarchy.
Roger Clemens, 99mph at 40 years old.
Randy Johnson, 98mph at 40 years old.
Justin Verlander, 99mph at 39 years old. pic.twitter.com/UeyAIwYAuU

— Rob Friedman (@PitchingNinja) January 7, 2023
Saturday Stove
The Phillies and Tigers are agreed to a deal that will send hard-throwing reliever Gregory Soto to Philadelphia. Nick Maton, Matt Vierling, and Donny Sands will go to the Tigers in exchange for Soto and Kody Clemens.
Justin Turner has been assigned jersey number 2, which used to belong to Xander Bogaerts. Good morning!
Turner said he is excited to rejoin former teammates Kenley Jansen and Kiké Hernandez.
The Dodgers designated RHP Trevor Bauer for assignment. They're on the hook for the $22.5 million Bauer is owed for the final season of his contract.
Bauer won't be missed if he never pitches again.
The Pirates have as many as five potential suitors for outfielder Bryan Reynolds.
Pittsburgh's asking price is "still unrealistic" according to one source with the Yankees.
Carlos Correa remains in limbo, in case you're wondering.
The Padres signed former top prospect Brent Honeywell to a minor league deal.
Extra Innings
Seiya Suzuki is getting his work in. He looks a lot more muscular, doesn't he?
スプリングトレーニング、そしてWBCに向け、しっかり体を作っていきます!

byスタッフhttps://t.co/vzg2GWXvUg pic.twitter.com/PiUUGXEFYR

— 【公式】鈴木誠也(Seiya Suzuki)#27 (@suzuki_seiya_sb) January 7, 2023
Saturday Morning Six-Pack
The Bears will stick a fork in 2022 after tomorrow's tilt with the Vikings. Our own Sean Holland has his final preview of the season over at Bears Insider.
Smucker's sent a cease and desist letter to a Minneapolis restaurant owner that makes round, crustless PB&J sandwiches as part of its food truck festival fair.
Hefty is now selling a scarf snack and I find the irony worth a giggle or two.
Police in Newport News, VA said a six-year-old student shot and wounded his teacher during an altercation inside a first-grade classroom. The teacher — a woman in her 30s — suffered life-threatening injuries, though her condition was improving on Friday.
Four minors, including one that is just seven years old, tried to collect $25,000 on a winning lottery ticket. Their parents were placed under arrest for adding the scratchers to the kids' Christmas stockings.
Singer Rick Astley wants to be the Superman that never gives you up or lets you down. He even has his own red-caped suit.
They Said It
"The best advice I had ever gotten was [Garrett Jones] talking about being around [Mauer]. So that really stuck out to me. After that, I was like, 'alright, I want to really measure my bullpens, what I'm working on. I want to be really intentional about everything that I do. That's kinda leaked over into my everyday life from my offseason workouts, my throwing programs, plyo ball drills, the way I like to cook, the way I make coffee." – Taillon
"I really, truly feel like I have more to offer and more to give. I'm hungry to learn it. I want to be coached hard. I want to find that potential and after leaving that meeting, I was just kind of inspired." – Taillon
Saturday Walk-Up Song
"In the mornings, when I'm usually wide awake, I love to take a walk through the gardens and down by the lake, where I often see a duck and a drake."