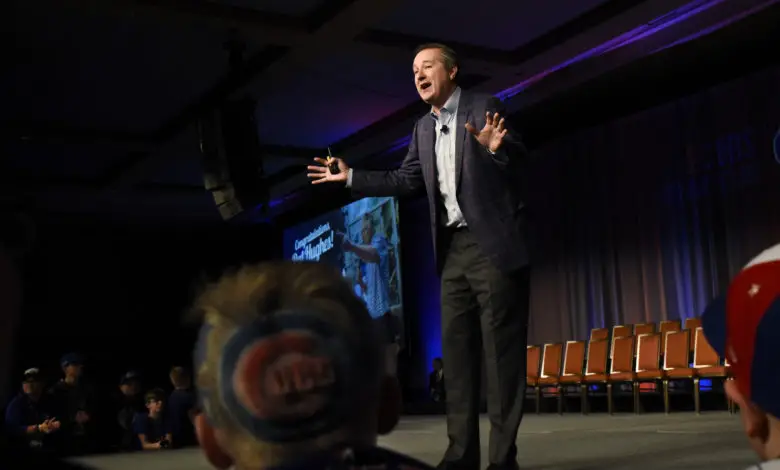 Tom Ricketts Says Spending Will Return to 'Near CBT Levels,' Cubs Could Add at Deadline to Boost Postseason Push
As he typically does in the leadup to Cubs Convention, Tom Ricketts joined 670 The Score Friday morning to discuss the state of the franchise. The big difference between his latest appearance on Mully & Haugh and those of the past several years, however, is that the chairman will actually face the public as well. This is the first CubsCon since 2020, and the first time since it was scrubbed from the proceedings in 2019 that the Ricketts family panel will return.
The explanation at the time was that fans found the panel boring, though I'm sure that might have had a little bit to do with at least half the crowd being hungover from the previous evening's festivities. Trust me, 9am comes quick when you've imbibed heavily of a potent cocktail of alcohol and overwhelming Cubs vibes. The other issue is that 2019 was the first time fans started to get openly critical of the team's direction.
Even if the feedback was generally blah on the panel, it's hard to believe that's the only reason it was replaced. But hey, Tom and Laura Ricketts will be back on stage Saturday morning.
"Honestly, we did it as kind of a 'meet the family' thing years ago, and after a while it kinda became something that was kinda the same every year," Ricketts said. "So we get the fan surveys back and they thought that wasn't the most exciting panel, so we dropped it. But if people want it back, I'm happy to talk to anyone. I mean, as you guys know, I'm as available as any owner in sports and happy to do it tomorrow."
Even with a crowd comprised mainly of Pollyannas wearing rose-colored glasses, some of which might just be to hide bloodshot raccoon eyes, there will probably be some tough questions for ownership. I have to believe Crawly will be one of the first in line, and I know that dude will have knocked back his fair share and then some Friday night.
Ricketts was doing his best to quell some of that early, starting with his end-of-season letter to season-ticket holders that expressed almost exactly the same sentiments as the year before. He did make a little tweak to it, though, and he continued to drive the notion that the Cubs will indeed throw more money into player payroll moving forward.
"You wanna know going into the season that your team is all-in and they're competing for the division, and that's the message we wanted to make sure people got this offseason," Ricketts explained. "We did have a lot of financial resources that Jed thought probably would be better spent this year than last year, so he did reserve a little bit to make sure we could put a little more into this season, and I think that was the right thing to do.
"But now we're in a good position. We haven't finished our offseason yet, but we'll be back among the top spenders and near CBT levels and putting a lot of the cash that we have on the field. But without doing it in a way that we think will hurt us in the long run."
After more or less glossing over the financial boon provided by the sportsbook, Ricketts praised Marquee Sports Network and joked a bit that fans would not be booing it this year. That's a callback to his now-infamous comments in 2020, which fans did boo lustily. He said the network is doing very well at a time when other RSNs, particularly those operated by Sinclair, are struggling.
It's hard to know how honest Ricketts is being there, but it does stand to reason that Marquee is on firmer footing than some of its counterparts if only because the Cubs are merely partnered with Sinclair on it. The other former Fox stations now sporting Bally branding are being crushed under the weight of their own parent company, which badly overestimated the viability of the RSN model.
So while Marquee's ratings are down and revenues are likely trending well below initial modeling, the Cubs are making more than they were with NBC Sports Chicago and WGN. But since they're still way behind other big-market teams that got out ahead of the broadcast bubble bursting, Ricketts isn't going to be spending like Steve Cohen.
He said the Cubs believe their best path to the postseason is probably to win the division given how the Mets and other NL East teams have built themselves up. Even with an expanded playoff field, having the Phillies and Braves loading up as well means the odds of capturing a Wild Card are slim. That said, Ricketts was very clear that the goal is to play beyond the regular season this year.
That could mean they'll be buying at the deadline rather than moving beloved veterans for a third straight year. We can nitpick and say that Willson Contreras was actually kept around, but that's only because Dusty Baker scuttled an agreed-upon trade. In any case, Ricketts was bullish on his team's chances.
"But really, for us, we've really solidified, we've improved our offense, we've got excellent defense, we have a lot of pitching depth like we've probably never had here in terms of starting pitchers that we can use," the chairman said. "And every day, we're just gonna give Rossy as many pieces and parts as we can, let him and Andy Green and the analytics staff put together the best lineup for the day.
"And hopefully we get off to a pretty solid start and try to stay at the top of our division all year. If things are going well in July, look to add a player or two to keep us on top and looking forward to getting back to the playoffs. That's the goal."
I'll let you determine for yourself whether he really believes what he's saying or if it's purely a combination of words meant to keep fans off his back this weekend and beyond. At its core, I think this is something Ricketts may be trying to speak into existence. As George Constanza once said, "It's not a lie if you believe it."