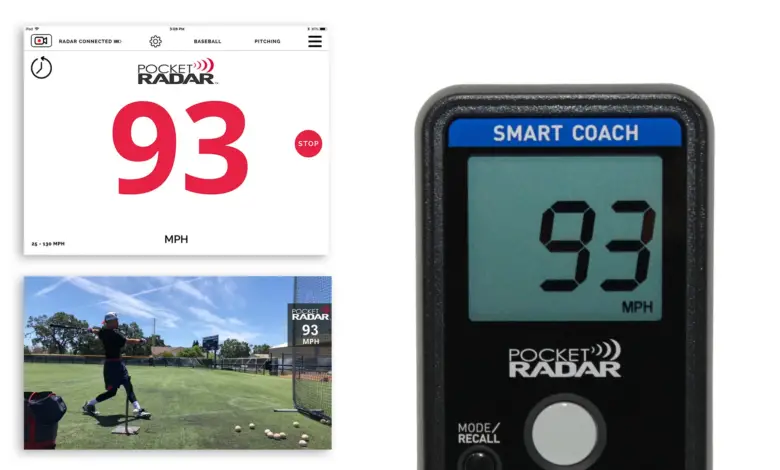 Pocket Radar Launches New Subscription Plan to Bring Professional-Level Tech to Everyone
Ed. note: This site is obviously dedicated to a particular professional baseball team, but we're also very passionate about the sport as a whole and the youth levels in particular. That's why I wanted to share this update from Pocket Radar with our readers, many of whom might be in the market for such technology. Even those who aren't involved in youth baseball might find these advances in the game interesting, especially if any of you are gadget nerds like me.
I also want to be clear that I'm not being compensated for this plug, though if the Pocker Radar folks are reading, I'm not above accepting a free subscription. Sure would be nice to add this functionality to my Smart Coach Radar.
Pocket Radar, the industry leader in capturing accurate speed-based metrics accessible to everyone, announces today the launch of its first ever subscription offering, Pocket Radar PLUS. By providing unparalleled integration capabilities with leading scoring, streaming and player development apps, connecting in-game and practice data for recruiting and development has never been more seamless. With additional new features like slo-motion video capture, pitch tagging/charting and more to come in the future, Pocket Radar PLUS will provide a more comprehensive and complete software platform experience for Pocket Radar users.
"We chose to lean into what our customers value us most for: simplicity, accuracy, affordability, and access to necessary, quality data," said Taylor Alexander, VP of Strategy and Business Development with Pocket Radar. "Just like the athletes that make up a National Championship or World Series winning team, we are focused on being the best at our position by adding new features like pitch tagging and slow-motion video to make the data more contextually meaningful and useful. Through the Pocket Radar CONNECT platform, our technology now adds important data sets to an entire ecosystem of solutions and partner apps that coaches, athletes and teams depend on."
Pocket Radar's technology is currently being utilized by championship-winning coaches at the highest levels, to parents and players training in their backyards. Providing new software solutions tailored for player development and recruiting, athletes looking to improve their game and have their metrics be seen by coaches across the country has never been more accessible. Their Pocket Radar CONNECT platform allows users to embed velocities into their favorite in-game scoring and streaming apps, including GameChanger, AthletesGoLive, SidelineHD and Sporfie (with more in the future).
"Pocket Radar's integration with GameChanger has taken Live Streaming and Scoring games to a new level," said Alex Trezza, Baseball Market Manager of GameChanger by DICK'S Sporting Goods. "In a sport driven by data, this has added a new level of analytics and fan experience while watching baseball and softball live streams. Seeing the velo of every pitch while watching games and also being able to see the results in the play by play, will provide great benefits to our fans, coaches and players on the GameChanger platform."
Using the new "pitch tagging" feature included with a Pocket Radar PLUS subscription, coaches and players can now track pitch types and locations, adding more context than ever before to each event of a practice or game session. Pocket Radar's upcoming integration with BaseballCloud will do the rest – providing filterable heat maps and other pro-grade charts created to bring the data captured to life for all users throughout the broader markets of baseball and softball.
"Pairing the reliability of Pocket Radar with the unbeatable data visuals and reports of BaseballCloud/SoftballCloud, gives every single athlete on my rosters an advantage," said Scott Smith, National Program Director and Head Coach of Bombers Fastpitch. "Whether it's overhand throwing, pitching or tee
work drills, we can now track practice and in-game performance much easier. This will help us win big games, get players recruited and develop our athletes to their greatest potential."
By maximizing the power of tying together in-game and practice metrics through the integration of affordable and accessible solutions, Pocket Radar PLUS will be a game changer for baseball and softball organizations across the country. Real-time objective feedback from video and verified data helps identify the strengths of each individual athlete and provides a blueprint for helping athletes to reach and sustain their potential. With an integration to the CURVE Player Development app from Diamond Allegiance, Pocket Radar PLUS will be utilized by many of the top travel ball organizations across the country to train and develop players.
"Our organization, and many others at The Diamond Allegiance, are diving head-first into Pocket Radar PLUS," said Eric Lassiter, Director of Power Baseball Organization. "We view Pocket Radar as an essential tool to our player development and coaching efforts; especially with the addition of the new slo-motion video and pitch tagging features. Pocket Radar PLUS also allows our athletes an affordable way to connect to so many other apps and services, like the CURVE Player Development app, that Diamond Allegiance provides to our teams."
Pocket Radar PLUS will be introduced at multi-tier subscription options, including $4.99/month or $49.99/annually, and also provide a 30-day free trial for new subscribers. It is currently only available on iOS devices through the Pocket Radar Sports App, with Android coming later this year. To utilize the app and subscription successfully, you will need to pair a Smart Coach Radar.