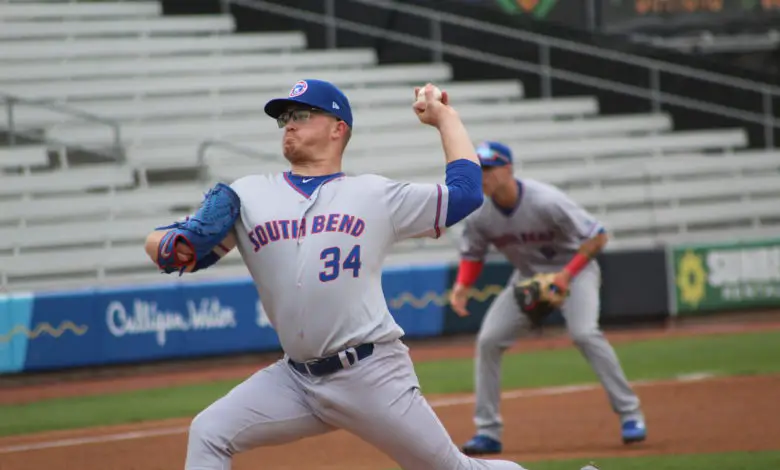 The Rundown: 2023 NL Central Storylines, A Look at Cubs' Future Rotation, Equipment Truck Manifests
As we've mentioned on a few occasions, we're in the midst of a slow news cycle while teams prepare to head to Arizona and Florida for Spring Training. The Cubs' equipment truck is currently being loaded for Sloan Park, so I thought I'd saturate your Saturday with some thought-provoking stuff that is certainly up for debate in the comments section.
Here are some of the NL Central storylines I'll be following this year.
Now that Willson Contreras is with the Cardinals, will the Brewers stop throwing in on the Cubs? If not, who will they target? My money is on Ian Happ and Cody Bellinger. By the way, Jameson Taillon loves to throw inside. I suspect that's one of the reasons Jed Hoyer pursued him.
Will Milwaukee continue to target Contreras in St. Louis? The Brewers-Cardinals rivalry has been more than a little heated since the two teams met in the 1982 World Series. What's the over/under on the benches clearing when the two teams meet this season?
If the Brewers target Contreras (and they will), will St. Louis throw at William Contreras?
How well will Adam Wainwright pitch without Yadier Molina?
Who will win more games this year: the Pirates or the Reds?
Which of the contending teams will improve the most at the trade deadline? I'll bet the house on the Cubs.
Here are your top five NL Central free-agent signings: 1. Taillon 2. Carlos Santana 3. Contreras 4. Dansby Swanson 5. Trey Mancini.
The five worst? 1. Rich Hill 2. Wade Miley 3. Wil Myers 4. Brad Boxberger 5. Andrew McCutchen
Will the Brewers be sellers at the deadline? If so, where do they send Corbin Burnes and Brandon Woodruff? Will any team accept Christian Yelich as an incentive to acquire Burnes?
Which team will be the first to 50 wins? The first to 100 losses?
Can any of the NL Central teams compete for a Wild Card?
Here are a few filthy pitches from Kohl Franklin today! pic.twitter.com/kjSZCMtIO5

— Greg Huss (@OutOfTheVines) April 10, 2022
As I mentioned in Friday's Rundown, the Cubs are now listed as one of the better organizations for developing pitchers. Here's what baseball writers and others are saying about some of their young starters.
Cade Horton – "There was a lot of late buzz that Cade Horton might sneak into the top ten picks after his stellar postseason run and the Cubs made the move here at 7. While he missed all of last season after Tommy John surgery and didn't really catch fire until his final five starts, he showed enough that in my mind he was the best college pitcher available. He's also a quality athlete with a fastball that reaches 98 mph and a wipeout slider that touches 90. A two-way player at Oklahoma, he could really take off now that he's healthy and will focus only on pitching." – Jim Callis
Jordan Wicks – "Wicks' feel for the zone and execution is the best in the system for the level of "stuff" he possesses. Some of the biggest gains in results based on velocity come once a pitcher starts to cross the 93-94 mph threshold. Wicks currently sits around 92 mph. Adding a few ticks — even at the expense of some command — would vault him into front-line starter territory." – Lance Brozdowski
Ben Brown – "Brown is Chicago's #6 prospect heading into 2023. He is an imposing 6-foot-6 righthander who also keeps growing into more stuff. His fastball now sits 94-97 with late ride and run to generate swings and misses in the strike zone. His primary secondary pitch is a plus mid-80s power curveball with biting downward action that he can land for strikes or bury for chase swings below the zone. He also has a short power slider in the 87-91 mph range that is an above-average offering. Brown is an extremely confident pitcher who aggressively goes after hitters. He pounds the strike zone with average control and is efficient with his pitch counts." – Baseball America
DJ Herz – "Herz is an interesting case. He's been dominant for a long time now, striking out a lot of hitters. I actually felt that we needed to challenge him a little bit. He was going to need to see a different level of competition in order to make some of the changes he'll ultimately need to make to get up here in the big leagues. It's really just about more quality strikes and staying in the zone as much as possible. Everything else he does exceptionally well. He misses a ton of bats. He's a great competitor. He's athletic. He's a rising star for us." – Jared Banner
Hayden Wesneski – "If he maintains his ability to spot his four-seamer against major league hitters, I see no reason to believe Wesneski isn't chewing up bats left and right. There isn't much development to be done here, and maybe it isn't an ace profile, but this is an arm with great stuff. There's also the intangible of Moskos having Wesneski's buy-in given their prior relationship, which I think will work wonders for maturation and sequencing against better hitters." – Brozdowski
Jackson Ferris – "Ferris opened eyes at instructs by sitting 93-95 with his fastball, the same velocity range he was consistently at in high school. That this was happening with little ramp-up in October has some believing there is clearly more in the tank velocity-wise for the southpaw. He also displayed a power slider and a slower curveball with downer action. The goal is to separate the two pitches a bit more, have the curve add a little more power — it's slower and bigger at the moment — and be a platoon-neutral pitch. The slider, which is ahead of the curve currently, should be what he uses to dominate lefties." – Sahadev Sharma, The Athletic
Kohl Franklin – "He's super juiced up in Cubs camp. He's also like 96-99 with a firm fastball and an above-average changeup and an above-average breaking ball. I stuffed him. I stuffed him super high. With the lost season and then obviously the injury (last year), he hasn't really gotten a pathway in pro ball to consistent innings, but he's super interesting. It's a good delivery, a good arm, an athletic body and it's real stuff. He's really high for me. He's the story right now. He's easily the best pitching prospect in their organization. He has some of the biggest stuff I've seen on the backfields this year." – Kyle Glaser, (March 2022).
By this time next year, and if everybody stays healthy., the Cubs will have a top-five farm system just on the strength of their pitching. 2023 is going to be a fun year at Wrigley Field. But the team should be exceptional in '24 and beyond.
Cubs News & Notes
Odds & Sods
Now you know why Harry Caray was a Busch Man long before he was a Bud Man.
When August Anheuser Busch Jr. bought the #Cardinals in 1953 he wanted to rename Sportsman's Park, "Budweiser Stadium." Because of the times, @MLB said no, so he renamed it Busch Stadium then, shortly later, introduced a new product; Busch Beer. pic.twitter.com/tPAu0HRB7O

— MLB Cathedrals (@MLBcathedrals) February 4, 2023
Saturday Stove
Did you ever what goes into a spring training equipment truck? The Brewers are shipping approximately 20,500 baseballs, 1,000 baseball bats, 200 batting helmets, 2,000 shirts, 250 batting gloves, 400 batting practice jerseys, 200 game jerseys, 300 pairs of baseball pants, 500 pairs of socks, 20 cases of bubble gum and 60 cases of sunflower seeds to Arizona.
Concerned about a possible bankruptcy for the company that owns local broadcasting rights to 14 of the 30 Major League Baseball teams, the league has formed a new economic study committee that will gather next week in Palm Beach, Florida.
Speaking of rookies, Adley Rutschman, who was one of baseball's top first-year players last year, is expected to be baseball's best catcher in 2023.
Ouch. Baseball insider John Heyman gave the White Sox a D- for their offseason moves.
I've got a double sawbuck that says the Dodgers' non-roster invitees could beat the Reds' major league squad in a seven-game series.
Extra Innings
"Hoernsby"
The new middle infield duo on the North Side 📊 pic.twitter.com/cqIZ3zKDZW

— MLB Network (@MLBNetwork) February 2, 2023
They Said It
"I thought one of the best things we had in Boston was the Yankees. You knew the standard you had to reach to win and be good was really high. I felt that way when we got here. [The Cardinals] won the World Series in '11, lost the World Series in '13. As we were building, we knew that in order to be a really good team and win this division, to compete at the highest level, we weren't going to back into the playoffs. We had to compete with that. I feel that way now." – Hoyer
"I think the biggest threats [to sign Ohtani] are going to be those West Coast teams, but you can see Texas going there. You can see the Cubs. Those were two of the finalists for Ohtani the last time." – Heyman
Saturday Walk-Up Song
Pearl Jam dropped Yield on this date in 1998. This is the best song on that long player.