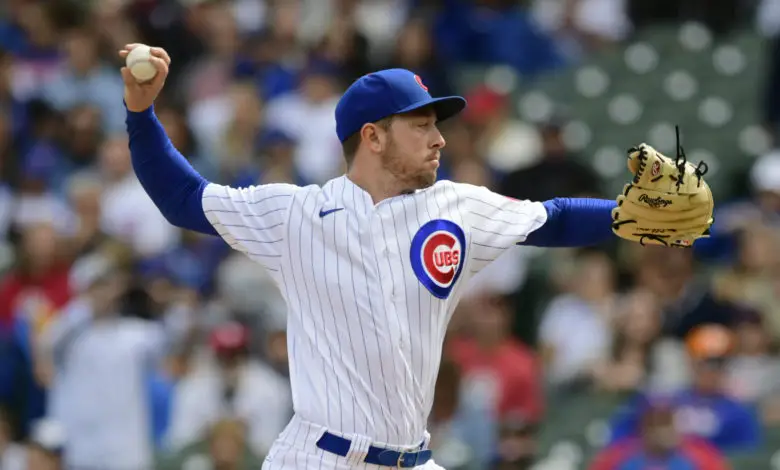 Adrian Sampson Among MLB's Most Successful Starters Throwing High Heat
I spent all last season waiting for the other shoe to drop on Adrian Sampson, for his carriage to turn back into a pumpkin at the stroke of 1:20. And while Tom Petty wasn't right about it being the hardest part — that would be the constant TOOTBLANS and inability to score runners from second — I eventually got tired of waiting and started to believe the journeyman righty was for real. It wasn't the results that sold me, however, it's what was behind the results.
It's easy to view results as flukey when the sample size remains small enough to be influenced by chance, but the role of randomness decreases with each pitch. We also need to apply proper context to each situation, which in Sampson's case deals with an overhaul of his entire repertoire. Some folks seem to think he was simply throwing the same pitches with the same approach as in previous years and somehow having his fairy godmother bibbidi-bobbiti-boo batted balls to keep them in the yard.
Instead, the Cubs were looking at a wholly different pitcher from the one who'd previously gotten what could only be called mediocre results over four previous MLB and KBO seasons if we're feeling exceedingly generous. As Sahadev Sharma laid out last August, the haircut that removed all the long bangs Sampson used to give up included every pitch in his arsenal.
His slider, which he threw with a four-seam grip prior to last season and now uses a two-seam grip, has three more inches of horizontal break compared to last season and seven more inches compared to the one he was throwing in 2019 (the last year he pitched in the big leagues before joining the Cubs). He's using his four-seam fastball 36.1 percent of the time this season after abandoning the offering earlier in his career. He's holding his changeup deeper in his hand, which has killed some of the velocity (85.6 mph this season compared to 87.4 in 2019) and given him a little more gap from his 92.2 mph and 92.7 mph sinker and four-seamer, respectively. The pitch also has more drop than before as well.
The most notable part of this change is the fact that Sampson went from not using the four-seam at all to throwing it more than any other pitch. That could vary based on what service you use, but Statcast has him at 562 fastballs (33.2%) to just barely squeak past his 547 sinkers (32.3%). But as noted previously, raw numbers alone can't tell the story.
"I'd like to say I have two different fastballs, but I really have four different fastballs with each pitch," Sampson told Sharma. "If I'm throwing to a different quadrant, each one is a different pitch."
The righty mainly worked the left edge of the plate (middle-in to right-handed batters) with his sinker, keeping his four-seam up and more on the opposite third of the zone. That was very intentional on both fronts, as the sinker used to be more of an amoeba and the fastball, well, it wasn't really part of the mix at all. Confidence in his ability to locate and shape that four-seam in particular is what led to Sampson's success last year.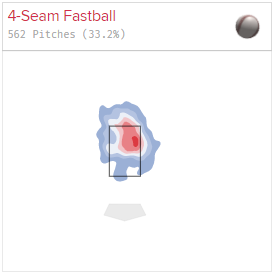 According to Alex Fast of Pitcher List, Sampson was one of the 10 best starters in MLB when it came to limiting wOBA on elevated fastballs. While this is definitely one of those inside baseball stats that has multiple qualifiers, I think it's very helpful in explaining how and why Sampson was so good in spite of his relatively low strikeout and groundball numbers.
*These are SPs who threw more than 500 heaters, elevated them more than 50% of the time and sorted by wOBA. If you lower the threshold to 45% its worth noting that Mikolas appears with a .190 wOBA

— Alex Fast (@AlexFast8) February 6, 2023
Now that we've thoroughly debunked the idea that Sampson's '22 performance was a fluke, we have a whole new question: Can he repeat it? In order to answer that, we first need to figure out whether he'll even crack the rotation. Chances are good with Kyle Hendricks on the shelf through at least late April, plus the Cubs figure to get a little creative with their usage of starters even after their former ace returns.
As for what happens if and when Sampson gets another shot, I'm cautiously optimistic about his ability to continue pitching well. I don't know about maintaining an ERA reminiscent of a 90s alt-rock band, but being a highly serviceable late-rotation starter seems like a pretty reasonable expectation.