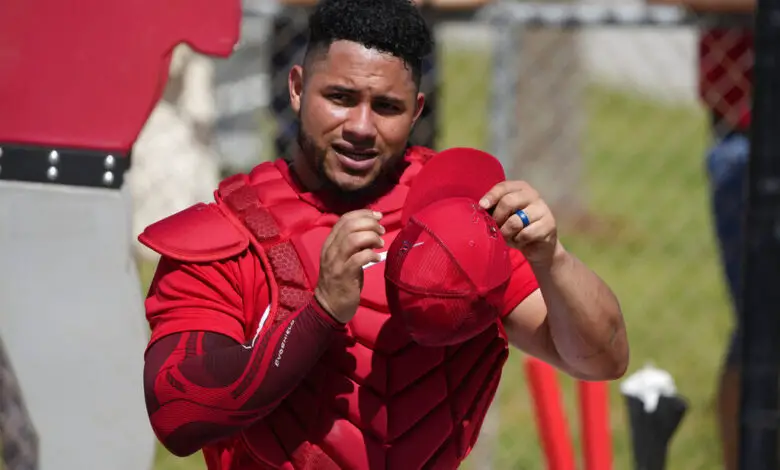 Sunday Rundown: Contreras Making Enemies in Chicago, Cubs Beat Giants, Taillon Talks Nerdy
Welcome to the first Sunday Rundown, a slightly more relaxed and casual little brother of the regular Rundown. I'll exchange the preamble for something that lets my inner fan escape, there will be a little bit more music, and nothing but good vibes for our boys no matter how poorly they may play. The Sunday version is all about the Cubs, by the way.
I'll kick off today's column with a story about Ken Holtzman, a player my father truly disliked. According to my dad, the left-hander had a difficult personality and would never admit to being wrong no matter the depth of the subject. Holtzman won three rings with the A's after the Cubs traded him to Oakland for Rick Monday. That ticked off my dad, but not as much as when the Cubs reacquired "Crybaby Kenny" (as my father called him) in 1978.
Holtzman, who threw two no-hitters with Chicago, was among the first dissidents during the Leo Durocher era and asked the Cubs to trade him in 1971.
"The air is cleared now," the lefty said at the time of the trade. "I wouldn't have cared if the Cubs had traded me for two dozen eggs."
Those kinds of comments didn't fly with fans in those days, especially for those brought up with the Pollyanna-like Ernie Banks leading the team. Billy Williams was another organization-first player, and we all know about the devotion Ron Santo showed to the Cubs even after he was traded to the White Sox.
My father was dying of brain cancer when Holtzman was reacquired in '78, but he still had enough spit in him to curse the starter every time he took the slab for Chicago's Northside baseballers.
It's funny how cyclical life is. Each time Willson Contreras heaps praise on the Cardinals, I start to feel a wrath similar to my father's for Holtzman. I will not be among the fans who give Contreras a standing ovation during his first trip to Chicago. In fact, I am going to purchase seats near the St. Louis on-deck circle so I can give the backstop a piece of my mind.
I tend to think of players like Kris Bryant, Anthony Rizzo, Kyle Schwarber, and Javier Báez as Cubs for life. I thought the same of Greg Maddux and Sammy Sosa, too. But not Contreras. He's been a Cardinal since August, at least in his heart and in my mind.
Contreras said he started imagining himself as a Cardinal the day he saw Albert Pujols hit his 695th homer. Said he was on the IL, watching from the bench, envisioning playing for a team with that kind of tradition and celebration.

— Jeff Jones (@jmjones) December 9, 2022
By the way, Holtzman spent his offseasons in St. Louis when he played for the Cubs. He was born there and it was another reason why my dad disliked him. My father actually rooted against Holtzman when he was tossing his no-nos.
Cubs News & Notes
Midwest Farm Report
If you watched the Cubs game on Saturday, Boog Sciambi let it slip that Pete Crow-Armstrong does not suffer from a lack of confidence. The play-by-play announcer tried to walk it back a little, but the cat was out of the bag. PCA is a cocksure player and he doesn't try to hide it. I've made the comparison to Lenny Dykstra (the player, not the human) previously and Sciambi sort of confirmed it without actually saying so. Let's hope Crow-Armstrong puts his money where his mouth is.
At his best, Dykstra would give you 30-40 doubles, 8-10 dingers, and 30+ stolen bases. If Crow-Armstrong can produce at that level, especially with his defensive chops, he'll be Chicago's best player.
Ben Brown is another player with a little swagger to his personality. Of course, a fastball that constantly hits the mid-90s with some serious ride and a power curveball helps. Striking out 149 batters in 105 innings tends to be a bit of a confidence-builder, too. He's also working on a slider, which could make him dominant as a big leaguer if he masters it.
"The prototypical starter arsenal and prototypical starter body type," Cubs general manager Carter Hawkins said of Brown. "We feel he's the type of guy who can log innings for us and has some power stuff that can miss bats. You put those two things together, you got a shot at something fun there."
Big League Chew
You have to love that Swanson signed with the Cubs. He could be the best of this year's shortstop class if he continues his trajectory of improving each year, and he might also be the league's most marketable shortstop since Derek Jeter. As a Cub, he immediately steps into that rarified air reserved for predecessors Banks, Bryant, Báez, Rizzo, and Ryne Sandberg. Pushing Nico Hoerner over to second gives Chicago the best double-play combo in the game.
On the other hand, things are going to be a little unpleasant if Swanson regresses. I'd wager against that, however. If I were placing a bet, I'd have no problem laying down a hundo on Swanson's MVP odds this season. That kind of bet on No. 7 will win you $7500 if he takes the hardware home in November.
Sunday Morning Six-Pack
On Sundays, these will be albums for you to listen to rather than the news stories I post during the week. The links represent one unnamed song from each album.
The Sunday Money Quotes
"The Cubs made it clear from day one I was a top priority. If you can nerd out and talk pitching with me, that really works for me. They showed me a good plan. It's been exciting." – Taillon
Sunday Funnies
That time Schwarber had a bunch of AFL regular Joes douse him with champagne when the Cubs won the NL Pennant back in 2016.