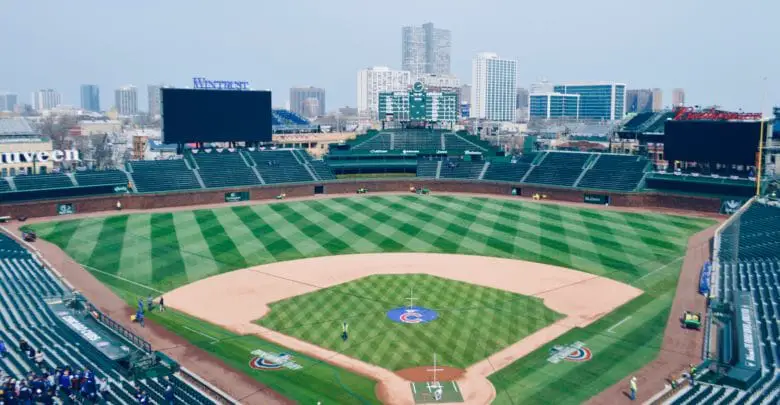 Cubs Among Teams with Largest Gap Between Ticket Cost, Average Metro Income
It's no secret that the Cubs are among the most expensive experiences in MLB and that a diminishing product over the past few seasons has resulted in fewer fans at Wrigley Field. What could cause lingering trouble for the team's business operations, however, is that even putting more money back into payroll might not be enough to boost attendance back to pre-2017 levels. According to a recent nationwide study by PlayMA.com, 35% of fans surveyed said they're planning to go to fewer MLB games this season due to cost.
That same study showed that the Cubs rank third-highest in terms of the gap between average ticket cost and average hourly wage — based on median nonfamily household salary — in the metro area. Based on how many hours a fan would need to work in order to pay for three tickets, the Cubs (7) tied with the Guardians and came in behind only the Astros (10) and Yankees (8). The White Sox, whose fans need to work just 4 hours, might actually see a bit of a bump.
The Cubs are also near the top of the league when it comes to average suite rental cost and the number of hours it takes to afford those bougie experiences. The Yankees are easily the most expensive in terms of both total cost ($15,000) and hours (78), but the Cubs ($11,500, 58) are third in cost behind the Nationals ($12,250) and second in hours with 12 more than than the Guardians. But when you break that down, the prices for tickets and suites in Cleveland are far lower than on the North Side of Chicago.
One other big issue here is that metro Chicago has a much higher average income than many of the surrounding areas from which the Cubs draw their fans. Milwaukee's hourly wage is almost 30% lower, and I'm willing to bet The Region, Quad Cities, Des Moines, and other Cubs hotbeds aren't even that high.
Don't get me wrong, there are still going to be plenty of folks for whom regular attendance is still plausible, plus there are thousands upon thousands more who will happily justify the increased cost for their one or two trips a year. But when you add that financial value to the emotional toll of an incongruous sportsbook and the perception that the team might not really be trying to win — views on those topics obviously vary — it can be overwhelming for some.
This isn't a matter of creating a forum to litigate fandom, though the Cubs have been testing the elasticity of their followers' loyalty for a while now and there could come a point when the rubber band breaks and snaps them in the face. A half-empty ballpark for most games last season tells us they may still be smarting from that, though setting a Cactus League attendance record at Sloan last Saturday indicates there's still plenty of draw for big games.
Will that last if the Cubs don't get the most out of their remade roster and they falter in the first half, leading to another sell-off? Maybe that'll be a prop bet at the glass monstrosity on the corner of Addison and Sheffield.