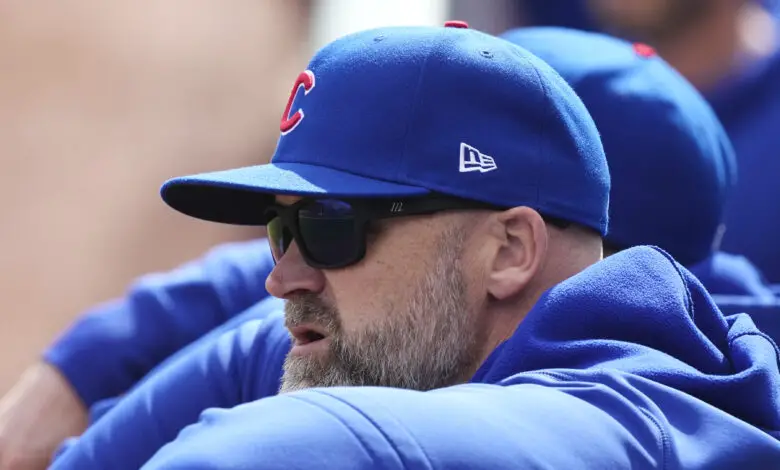 The Rundown: Ross in Element at Prospect-Laden Camp, Rookies Battle Brewers, Mervis & Velázquez Getting Strong Starts
"I see all my dreams come tumbling down. I can't be happy without you around." – The Clash, Train in Vain (Stand by Me)
You've got to give David Ross a lot of credit for the job he's done as Cubs manager since replacing Joe Maddon. He's navigated a pandemic, a near-scorched earth rebuild, and the nuisance that Willson Contreras has become since leaving Chicago for the Cardinals. I know his won-loss record is not praiseworthy, but the Cubs were one of the best teams in baseball during the second half last season.
If you've had an opportunity to see or listen to Ross this spring, he really seems to be in his element surrounded by so many prospects. He's also trying to get Nick Madrigal acclimated to third base, loves seeing Nico Hoerner at second, and sounds like he's a big believer in Chicago's young pitching. I believe Ross will play a big role in the development of Justin Steele, Caleb Kilian, Hayden Wesneski, and Ben Brown. Cade Horton, DJ Herz, and Jordan Wicks will get their chances soon.
What I love about camp this year is that the team is free from distractions and exceptionally harmonious. Gutting the team of its 2016 stars may be the elixir Ross needed to become a manager instead of a buddy. The former catcher was a positive force in the development of Contreras, Kris Bryant, Javier Báez, and Kyle Schwarber, but he probably got a little too close to those stars to effectively manage them. A new crop of youngsters gives Ross a chance to start over, it's just that he's doing it at an enterprise level this time.
You won't hear any of the Cubs' future stars referring to their manager as "Grandpa Rossy" because Ross has a true skipper-player relationship with his troops for the first time since taking the reins. He's also got the attention of a slew of youngsters vying for their first big-league gigs. When Ross put his foot down over the Contreras allegations, he exorcised any attachment to the past. The Cubs are a forward-thinking organization now, and Manager David is their leader. We'll always treasure 2016, but it's a little refreshing to finally break those chains.
Cubs News & Notes
Odds & Sods
It's not easy to say that a player who will earn $350 million over the next 11 years took one for the team, but it appears that is exactly what Manny Machado did.
"Machado's new deal is structured in a way that provides flexibility for the Padres to sign even more stars.

Machado agreed to take significantly less money the first three years of his deal so that the Padres can afford more luxury items, an official told USA TODAY Sports." https://t.co/bR1A6jw0go

— 97.3 The Fan (@973TheFanSD) March 1, 2023
Climbing the Ladder
"This is a joke… A boat with lots of holes that doesn't float. A faded fable scribbled on a post-it note." –  Jeff Campbell, Steal Your Car
The Cubs are dealing with a high number of absences early in camp. In addition to Suzuki and Bellinger, Steele is resting his arm and Patrick Wisdom is dealing with a groin issue. Codi Heuer is recovering from right elbow surgery, Ethan Roberts had Tommy John surgery last year, and Kyle Hendricks is still ramping things up.
How About That!
With few exceptions, the new pitch clock is already having its intended effect.
Phillies starter Zack Wheeler is one of the exceptions. "I don't like it at all," Wheeler said when asked about the pitch clock in the middle of Tuesday's game between the Phillies and Blue Jays. "I think it messes with the game too much."
The Pirates and Orioles played a half-inning of umpire-less baseball on Tuesday.
Ronald Acuña Jr. heads a list of five players most likely to lead the majors in stolen bases this season.
Dodgers infielder Gavin Lux will miss the entire season with a torn ACL.
It seems like everybody is doing a podcast these days. Scott Braun will co-host a new daily show with co-contributors A.J. Pierzynski, Erik Kratz, Todd Frazier, Adam Jones, and Ken Rosenthal. The first show will be Wednesday at 11am ET.
I don't usually promote other writers, but I love what Danielle Allentuck is doing for the Denver Gazette. It's almost the same as what I do here at Cubs Insider.
Extra Innings
Mervis is making an early case for inclusion on the final roster.
Matt Mervis rips a double off the wall in left center. pic.twitter.com/rUjPis82Jd

— Marquee Sports Network (@WatchMarquee) February 28, 2023
Sunday Morning Six-Pack
They Said It
"I think it's one of those things where we'll put [Suzuki's] plan in place, react to how he's feeling, [and] let him build back up. The goal is to get him back when he's fully healthy and can really contribute and help us. These oblique things are pretty tricky. We'll make sure we're listening to his body and talking to [doctors]." – Ross
"I didn't think it was going to be an issue, especially for me. I thought of myself as someone who works quickly, and you just get the sign and you go. But it was way more prevalent in my head than I was used to. Honestly, I think I threw four or five pitches where I just kind of picked my leg up and threw it, [and] I don't even know if he knew what pitch I was throwing because I looked over, and the time was up." – Smyly
Wednesday Walk-Up Song
A little Willy Porter from his very underrated 2002 eponymous release.