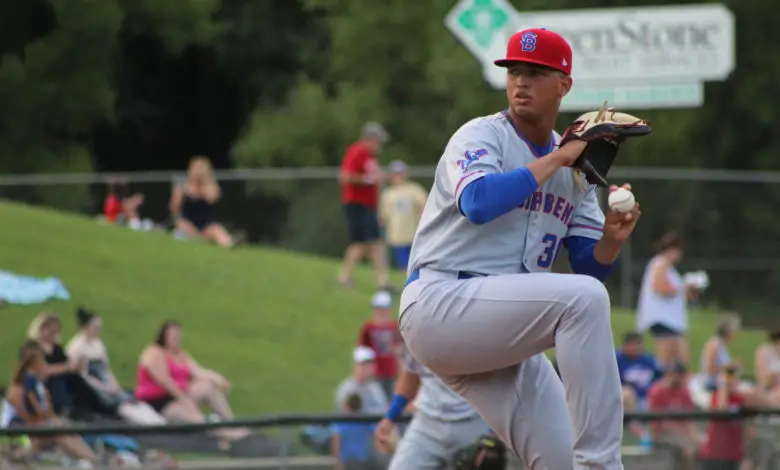 Former Top Pitching Prospect Brailyn Márquez Finally Throwing in Camp
Lefty Brailyn Márquez looked like he was going to be the answer to the Cubs' pitching-development woes three years ago, but he has instead come to embody the TINSTAAPP principle. That's "there is no such thing as a pitching prospect" for those who aren't hip to the nomenclature, and Márquez has lived it over the last three years. After arriving at the Cubs' alternate site out of shape when activity resumed in 2020, the fireballer made his debut with two-thirds of an inning in the last game of the season.
He hasn't thrown a competitive pitch since.
A case of COVID at the start of camp in 2021 led to myocarditis that shelved him for eight months, then another positive test early in '22 forced a late start. Perhaps due to all the time off, he quickly developed shoulder fatigue and was forced to undergo a surgical debridement procedure that ended his season.
Cubs doctors weren't ready to clear Márquez to throw when he arrived at camp in February, so he was limited to a stretching and strength program. He still has a long way to go before returning to the mound, but the inimitable Rich Biesterfeld captured images of Márquez playing catch this past Sunday. If all goes well, he may finally have another chance to make good on all that potential.
I think there were some reports recently that @Cubs pitcher @BMarquez_103 wasn't playing catch yet, but here he is on Sunday. Didn't appear he was throwing hard yet, but he is doing baseball activity. #Cubs #CubsProspects #ST2023 pic.twitter.com/ll2NbQuESH

— Rich Biesterfeld (@biest22) March 21, 2023
It looked for a while there as though that chance would come with a team other than the Cubs after a November non-tender, but they re-signed Márquez to a minor league deal about three weeks later. Southpaws who throw triple digits with wipeout breaking stuff don't grow on trees, so the Cubs have ample reason to keep their fingers crossed on this one.
The mental side of Márquez's development will be at least as important as the physical because it can't be easy to miss the better part of three seasons. There have been questions about his maturity and work ethic in the past, but he's had a lot of time to think about what it'll take to come back. Plus, he just turned 24 at the end of January and has plenty of time to put things together and return to dominance.