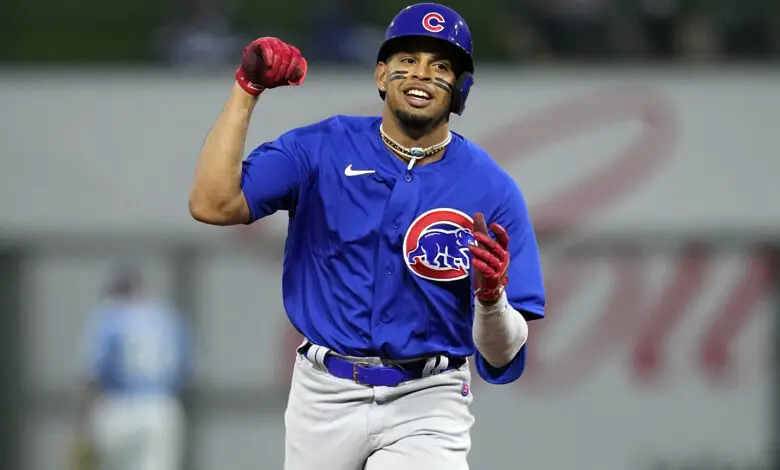 The Rundown: Morel Assignment Leaves Personality Void, Hoerner Extended, Cubs Playing Clean
"Good luck suckers, I'm on my way. I've been here forever, forever and a day. You're busy little down roads tonight, time and tide. We're on the same circle, just a different timeline. Always been a practical man of practical need, practically." – Giant Giant Sand, Forever and a Day
Christopher Morel struck out 24 times in 52 Cactus League plate appearances, which is part of why he's headed to Iowa. The Cubs have to trim their roster to 26 players by Thursday, when they open the season at Wrigley Field against the Brewers. I've felt like Morel has been a little lost and out of sorts since Willson Contreras signed with the Cardinals. Contreras irked the shit out of me earlier this week when he called Yadier Molina his hero.
I digress. I'd rather not focus on any team or player that resides west of the Mississippi River and east of Kansas City.
Without Morel, the Cubs feel kind of vanilla to me. As I go up and down the current roster, there isn't a whole lot of personality. Then again, infectious smiles and unbridled excitement don't win ball games. Tucker Barnhart will be a quote machine and Marcus Stroman always has an opinion or two, but the rest of the squad looks like a team of NASA engineers. They do and say the right things, just with their emotions severely in check. I'm a big fan of Jameson Taillon, though I half-expect him to bust out a slide rule whenever he's interviewed.
Perhaps that's why David Ross and Jed Hoyer say camp has been pretty uneventful. The president of baseball operations describes the team like he's selling linens or planting Christmas trees.
"We have a really, really great group of guys," Hoyer said recently. "So this has been as smooth sailing of a camp as I can remember — from a makeup standpoint, from a coaching staff standpoint. I think that's what the season is about, establishing that identity. What do I think our identity can be? I think we can play unbelievably clean and aggressive baseball."
Maybe a homogenized ballclub is just what fans need to temper expectations. That works well when a team wins, but if they struggle, players can seem a bit non-caring. Playing "unbelievably clean" actually makes me chuckle each time I read it. It's just so dang milquetoast, but at least Hoyer stirred a little aggressiveness into the mix. And hey, Morel shouldn't be on the roster if he's struggling that much to make contact. One would assume he'll be back sometime this season as a reinforcement.
Cubs News & Notes
Odds & Sods
I think MLB hires umpires who have zero social skills. Only a guy with no friends can get this angry for such a trivial matter.
And the circus continues! https://t.co/MHXPBwyBm0

— Kyle Farnsworth (@24_7Farnsworth) March 27, 2023
Climbing the Ladder
"I'm burning through the sky yeah, 200 degrees that's why they call me Mr. Farenheit…I'm traveling at the speed of light." – Queen, Don't Stop Me Now
This section was started in honor of Shawon Dunston, whose sub-.200 batting average in June of 1989 inspired a fan to create the Shawon-O-Meter. Dunston was hitting .183 on the final day of May but then batted .286 in June, .420 in July, .305 in August, and .373 in September to finish '89 with a .278 average.
News broke yesterday that Nico Hoerner has agreed to a three-year, $35 million extension. In doing so, Hoyer bought out Hoerner's final two years of arbitration and first year of free agency. With Dansby Swanson under contract through 2029, the Cubs have locked up their current double-play combination through 2026.
Hoerner is coming off a career year and has raised his ISO from .037 in 2020 to .129 in '22. He slashed .281/.327/.410 with 10 home runs and 20 stolen bases, very close to Dunston's career averages (.269/.296/.419, 13 HR, 19 SB). Both are former first-round picks, though Dunston went No. 1 overall in 1982.
Central Intelligence
How About That!
Including endorsements, Shohei Ohtani will make a record $65-70 million in 2023.
The Astros are No. 1 in the inaugural 2023 rankings.
Houston was also named the top team in the 26-and-under power rankings.
The Padres are a preseason favorite to win the World Series. Hard sell. I'd rank the Astros, Yankees, Dodgers, and Mets ahead of San Diego.
Joey Votto will start the season on the injured list and will miss his first Opening Day in 14 seasons as a result.
The Indians have shut down starter Triston McKenzie due to a shoulder injury.
The Orioles opted not to add top pitching prospect Grayson Rodriguez to their Opening Day roster.
Extra Innings
Sergio Romo just entered the Good Guy Hall of Fame.
Sergio Romo said for every kid who asked for his autograph in spring training, he asked for theirs. The result is this amazing cap full of kids' autographs. He's one of a kind. pic.twitter.com/pRXyPoEt8W

— John Shea (@JohnSheaHey) March 28, 2023
Tuesday Morning Six-Pack
They Said It
"Nico's an impressive human. He wants to win. And his mentality, I've never had to worry. He's one of those easy ones. You don't have to worry about where his headspace is. He's all about winning and what's best for the group." – Ross
"I think the best way to describe the Cubs [as] a player, it's [Hoerner]. That's what Cubbie baseball should look like." – Pete Crow-Armstrong
"I'm not going to try to pull small success stories from a losing season, [19] games back. We're nowhere near where St. Louis is. That's where we've got to get to. Now, were there learning experiences and growth that I'm proud of? Sure." – Ross
Tuesday Walk-Up Song
Hoerner is nicely minted now.