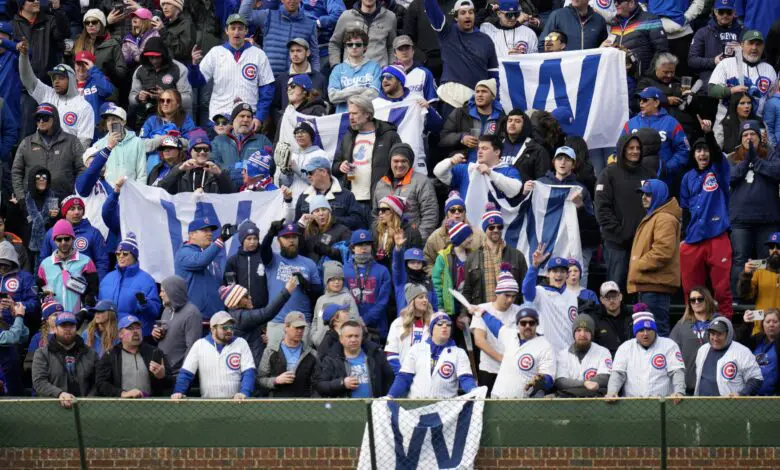 The Rundown: Cubs Start Season With Impressive Win, Stroman Makes History, Contreras Hurt in Cardinals Loss
"Oh, it seems night endlessly begins and ends, and after all the dreaming I come home again." – Counting Crows, Rain King
The Cubs have the traditional day off after their home opener and can celebrate a 4-0 win over the Brewers. Chicago beat their division rivals because Marcus Stroman pitched like Corbin Burnes and Burnes pitched like he was possessed by something from the Pfister Hotel in Milwaukee.
In his last six starts against the Chicago Cubs, Corbin Burnes has a 1.85 ERA with 60 strikeouts.

That's a 40.8% strikeout rate!

— Michael Cerami (@Michael_Cerami) March 30, 2023
Jokes about wraith-like doppelgangers and apparitions aside, Burnes pitched like a guy who might be on the bubble for a fifth-starter role. His pedestrian line included three walks and only three strikeouts in five innings of work. The Cubs went down on strikes just five times the whole game, a nice change from the past eight years or so.
The 2023 season began almost exactly as 2022 did for both teams, in low-40s temps at Wrigley Field, with the Cubs pulling out a win and Burnes enduring a so-so start featuring one big inning. Chicago beat Milwaukee 5-4 last year, then followed that with a 9-0 win in Game 2 of the 2022 season. Ian Happ was last year's star, but this time around it was new Cub Dansby Swanson who stole the show. The shortstop had three of Chicago's six hits and plated one run. He and Nico Hoerner make a nice 1-2 punch at the top of the lineup.
"Hearing 'Go Cubs Go' is a lot better when you're on the team," Swanson said. "It was just an amazing day. It's an amazing city and organization. Couldn't be more grateful to be here."
Sounds like someone graduated from the Crash Davis school of clichés. Hey, winning, you know? It's, like, better than losing, am I right?
The Cubs can relax today before meeting the Brewers on Saturday. Justin Steele will face Brandon Woodruff just as the two did last April when Steele shut out Milwaukee.
Cubs News & Notes
Odds & Sods
Hunter Renfroe left future Cub Shohei Ohtani awestruck with this improbable grab.
Hunter Renfroe, No Look Catch. 🫣

When you impress Shohei, you've done something. pic.twitter.com/7JH3oO2yAO

— Rob Friedman (@PitchingNinja) March 31, 2023
Climbing the Ladder
"Spread out the oil, the gasoline. I walk smooth, ride in a mean, mean machine." – The Rolling Stones, Start Me Up
Stroman looked like an ace on Thursday. He allowed three hits across six innings of work with eight punchouts. Swanson and Mancini had RBI singles, and Gomes plated a runner on a fielder's choice. Miles Mastrobuoni scored on an error by infielder Willy Adames. Ian Happ had a hit and drew two walks.
Though he didn't qualify for a save, Michael Fulmer pitched the 9th inning, and he should get the bulk of save opportunities this season.
Games Played: 1
Total Plate Appearances: 34
Total Strikeouts: 5
Strikeout Rate: 14.71%
Team Batting Average: .200
Runs Scored: 4
Runs Allowed: 0
Central Intelligence
How About That!
The Astros, who lost just five times last year when leading after seven innings, were beaten on Opening Day for the first time since 2012, snapping a 10-game winning streak.
The average length of yesterday's 15 games was 2 hours and 45 minutes. There were also 21 of 23 successful stolen base attempts Thursday, which more than doubled last year's pace.
Rookie shortstop Anthony Volpe paid homage to Aaron Judge and kissed the interlocking NY on his Yankee uniform.
There were 14 total pitch clock violations yesterday. Five violations were by batters, eight by pitchers, one by a catcher, and Devers earned the distinction of being the first batter called out on strikes due to a violation.
The pitch clock is a big hit with most fans, and that's a big win for baseball.
New York has 22 retired numbers and made a special request to the commissioner's office to eliminate numbers on the uniforms of their manager and coaches.
The Padres placed reliever Daniel Bard on the 15-day IL due to anxiety issues.
Gerrit Cole and Logan Webb became the first pairing of opposing starting pitchers to register double-digit strikeouts on Opening Day since 2019, when Max Scherzer and Jacob deGrom did it. Dave McNally and Sam McDowell also accomplished that feat in 1970, the first time it happened in the game's history. It seems unfathomable that Bob Gibson and Fergie Jenkins never accomplished that feat.
The Rockies became the first team in the Modern Era to have 17 or more hits while also striking out 17 or more times in a nine-inning game, according to the Elias Sports Bureau.
Thursday's Three Stars
Adley Rutschman – The Rookie of the Year runner-up became the first catcher in major league history with five hits in an opener. He also hit a solo home run off of Corey Kluber and drove in four runs.
George Springer – The Toronto right fielder was 5-for-6 with four runs scored as the Blue Jays edged the Cardinals 10-9.
Dylan Cease – The former Cubs prospect faced 22 batters and struck out 10 of them in a 3-2 win over the Astros.
Extra Innings
Get used to this, Cubs fans!
You love to see it!@nico_hoerner ➡️ @LieutenantDans7 ➡️ @TheRealHos305 pic.twitter.com/plGh22M0Vv

— Chicago Cubs (@Cubs) March 30, 2023
Friday Morning Six-Pack
They Said It
"I was proud I was able to get outs early on because we knew they were gonna be swinging. In that third inning, they shortened up, put the ball in play, got a couple of singles there, got a lead going, and I just didn't do a good enough job of making enough pitches to get out of that, hold them to one or two. I let it spiral and that led to a big inning that cost us the game." – Burnes
"It's definitely not easy to be a pitcher out there and feel rushed at times." – Stroman
"I hope it's not the last deal with this team. This is where I want to be." – Hoerner
Friday Walk-Up Song
I love this video.