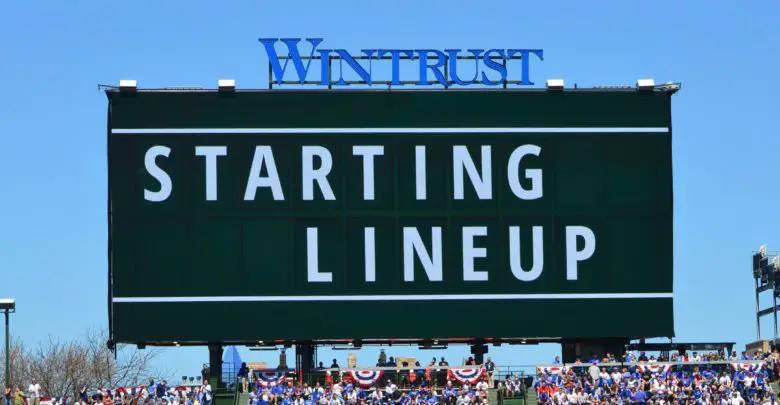 Chicago Cubs Lineup (4/1/23): Ríos Debuts at DH, Madrigal at 3B, Steele Tries to Make Brewers April Fools
If I had predicted back in January that Nick Madrigal would be one of the Cubs' main third baseman, you'd have thought I was pulling your leg. Yet here we are on April 1, of all days, and the diminutive slap hitter is getting the start there after a spring spent almost exclusively playing the hot corner. This team is built around getting them on, getting them over, and getting them in without relying on the longball, now it's just a matter of seeing whether Madrigal can continue to perform well defensively.
Nico Hoerner was anointed as the team's leadoff hitter right out of the gate in Mesa and he's done well in that role despite not being a prototypical table-setter. Though he's not one to take many walks, he puts the ball in play and really knows what he's doing on the bases. He's at second base with Dansby Swanson playing short and batting second after his stellar Cubs debut. Swanson had three singles on Thursday and drove in the team's first run of the season.
Ian Happ is in left, Cody Bellinger is in center, and Trey Mancini is in right for this one. Bellinger was hitless with a walk and strikeout on Opening Day, but his swing looked very good during Cactus League action and it's just a matter of time before he shows that at Wrigley. The long-time Dodger might get off to a slow start in these colder Midwest climes, however.
Edwin Ríos is another former Dodger who came much cheaper than his new/old teammate after he was likewise non-tendered. Though some felt the geniuses in LA couldn't possibly have made a personnel mistake, Ríos has all the makings of a tremendous value add who offers the Cubs a bridge for at least the next year or two. A swing change this spring turned his offensive performance around and could see him putting up Patrick Wisdom-like power numbers.
Eric Hosmer is at first base, the aforementioned Madrigal is at third, and former Red Tucker Barnhart is behind the plate. The Cubs are going to treat their two main catchers as co-starters and we may see them settle into semi-regular batteries based on comfort as much as timing. Barnhart seemed to have developed a really solid chemistry with Hayden Wesneski and Jameson Taillon in particular, though he's catching Justin Steele in this one.
Steele was delayed slightly this spring due to early arm fatigue, then he had a rough start late in the exhibition season in which he struggled with his release point and walked several batters while pitching "underwater." He came up for air in his last outing, however, and there's no reason to believe he can't be sharp in this one. Working with veteran catchers he can trust to do a lot of the thinking for him should really help Steele, who has some of the best stuff in the organization.
He's looked absolutely dominant at times and can work efficiently when he's pitching to contact, though he can also tend to nibble and stretch his pitch count further than necessary. As I've said many times in the past, getting the changeup figured out would unlock ace-level potential.
Facing the Cubs today is the very familiar Brandon Woodruff, who is coming off yet another excellent season in Milwaukee. The burly righty has averaged better than a 30% strikeout rate over the last three years and his walk rate has never been as high as 6.9% over that time. He can run his fastball to the plate in the upper 90s and his sinker, which is thrown nearly as hard, helps him to keep the ball in the yard.
Those two pitches make up about 60% of what he throws, making them his best offerings in terms of overall value. His best per-pitch offering is the sinker, but the changeup he goes to about 16% of the time is right behind it. His firm slider is another weapon even though he's dialed it way back to just 11% or so over the last few seasons. Woodruff also has a curve, but it's not nearly as effective as his other pitches.
That's part of the reason he actually pitched to marked reverse splits last season, holding left-handed hitters to a .252 wOBA while righties posted a .308 mark. And though he only faced 34 more right-handed batters, they hit 13 of the 18 homers he surrendered. His career splits are nearly even, so it makes sense for the Cubs to have a pretty balanced lineup in this one.
They're going to have to get much better results than in the past if they want to succeed, though. Over 99 total at-bats, this current Cubs roster is batting .172 with a .547 OPS against Woodruff. While Happ (2), Barnhart, and Swanson all have homers against him, this is a game in which David Ross should be looking to get runners in motion to force the action and make things happen.
First pitch of Game 2 is at 1:20pm CT on Marquee Sports Network and 670 The Score.
Here is today's #Cubs starting lineup!

Tune in: https://t.co/Gs2hZXyTjH pic.twitter.com/ZL51D6RtbH

— Chicago Cubs (@Cubs) April 1, 2023