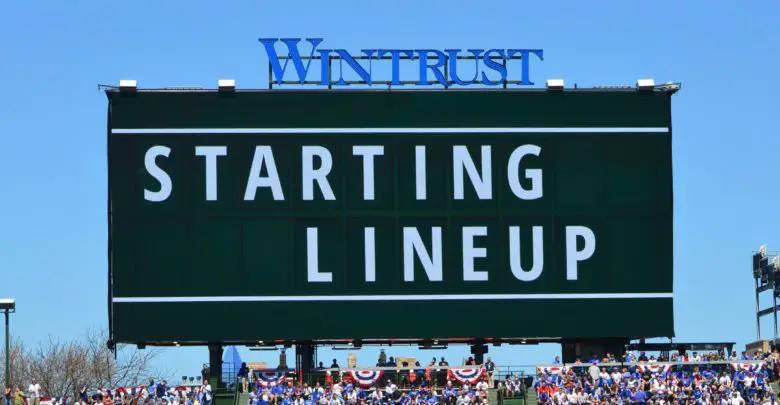 Chicago Cubs Lineup (4/4/23): Hoerner Leads Off, Mastrobuoni in RF, Wesneski Starting
It's a good thing that Opening Day triumph felt like two wins, at least according to Pat Hughes, because the Cubs have dropped all three games since. Last night's loss came when they allowed an offensive explosion due in part to Drew Smyly being left in too long. The worst error came when Patrick Wisdom was hit by a pitch and later laid down a bunt with no outs, men on first and second, and the Cubs trailing 7-6 in the top of the 7th. Oh, it was also a 3-1 count.
The bunt attempt was lined back to the pitcher and the Cubs failed to score in the inning.
Again, the Cubs' best power hitter — someone who should pretty much never be bunting in any situation — was laying one down despite having runners on and the count decidedly in his favor. There were questions as to whether his wrist was injured, in which case Mike Olt can tell you he never should have been in there at all. Hell, just about anyone on the bench would have been a much better option to bunt if David Ross was in the mood to do something foolish
"That was on me, I made that decision," Ross told Bernstein and Holmes on 670 The Score. "Guys at first and second, he got hit on the wrist the time before, there were a lot of question marks within that. He was taking swings in the cage the inning before, felt like he was good enough to play – but we all know actual game speed, contact, swings are a little bit different."
Wisdom's X-rays came back negative after the game and he's back in the lineup today playing third, but it's going to take some doing to move past Monday's bone-headed play. The top three in the order are unchanged, then it's center fielder Cody Bellinger back at the cleanup spot after a big homer last night and Trey Mancini at DH. Wisdom plays third and bats sixth, Eric Hosmer is at first, Yan Gomes is the catcher, and Miles Mastrobuoni will handle right field.
Hayden Wesneski is on the mound for his 2023 regular season debut and he'll be showcasing the kind of stuff and swagger that has many believing he's the best pitcher in the rotation. Early returns have set a low bar in that regard. Wesneski's best weapon is a sweeping slider that he throws more like a gyro, getting the sweep from his arm angle. He uses just one seam and really tries to keep the ball elevated to fool hitters.
His mannerisms are almost as fun to watch as his pitches, so it's too bad this Reds team doesn't have quite the same personalities as we saw over the previous few years when these games had a tendency to get chippy. Maybe Wesneski can make like The Gang and reignite the rivalry.
Going for Cincy is Luis Cessa, who was converted back to the rotation last season after serving mainly as a reliever over the past several years. He's got a below-average swinging-strike rate and average fastball velocity with an okay slider, so Cessa relies mainly on getting outs via contact. That led to a lot of homers last season, 14 in 80.2 innings, so perhaps the Cubs can hang a crooked number.
Of course, they managed just three runs with 12 strikeouts and one walk during the two starts Cessa made against them last season. His eight strikeouts on September 8 marked a career high, one he's unlikely to match tonight.
First pitch is at 5:40pm CT on Marquee and 670 The Score.
I can't quite let this bunting thing go, so I'm going to harp on it for just a little longer. Not only was it incredibly dumb on principle to have Wisdom bunting at all, let alone just having him at the plate if there was even the slightest question about the structural health of his wrist, but Ross's rationale holds no water.
"One, contact behind him with Hosmer, and plenty of matchup stuff behind Wis, so wanted to get those guys into scoring position, second and third," Ross explained. "Got to a 3-1 count, still an advantage count for Wis, he just happened to not execute the bunt.
"We'll kind of never know how those things will play out. Maybe he hits a three-run homer if we let him swing away, or maybe he strikes out and we don't get anything. But yeah, I think it's one of those, I've got a lot of question marks about how he feels, trusting the feedback I'm getting from my trainers and also trusting the feedback he's telling me of how he can perform."
Are you having as much trouble wrapping your head around the idea of having a slugger bunt in an advantage count and then somehow acting as though that's a good thing? Or that even proper execution of the bunt merely puts one extra man in scoring position with the bottom of the order coming up? Hosmer did have three hits in the game, but he struck out in the 7th.
So weird.
Here is today's #Cubs starting lineup against Cincinnati.

Tune in: https://t.co/Gs2hZXyTjH pic.twitter.com/ZXLQAFsiAH

— Chicago Cubs (@Cubs) April 4, 2023