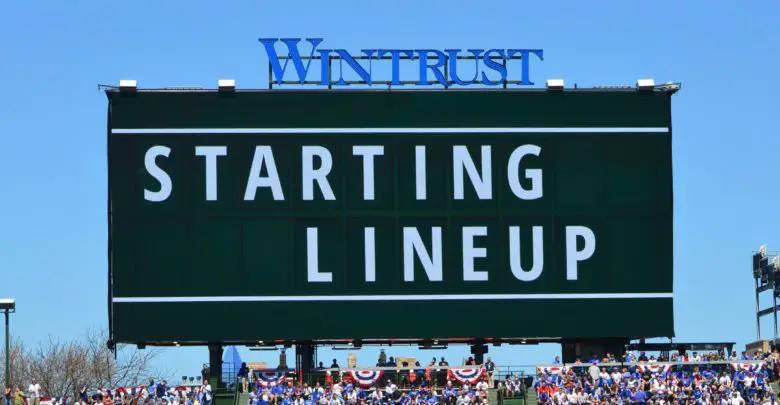 Chicago Cubs Lineup (4/7/23): Wisdom at 3B, Mastrobuoni in RF, Stroman Starting
The Cubs haven't played since Wednesday due to rain in the Midwest earlier in the week, so it's good to have them back for what figures to be a beautiful weekend in Chicago. Today marks the first Friday afternoon game of the season since opening weekend skipped Friday to allow for the potential of inclement conditions. So of course this would be the first game carried exclusively by Apple TV+ this year.
I'm good since I subscribe to the service, but those of you who don't will be left without many options. After showing the Friday Night Baseball games for free last season, Apple is now mandating a subscription. You can still get it on 670 The Score, though, and I recommend the MLB app's audio subscription for those who aren't close enough to Chicago to pull the signal directly.
Nico Hoerner, Dansby Swanson, and Ian Happ have all been excellent in their respective spots so far, and center fielder Cody Bellinger is looking like a legit everyday cleanup hitter again. Trey Mancini hasn't gotten a lot of hits, but the knocks he gets are timely. He'll be the DH this afternoon. Patrick Wisdom is at third, Eric Hosmer is at first, Miles Mastrobuoni is in right, and Tucker Barnhart is catching.
Marcus Stroman is on the mound for the second time and will be looking for his second win of the young season. He'll be pitching in slightly warmer weather this time, not that the cool air chilled his performance last time out. The Rangers have several dangerous hitters in the lineup, so keeping the ball in the yard — something the Cubs didn't do so well in Cincy — will be imperative.
Going for Texas is righty Nathan Eovaldi, one of the big free agents brought in over the offseason to get the team back into contention in the AL. He wasn't very sharp against the Phillies, allowing three runs on six hits and two walks, though he did strike out six in five innings of work.
His velocity was right at his career average and down slightly from his time in Boston, when he averaged closer to 97 mph. He also threw his cutter a lot more frequently than in the past two seasons, which may have just been a matter of feel and the matchup. The Cubs are going to see a pitcher with upper-90s heat and very good stuff who is capable of missing a lot of bats and generating a high percentage of grounders.
That said, Eovaldi has been susceptible to homers over the last few seasons and can give up barrels when he misses his spots. He's also pitched to pretty significant reverse splits since 2019, holding lefties to a .724 OPS with a .308 wOBA while giving up a .779 OPS and .335 wOBA to righties. The Cubs' best strategy may be to feel him out in the early going and then jump on him the second time through the order.
Though common knowledge says pitchers suffer most the third time through, Eovaldi's .737 OPS and .313 wOBA allowed are better than the (boom like an) .808 and .344 he gives up when facing batters a second time. That's in the same four-year period from above, just in case you were wondering.
First pitch from Wrigley is at 1:20pm CT and you can find it on Apple TV+ or 670 The Score. Speaking of which, you can listen to me with Dan Bernstein and Laurence Holmes at noon CT.
Here is today's #Cubs starting lineup at Wrigley Field!

Tune in: https://t.co/si1AUw7ZwY pic.twitter.com/7B62BGUCTy

— Chicago Cubs (@Cubs) April 7, 2023