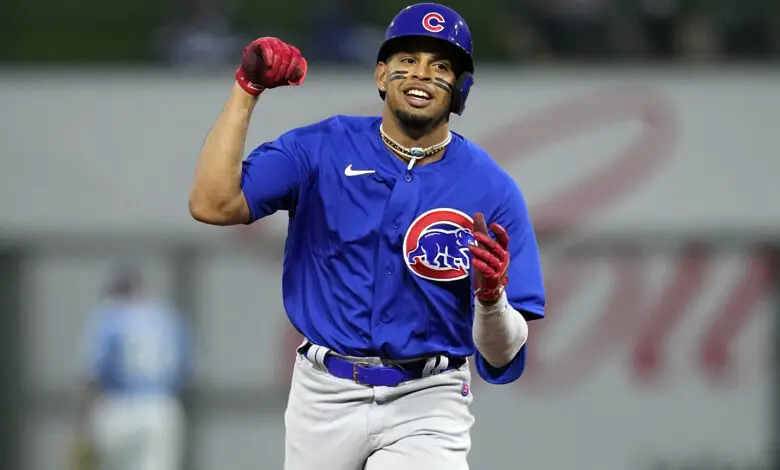 I-Cubs Mash to Another W as Several Players Make Cases for Promotion
The Chicago Cubs have hit four homers on the season, good for 27th in Major League Baseball heading into Friday's game against the Rangers. The Iowa Cubs hit three home runs Thursday night, one each from a trio of players who look like they could be helping out at the next level this season. The player of the game was someone else, a player many believe should be helping in Chicago already.
This means no offense to the great state of Iowa, but Nelson Velazquez doesn't want to be in Des Moines anymore. pic.twitter.com/sxEOXPn087

— Greg Zumach (@IvyFutures) April 6, 2023
Nelson Velázquez went deep in the 1st inning to give his team a lead they immediately surrendered after the St. Paul Saints homered thrice in their half of the frame. Trailing 5-3 in the 6th, the I-Cubs loaded the bases on a pair of singles to open the inning and a two-out walk to bring Matt Mervis to the plate. After taking a called strike on the outer third to open the at-bat, Mash turned around a middle-in offering just inside the right field foul pole with an exit velocity of nearly 113 mph.
MASH MERVIS GRAND SLAM pic.twitter.com/3BEPH3Pmc5

— CHGO Cubs (@CHGO_Cubs) April 6, 2023
Brennen Davis hit his first homer of the season in the 7th to pad the lead, but the Saints struck back with a six-spot in the 8th to take an 11-8 lead. After a series of hits and an error plated two and left two runners in scoring position, Christopher Morel delivered a single — his third hit of the game to go along with a walk — that put the I-Cubs up for good and earned him game MVP honors.
Brennen Davis with his first home run of the season!

Nelson Velázquez, Matt Mervis, and Brennen Davis have all homered for the Iowa Cubs tonight. pic.twitter.com/OX7EF0tXxT

— CHGO Cubs (@CHGO_Cubs) April 6, 2023
That was the team's fourth win in four tries, all of which have been of the comeback variety. Morel is now batting .412 with a 1.348 OPS and a homer, Velázquez is at .444 and 1.389 with two dingers, and Mervis has a .250 average with a 1.069 OPS and two dingers of his own. Davis is the laggard with a .250 average and mere .857 OPS to go along with his homer.
A lot of folks have pointed to hot starts for Morel and Velázquez as evidence for one or both being in Chicago, and I suppose there's merit to that. However, neither would be getting the everyday at-bats they're seeing in Iowa and it's not as though we can directly correlate Triple-A success to the bigs. So rather than viewing this as a reason why they should never have been optioned, I see their hot starts as strong support for the decision to have them in Des Moines.
Then there's the reality that the Cubs simply don't have room at this point. Even if we allow for the flux of the seat being kept warm for Seiya Suzuki, that's far from a permanent gig. The right fielder should find himself in Iowa soon for a rehab assignment, after which the outfield will be set in Chicago for anything other than rest days and subsequent injuries.
That will put Patrick Wisdom into an even more regular rotation at third base, which should push Nick Madrigal to the minors. Miles Mastrobuoni could likewise find himself with a bus ticket to Iowa, though the Cubs likely prefer to keep another outfielder on the bench. Mastrobuoni can handle multiple infield positions as well, so his versatility is far superior to Madrigal's.
However they choose to slice it, there simply won't be regular playing time for anyone currently raking for the I-Cubs unless there's a big roster shakeup. That could very well happen at some point, whether it's via trade or a more pedestrian parting of ways. The former scenario doesn't figure to unfold until at least July, and only then if the Cubs find themselves out of contention, and the latter won't affect any outfielders.
Both Ian Happ and Cody Bellinger are candidates to be moved by the deadline, though the Cubs showed last season that they're willing to pass on offers if their reserve price isn't met. An unlikely repeat of that strategy could see Morel, Velázquez, and Davis remaining in Iowa for an extended period regardless of production.
Mervis may have the clearest path to Chicago because there's really just one obstacle. While Eric Hosmer is playing fairly well at this point, the veteran is on a minimum salary and doesn't figure to be a big trade chip this summer. Depending on how things play out over the next few weeks, a Cubs team looking for lefty power might see a DH/first base platoon of Mervis and Trey Mancini as their best opportunity for a postseason bid.
Of course, this could all be moot if these I-Cubs players falter over the next several weeks and the guys with the big club continue to show out. It's an example of both the depth and imperfection of this organization, as there is a high concentration of talent without many perfect fits at the moment. Let's just hope things progress in such a way that some of these issues work themselves out over the course of the season.