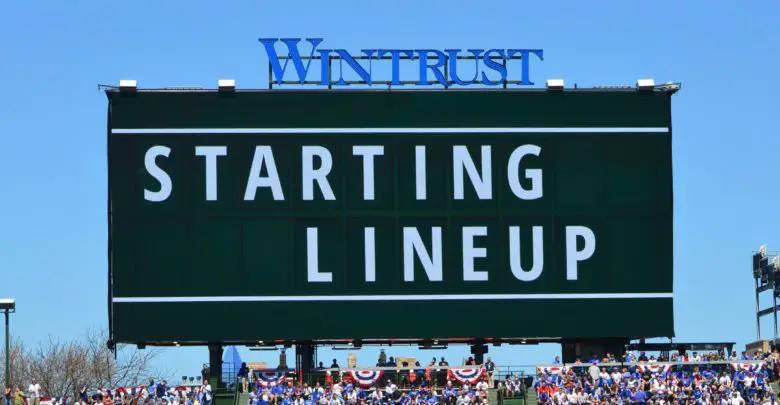 Chicago Cubs Lineup (4/9/23): Ríos DH, Madrigal at 3B, Taillon Going for Sweep
The Cubs have won three straight to balance their losing streak and are now a game over .500 with a chance to sweep the Rangers on Easter Sunday. They've racked up 36 hits over the last three games, only two of which — both on Saturday — have left the yard. The offense is humming and the pitching has stepped up in a big way in the last two games, making good on what we've said since at least January was their blueprint for success.
It's been great to see consistent production from the top of the order, which is unchanged from the first seven games. Nico Hoerner leads off at second base, Dansby Swanson is at short, and Ian Happ is in left. Cody Bellinger cleans up in center, Trey Mancini is in right, and Edwin Ríos is the DH. Eric Hosmer is at first this afternoon, followed by Nick Madrigal at third and Tucker Barnhart behind the plate.
Jameson Taillon had a disappointing Cubs debut, allowing seven hits over four innings while striking out only two batters. That he only gave up three earned runs was actually a small victory, as things could have been worse. It'll be 60 and sunny at Wrigley today, so perhaps he'll have a better feel for his stuff.
On the hill for Texas is Jon Gray, who I watched in person in his first start of the season against Baltimore. He looked really good for the most part, striking out the side in the 1st inning using mainly his mid-90s four-seam and a biting slider. Gray allowed only four hits over 6.1 innings, but two of them cleared the fence for solo homers to provide the only scoring in the game.
The fastball/slider combo will account for 80-85% of his pitches, but he's also got a change and curve that he'll bust out occasionally. After pitching to pretty even splits during his time with the Rockies, Gray's results separated quite a bit to the traditional side last season with the Rangers.
He isn't likely to give up a ton of action in terms of either hits or walks, so the Cubs may need to do what they can to get extra bases and capitalize on the baserunners they get. That's how they won on Friday, though it'd be nice to squeeze out more than two runs.
First pitch is at 1:20pm CT on Marquee and 670 The Score.
Happy Easter! Here is today's #Cubs starting lineup for the series finale.

Tune in: https://t.co/Gs2hZXyTjH pic.twitter.com/fXWtv3KSHu

— Chicago Cubs (@Cubs) April 9, 2023