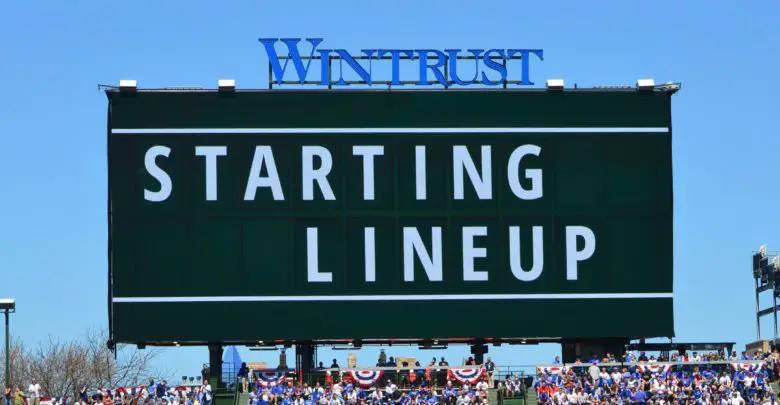 Chicago Cubs Lineup (4/11/23): Mancini Bats Cleanup, Velázquez in RF, Wesneski Pitching
The Cubs just squeaked out a victory in Monday's opener behind a lot of good pitching and no small amount of good fortune, and now they have a chance to earn their second series victory in a row with another win. It'll probably take more than 2-3 runs to get it done, though, so putting up some early runs will be key.
Last night's hero, Nico Hoerner, leads off again at second as he has in every game so far. Dansby Swanson is at short, Ian Happ is in left, and Trey Mancini cleans up at first. Cody Bellinger is in center, Patrick Wisdom is at third, Eric Hosmer is the DH, and Yan Gomes is behind the plate. Nelson Velázquez gets his first start of the year in right.
I really like what Ross is doing here by putting six right-handed bats in the lineup, particularly when those bottom two spots could easily have been changed up for perceived platoon advantages. As you'll see in a bit, tonight's matchup skews heavily toward the Cubs when it comes to right-on-right action.
Hayden Wesneski is going to have to be better than he was last week in his season debut, a disappointing outing that saw him last just 4.2 innings. He walked two and allowed two homers out of six total hits by the Reds, so we'll just have to hope he's past the jitters. One promising sign was his 95 mph average fastball velocity, which may also have been a product of adrenaline.
If Wesneski is able to settle in and pitch like we know he can, the Cubs will find themselves in a very good spot tonight.
Chris Flexen will have something to say about that as he takes the mound for the third time this season to make his second start. He took a loss in his previous outing against the Angels despite allowing just two runs on two hits over five innings. His first appearance was a four-inning relief effort in which he gave up one run on four hits to the Guardians. Dude has been somewhat stingy.
Flexen has walked five batters against as many strikeouts, however, so he's been far from overpowering. The righty's fastball sits just under 92, but he's been able to locate it really well in the early going. His cutter will get a lot of usage and it has been hit pretty hard to this point, so maybe he catches too much of the plate with a couple of them tonight.
He really went heavy with the cutter after being more of a slider guy with the Mets through 2019, then he abandoned the slider entirely in 2021. It's been coming back around since then, however, and was easily his best pitch last season. The changeup was really good as well and will be thrown a lot to lefties, hence Flexen's extreme reverse splits.
He's allowed righties to bat .298 with a .359 wOBA over the course of his career, but left-handed batters are at just .237 and .301, respectively. This looks like a really good matchup for the Cubs because Flexen doesn't get many strikeouts and tends to keep the ball in the yard. Given all the contact hitters in the lineup, particularly from the right side, we could see some fun station-to-station offense in this one.
And something tells me we get a "Whoa, Nellie!" at some point.
First pitch is at 6:40pm CT on Marquee Sports Network and 670 The Score.
Back under the lights tonight at Wrigley Field!

Tune in: https://t.co/Gs2hZXyTjH pic.twitter.com/t3ZB52ZjGM

— Chicago Cubs (@Cubs) April 11, 2023